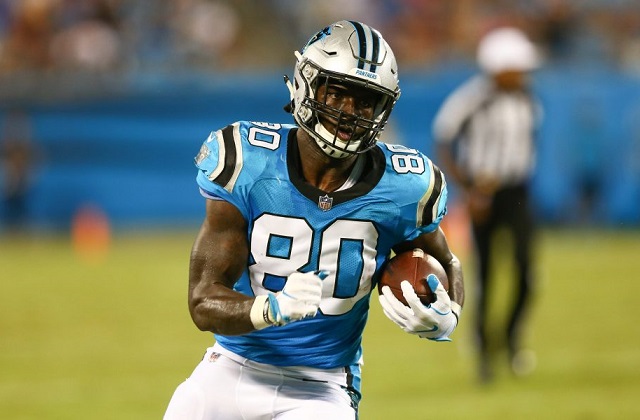 Written by Chris Hexter
03 December 2019

Carolina Panthers
Injury
Greg Olsen (Q-Concussion)
Opportunity
Ian Thomas (TE2)
Having watched that hit in person, it didn't seem good for the veteran tight end. Fortunately, he got up and walked off the field and sustained only a concussion. Monitor his practice throughout the week. If he doesn't suit up, which at this point seems likely he won't play, Thomas becomes a nice TE2 play. Ian Thomas has great athletic ability and proves to be the tight end of the future. If he can improve blocking, he would see the field more. But for now, his upside is capped. I don't see any fantasy GM's playing him if playoffs are on the line.

Cleveland Browns
Injury
Baker Mayfield (P-Hand)
Opportunity
Garrett Gilbert (QB3)
Mayfield suffered what has been reported as a bruise on his throwing hand after it made contact with linebacker Bud Dupree's helmet. He should be fine but don't be surprised if you see him listed as a limited participant in practice throughout the week. He had an X-ray and they came back negative. Monitor this situation as he has golden matchups with the Bengals and Cardinals in the next two weeks.

Miami Dolphins
Injury
Kalen Ballage (Q-Leg)
Opportunity
Patrick Laird (RB3)
Myles Gaskin (RB4)
Ballage seems to have suffered a non-contact injury against the Eagles. This may help the Dolphins run game as Ballage has been averaging under two yards per carry going into this contest. Two yards. I like Laird as a deep flex play now as he will get some rush attempts but his bread and butter will come in the air. The Jets have been a good defense against the run and I don't see him in many lineups next week. But in 12 team (or deeper) PPR leagues, he isn't the worst stash. As for Gaskin, he's a low end RB4. Running backs in Miami don't find enough lanes to consistently perform decent outputs. Gaskins may see more attempts on the ground but Laird is still the better option. But again, next week against the Jets, look elsewhere for a flex.

New York Giants
Injury
Daniel Jones (Q-Ankle)
Opportunity
Eli Manning (QB2)
Nothing crazy here, Jones is dealing with a sore ankle and will play next week. If for some reason he doesn't go, I don't see Manning being much of a downgrade to this offense. Manning would probably prefer Shepard and Engram (or the tight end who starts) if he plays.

Minnesota Vikings
Injury
Dalvin Cook (Q-Chest)
Opportunity
Alexander Mattison (RB2)
A scare for all Cook owners, Cook left the game after a hit in the third quarter and what was reportedly a shoulder injury has now been designated as a chest injury. This is a re-aggravation of a previous injury Cook sustained against the Broncos. He said he is all good to go and didn't return because they have four more games and he wants to stay healthy. If Mattison is somehow not picked up in your leagues, you need to grab him. If Cook is unable to go or sustains a greater injury, Mattison is a high-end RB2 with nice upside. He's a tremendous talent and the team loves him so they would plug him in the game script as if he were Cook. Monitor this throughout the week and if you haven't picked up Mattison, do it.

New York Jets
Injury
Sam Darnold (Q-Ribs, Knee)
Opportunity
David Fales (QB3)
Nothing to worry about here. Darnold may play at less than 100 percent but he will play this upcoming week.

Kansas City Chiefs
Injury
Darrel Williams (D-Hamstring)
Opportunity
Darwin Thompson (RB3)
LeSean McCoy (RB3)
With Damien Williams also unlikely to play in Week 14, Thompson and McCoy will take over the backfield. However, they are both limited to RB3 status for two reasons. One, this will still be an RBBC and we simply never know who will get the most amount of work. Two, they face the Patriots. Neither are flex worthy in a tough matchup with questionable workload distribution. This is a game of roulette I am not willing to play with playoffs either starting this week or next week in most leagues. If you are in desperation mode and need a play between either two, go Thompson who I predict will get the majority of the ground work. But try to look elsewhere.