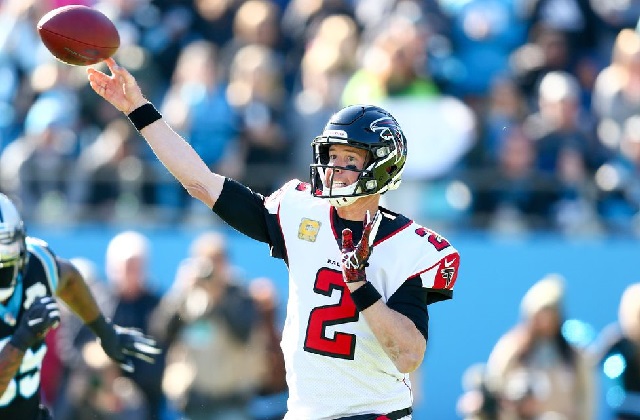 Written by Chris Hexter
21 November 2019
I hope everyone's Week 11 went well. I know a good amount of us had a lot on the line Monday night. I love hearing the comeback and success stories but nothing tweaks me more than the heartbreaking loss stories. Which did I have?
I was down and I needed Mahomes to have a normal Mahomes game, however, I also needed him to completely avoid Kelce. Anyways, long story short… I lost.
Need help forgetting last week? How about Week 12's 5 Starts and 5 Sits?
Starts
QB - Matt Ryan | Atlanta Falcons (vs Buccaneers)
Matt Ryan has been really good this year. I feel as if a lot of owners have written him off after the injury and a sub-par return against the Saints. But Ryan is a good quarterback with great options around him. Although the defense has stepped up, this team will have to sling the ball to win. The Buccaneers have a serious run defense and I don't think the Falcons are going to be scared to sling the ball against a poor Buccaneers secondary. Tampa Bay's offense can put up a good amount of points and make this a competitive game. I wouldn't be surprised if Ryan throws for three touchdowns in this one.

RB - Alvin Kamara | New Orleans Saints (vs Panthers)
Kamara has been good this year, but not the top 3 or 4 draft pick that almost everyone spent to get him. But last week, although he still shared carries, he saw 10 targets. He is back to full strength and will be a Top-5 RB rest of season. The Panthers are one of the best matchups for running backs and Alvin Kamara will not disappoint. Expect one of his best games of the year this Sunday.

WR - D.K. Metcalf | Seattle Seahawks (@ Eagles)
The Eagles are Top-10 for giving up points to fantasy wide receivers. Metcalf has seen nine targets in three of his past four outings. With Lockett also questionable to play this Sunday, Metcalf will be a low-end WR1 or high-end WR2. This should be a high scoring affair and Metcalf is the best bet to ensure fantasy lineups a multi-touchdown game.

TE - Ryan Griffin | New York Jets (vs Raiders)
Ryan Griffin has put up two top ten performances this year with Darnold as his quarterback. If this game were against a top defense, he wouldn't be on here. But, he plays the Oakland Raiders (they have been great ever since I put them in my Sits two weeks ago) who have been very bad when covering opposing tight ends. Griffin is seeing a very nice target share in New York and that will boost his value but he also presents nice touchdown upside. The tight end landscape is thinning, so sometimes we are forced to scavenge for a diamond in the rough. In this case, it's Griffin.

D/ST - Oakland Raiders (@Jets)
Since Week 10 when I told everyone to sit this defense and that there was no point in playing them, the Oakland Raiders have been a Top 5 fantasy defense. Well, now they're a Start. It isn't like this defense miraculously became unstoppable, however they have stepped it up and are worth a spot start this week against Sam Darnold and the Jets. This is an offense with a mistake prone quarterback, bad play calling and a poor offensive line. This should allow the Raiders defense to put up a nice enough stat line to be a plug and play defense for the week.
Sits
QB - Dak Prescott | Dallas Cowboys (@ Patriots)
Dak has been electric this season. He is averaging 308 yards per game this season. That's the highest mark for a Cowboys quarterback in a season in franchise history. He'll get paid this offseason. However, this week he'll get a Patriots defense that is simply not letting quarterbacks go anywhere (in fantasy or in real life). The Patriots afforded the Eagles offense just under four yards per play. It's hard to bench someone like Dak and maybe you can't, but lower expectations in a game that should have a modest scoring line against the toughest fantasy matchup.

RB - Joe Mixon | Cincinnati Bengals (vs Steelers)
Mixon is alive! He has performed as an RB2 or better in three straight weeks. The Steelers are still in playoff contention and just came off a nasty loss to the Browns. This game will have one of the lowest scoring lines and I don't see the Pittsburgh defense, which is a good defense by the way, being too scared and sitting back against Ryan Finley. The Steelers are Top 5 in turnovers and one of the best at points against. Mixon will be bottled up in this one and his streak of three consecutive Top-24 finishes will end.

WR - Michael Gallup | Dallas Cowboys (@ Patriots)
When on the field, Gallup is a star. He has truly developed into a great wideout and will continue to be as long as he's on a powerful offense like the Cowboys. Sadly, he gets the Patriots this week (see QB above). Amari would be on this list too, especially with the knee injury, but he has upside that can't be on benches. The Cowboys would be wise to use their amazing offensive line and talented running back to tire out and beat this Patriots defense. For the wideouts in this game (on both sides of the ball), I'm not too thrilled about having them in my lineups. If you have Gallup, I would pivot.

TE - Jack Doyle | Indianapolis Colts (@ Texans)
No targets last week. 0. What we are seeing here is a shift. Doyle still saw 42 of 66 offensive snaps but wasn't targeted, while Ebron saw a similar snap count but was targeted four times. Ebron is becoming the relied on passing tight end with Doyle receiving majority pass blocking work and running limited routes. Don't play him against the Texans and if you are still holding on to him for some reason, he needs to be on waivers.

D/ST - Philadelphia Eagles (vs Seahawks)
This Eagles defense is not the same defense we have known in recent years. They allow passing yards, passing touchdowns and have been a modest rushing defense (used to be the best against the run). The Seahawks and MVP candidate, Russell Wilson, will go to Lincoln Financial Field and put up points. This game will be one of the highest scoring games we see in Week 12. Seattle's defense should be on benches as well as I do have faith in the Eagles offense in this one. But the defense will struggle to contain Wilson and Chris Carson in the backfield. This defense does get the Dolphins, Giants and Redskins in their next three so like Wentz, this defense could be a nice stash and help you get to the playoffs. But this week, it's best to leave them on the bench.