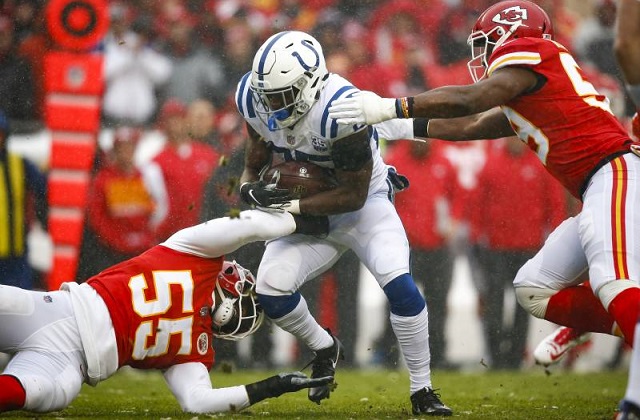 Written by Chris Hexter
19 November 2019
Indianapolis Colts
Injury
Marlon Mack (O-Hand)
Opportunity
Jonathan Williams (RB2)
Nyheim Hines (RB3)
Mack injured his hand Sunday against the Jaguars but didn't leave his owners sour as he racked up 109 yards and a touchdown. However, he did undergo surgery and will be out for at least a few weeks. Keep an eye out for the timetable on his return. In his absence, Williams seems to be the main running back with Hines coming in on receiving downs. I see Williams as a low-end RB2 due to the offensive line, Colts game plan and sheer volume. Hines is a nice flex play especially in PPR leagues.
Pittsburgh Steelers
Injury
James Connor (Q-Shoulder)
JuJu Smith-Schuster (O-Concussion/Knee)
Dionte Johnson (O-Concussion)
Opportunity
Vance McDonald (TE1)
Jaylen Samuels (RB3)
James Washington (WR3)
The Steelers suffered a series of injuries after their loss to the Browns which should really hurt an already sub-par offense. Connor was rushed back too quickly here and has been on this injury report seemingly every week. I don't expect him, Johnson or Smith-Schuster playing in next week's game. McDonald and Samuels will be heavily utilized next week without some of their top offensive options, which gives them nice upside due to utilization. Washington should see the majority of targets to outside receivers, however, with someone like Rudolph behind center, Washington is too risky of a play.
Cincinnati Bengals
Injury
Auden Tate (O-Back/Neck)
Opportunity
Tyler Boyd (WR3)
Tyler Eifert (TE1)
It hurts to see someone like Boyd as the only guy in a wide receiving corps on an NFL team as a WR3. But that's what happens when you have a guy named Ryan Finley throwing to you. He caught one pass for no yards. Nasty. Tate was looking like the best option in the passing game. He was removed from the game on a stretcher and will likely be out the season as it didn't look like a petty injury that someone can just sleep off. Eifert should benefit as the safety blanket and always presents solid touchdown upside when he is on the field. He is a low-end TE1. Some of us may be forced to play Boyd but I would look elsewhere for a better upside play.
Tampa Bay Buccaneers
Injury
Jameis Winston (P-Ankle)
Opportunity
Blaine Gabbert (QB3)
Winston should be fine, he suffered a low grade ankle injury but finished the game. Expect him to play next week.
New York Giants
Injury
Saquon Barkley (P-Shoulder)
Opportunity
Wayne Gallman (RB3)
Barkley is fine. He was a little banged up and shot down any comments about being rested for the remainder of the season. He will be playing with a little extra fire next week after a couple of poor performances. He's in your lineups if he goes. If for some reason he doesn't go, Gallman will step up again. He would be a nice RB3 play if Barkley suffers a setback.
Chicago Bears
Injury
Mitchell Trubisky (Q-Hip)
Opportunity
Chase Daniels (QB2)
The real opportunity goes to the entire Bears offense. Trubisky has flashed in some games and sometimes looks like a decent starter. But for the most part he is a bad quarterback who can't give this offense a chance to come back from a deficit of three. Daniels is no knight in shining armor but for fantasy, this would bolster Allen Robinson and the running backs. Daniels sits more comfortably in the pocket and goes through his reads, unlike Trubisky who seems antsy in the pocket and likely will panic if his first option is covered. Follow this news, but this may be Nagy's attempt at making a quarterback change to test the waters.
Kansas City Chiefs
Injury
Damien Williams (Q-Ribs)
LeSean McCoy (Q-Concussion)
Opportunity
Darrel Williams (RB2)
These two have their bye week to recover from these injuries and it is unclear the severity of both McCoy and Williams. If both miss time, Darrel Williams becomes a low-end RB2 simply because of the high scoring Chiefs offense and a more featured workload. If only one back misses time, Darrel becomes more of a PPR flex play as a low-end RB3. If both come back, Darrel can't be trusted.