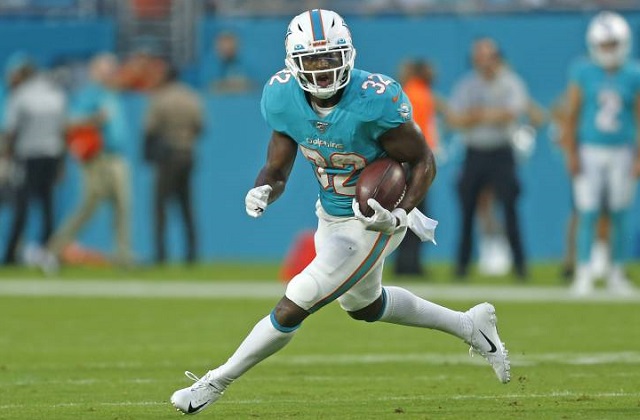 Written by Chris Hexter
29 October 2019
ASL's Chris Hexter takes a look at this weeks injuries and the opportunities they create.
Denver Broncos
Injury
Joe Flacco (O-Neck)
Opportunity
Brandon Allen (QB3)
Phillip Lindsay (RB2)
Royce Freeman (RB3)
Sooo, the Broncos will be running a lot; more so than they have up to this point. The Broncos barely had faith letting Flacco throw, what makes them do the opposite with Brandon Allen? Next week they get the Browns and then a bye. Lindsay is a nice RB2 with his counterpart, Royce Freeman, a solid flex play. Obviously, you play Sutton because of his upside, but this offense scares me with Allen behind center. You might see the Browns defense on Thursday as my start…
Washington Redskins
Injury
Case Keenum (Q-Concussion)
Opportunity
Dwayne Haskins (QB3)
Keenum left Thursday's game with a concussion and is considered day-to-day. It has been reported that if he is cleared, he will play next week against the Bills. If he is unable to go, Haskins should be left untouched. Here are Haskins' stats so far as a professional, 140 yards passing, no touchdowns and four interceptions. The Bills are a good defense, so in a parallel universe Haskins is a great play. But even in the world of fantasy, I would look somewhere else. Keenum's absence would hurt all Redskins skill positions besides McLaurin, who has been great in his rookie campaign. (Sorry to my Redskins fans out there)
Arizona Cardinals
Injury
Chase Edmonds (D-Hamstring)
David Johnson (O-Ankle/Back)
Opportunity
Kenyan Drake (RB3)
Chase Edmonds exited last week's game early with a hamstring injury and is not likely to play with the quick turnaround. However, newly acquired Kenyan Drake is reported to walk into a heavy workload. The opportunity will be there, but this 49er defense is legit. McCaffrey had a good day last week but Drake is no CMC. This trade tells me there are serious issues with Johnson and Edmonds, at least enough to warrant this trade. Drake is a talented player and should give you solid RB3 numbers, which in deeper leagues, is enough to consider him a flex play.
Philadelphia Eagles
Injury
Miles Sanders (Q-Shoulder)
Opportunity
Jordan Howard (RB2)
Zach Ertz (TE1)
Weird, I know. A tight end like Ertz benefiting from a player averaging less than three receptions per game? Look. If Sanders does not play, Howard is going to get even more touches and should make fantasy owners feel even better when playing him. But Ertz has not been the tight end most fantasy owners drafted in the third and fourth round. Sanders has seen a lot of targets and if those go up for grabs, Howard will not be the player benefiting. I think Ertz benefits from one less player catching passes and would be a surefire top five tight end if Sanders is out.
Los Angeles Rams
Injury
Brandin Cooks (D-Concussion)
Opportunity
Cooper Kupp (WR1)
Robert Woods (WR3)
Cooks has suffered yet another concussion and this can put his season up in the air. We are seeing it right now with Sterling Shepard and how multiple occurrences of this injury should cause concern. If he is out, Kupp will obviously remain a WR1. The under-performing Woods is the interesting part of this opportunity. We have seen Woods without Cooks and he wasn't putting up a stat line that would satisfy many fantasy owners. But Woods is still a great player in an above average offense. If Cooks is out, I would trust Woods in my flex just for the upside we know is there but haven't seen much of this year. Woods would be a nice DFS play as well. However, they will get a bye this week and then get the Steelers, so we may have to wait a week to see how this pans out.
Jacksonville Jaguars
Injury
Dede Westbrook (Q-Neck/Shoulder)
Opportunity
DJ Chark (WR1)
Chris Conley (WR3)
DJ Chark has been awesome for fantasy owners so far this year and the injury to Westbrook only solidifies that notion. You play him whether Westbrook plays or not. Chris Conley, however, has seen much more involvement over the past few weeks. Last week against the Jets, Conley put up a 3/97/1 stat line. If your team is in desperation mode or simply in a deep league, Conley looks like a decent play and I would consider him a back-end flex.
San Francisco 49ers
Injury
Matt Breida (Q-Ankle)
Raheem Mostert (Q-Knee)
Opportunity
Tevin Coleman (RB2)
I feel like I'm always writing about a 49ers running back. Breida suffered an ankle injury in their domination of the Panthers last week, while Mostert suffered a knee injury. However, both were listed as limited participants on Monday and should be good to play even on a short week against their divisional rivals. If one or both miss this game against the Cardinals, Tevin Coleman becomes a terrific high-end RB2 with RB1 upside. Breida caps Coleman's upside just as Coleman caps Breida's, so if one is to ever miss time, the other is a RB2 at worst.