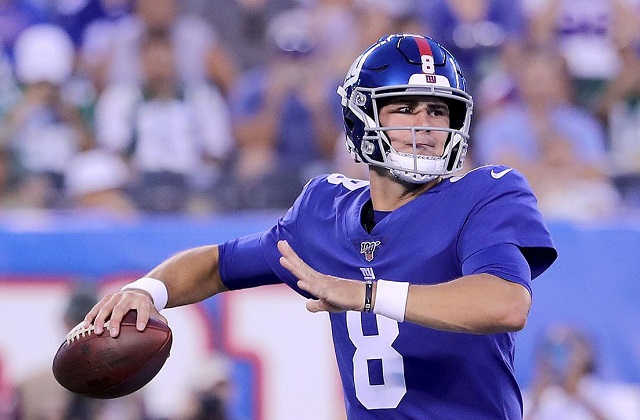 Written by Cam Harper
26 October 2019
We have entered the doldrums of the NFL fantasy season. Many teams have already decided their fate. It's going to be apparent for most teams if they have a shot at making a run in the playoffs, or a shot at competing for the toilet bowl.
Bye week purgatory is in full-effect as well. Week 8 isn't too bad in comparison to last week and the upcoming weeks. However, players who have invested in the Cowboys and Ravens are going to be struggling this week. It's more important than ever to find quality streaming options to survive through these bye weeks. Hopefully I can help.
Here are the start and sit options for week 8:
Start 'Em QBs
Ryan Tannehill, Tennessee Titans (vs TB)
Don't get too crazy here. Tannehill isn't going to put up game changing numbers here. However, he is in a great position to serve as a spot start if Dak Prescott or Lamar Jackson is on your team. Tannehill put up respectable numbers against the Chargers last week, and he is playing at home against the worst pass defense in the league. The Buccaneers are the only team in the team to allow more than 300 yards per game through the air. Grab Tannehill for the week and move on.
Daniel Jones, New York Giants (@ DET)
Danny Dimes makes another appearance on the start list as the Giants are the beneficiaries of playing the Detroit Lions, who statistically have one of the worst pass defenses in the league. The Lions are likely suffering from low morale as well after getting cheated against the Packers and losing to the Vikings last week. Darius Slay has come out and said he has no loyalty for the Lions. It wouldn't be surprising if the Lions allowed the rookie to bully them this week.
Mason Rudolph, Pittsburgh Steelers (vs MIA)
This falls under the "start 'em if they are against the Dolphins" category. As everyone is aware, the Dolphins have been horrendous this year. The Steelers have the benefit of playing at home coming off a bye week. Rudolph cleared concussions protocol two weeks ago, leaving little reason to worry about his injury. With a full week to prepare for the worst team in the league, the Steelers should have their way in all aspects of the game.
Sit 'Em QBs
Baker Mayfield, Cleveland Browns (@ NE)
Just in case anyone was wondering, Baker Mayfield is a really bad start yet again. Baker has yet to throw two touchdowns in a game. In fact, he has thrown over twice as many interceptions as he has thrown touchdowns. Baker has yet to put up QB1 numbers in a game this season. He heads to New England in week 8 to play against the statistically-best defense ever. It's going to be another pass for Baker Mayfield, or just drop him all together, either will do.
Carson Wentz, Philadelphia Eagles (@ BUF)
Speaking of quarterbacks who have been underwhelming in 2019, Carson Wentz is near the top of that list. The Eagles entered the season as a Super Bowl contender favorite. Halfway through the season, the Eagles are sitting at 3-4 trailing the Cowboys in the NFC East. Wentz has had a rough go at it the past couple weeks during their three-game road stint. He struggled at Minnesota and Dallas, now he is matched up against the best defense he has played this season: The Bills. I'd look elsewhere for a quarterback this week.
Jacoby Brissett, Indianapolis Colts (vs Den)
Brissett has been surprisingly good in 2019 after Andrew Luck announced his retirement. He ranks number 4 in the NFL in touchdown passes despite already having his bye week. However, the Broncos are a poor matchup for the thriving quarterback. Denver is holding teams to under 200 passing yards per game and they have only allowed 6 touchdowns through the air in 2019.
Start 'Em RBs
Todd Gurley, Los Angeles Rams (vs CIN)
It has been a rough season for last season's fantasy MVP. He has rushed for over 50 yards in just 3 games and has yet to surpass 100 yards in a game. Week 8 might be Gurley's first breakout week of the season as the Rams take on the Bengals at home. The Bengals are allowing nearly 200 yards on the ground per game. If Gurley is going to have a great game, it's going to be in week 8.
Sony Michel, New England Patriots (vs CLE)
Sony Michel has been great the past three weeks. He's scored over 13 fantasy points in three consecutive games. A home game against the Browns should give Michel RB1 upside. The Patriots will likely blow out the ailing Browns, giving Michel plenty of opportunities on the ground. As long as Rex Burkhead remains on the sidelines, Michel is a must-start in week 8.
Ty Johnson, Detroit Lions (vs NYG)
Kerryon Johnson's season ending injury places Ty Johnson right on the fantasy radar. The Giants have been pretty bad this season, as seen by Chase Edmund's breakout game last week. It's hard to say just how involved the Lions are going to make Ty Johnson. It's possible that he enters a 50/50 time share with JD McKissic. Either way, the Giants defense is bad enough that both backs have RB2 upside.
Sit 'Em RBs
Nick Chubb, Cleveland Browns (@ NE)
You probably can't afford to bench Chubb this week, and that's understandable. Chubb has been the one shining star for the Browns this season. Bill Belichick is known for taking away a teams' best option. The Patriots are going to shut down the run and force Mayfield to beat them through the air, which won't happen. It's going to be a rough game for everyone wearing a Browns jersey on Sunday.
Derrick Henry, Tennessee Titans (vs TB)
Oddly enough, despite Tampa Bay being the worst pass defense in the NFL, they are also the best run defense. It's difficult to establish if that is due to teams electing to throw the ball on the Bucs all game or if the run defense is actually that good. Either way, it might be a rough outing for Henry as he isn't going be effective in the run game. The Titans are going to follow the same successful game script that everyone else has used against the Bucs: throwing the ball.
Joe Mixon, Cincinnati Bengals (@ LAR)
Poor Joe Mixon can't seem to find his way off the sit list. The Bengals have been astonishingly bad this season, as shown by Mixon's pitiful numbers. He averaged .2 yards per carry last week against the Jaguars. Not two yards, 7.2 inches to be exact. He has yet to rush for a touchdown and he is currently ranked as the #35 running back in PPR formats. Frank Gore is having a better season than Joe Mixon and Frank Gore is a dinosaur. It's going to have to be another week on the bench for a player that was likely drafted in the third round.
Start 'Em WRs
DaeSean Hamilton, Denver Broncos (@ IND)
Here is my sneaky play of the week. Emmanuel Sanders has left town for San Francisco, leaving the door wide open for DaeSean Hamilton to step into the starting lineup. Sanders is leaving approximately 6 targets per game and someone has to pick them up. The Colts aren't bad against the pass, but the also aren't good. If you are in a pinch at WR, Hamilton is likely on the waiver wire in your league.
Corey Davis, Tennessee Titans (vs TB)
Tannehill looked for Davis early and often last week as Corey Davis reeled in 6 catches for 80 yards and a touchdown. The Bucs pass defense is so bad that Dez Bryant might be able to come out of retirement and put up a respectable stat line. Davis provides a safe WR2 floor this week with potential WR1 upside.
Kenny Stills, Houston Texans (vs OAK)
Will Fuller is out this week, giving Stills his first opportunity to start for the Texans offense. Stills has offered a couple solid weeks of production from the WR3 spot in Houston, and the increased snap count should lead to a big game. The Texans are against the Raiders, who's pass defense is almost as bad as the Bucs. Stills is another guy who is likely on your waiver wire who can provide an excellent spot start.
Sit 'Em WRs
DJ Moore, Carolina Panthers (@ SF)
DJ Moore has been fairly matchup dependent so far in 2019 and he has yet to post a 100-yard game yet. He's been pretty bad in standard formats. DJ Moore was a favorite to have a breakout season, but we might not see that in 2019. A date with the 49ers defense isn't what the doctor ordered to get him on track either. Moore is a risky flex play at best this week.
Odell Beckham Jr, Cleveland Browns (@ NE)
We might as well complete the trifecta. OBJ has been a boom or bust commodity in 2019, and he is in store for a bust this week. As I mentioned with Chubb and Mayfield, the Patriots are boating the statistically best defense the NFL has seen in the Super Bowl era. There is no way OBJ helps you win your game this week, or any Browns player for that matter. It's safe to bench all of them this week.
Robby Anderson, New York Jets (@ JAC)
Robby Anderson hasn't had a great start to his 2019 campaign and it's not likely to get better this week. Anderson is most likely going to be shadowed by AJ Bouye, one of the best cornerbacks in the league. It's difficult to trust Sam Darnold in Jacksonville after his performance last week against the Patriots. If you must start a wide receiver for the Jets this week, it should be Crowder, not Anderson.
Have you found my Start'Sit lists helpful this year? Let me know @CamHarperr on Twitter!