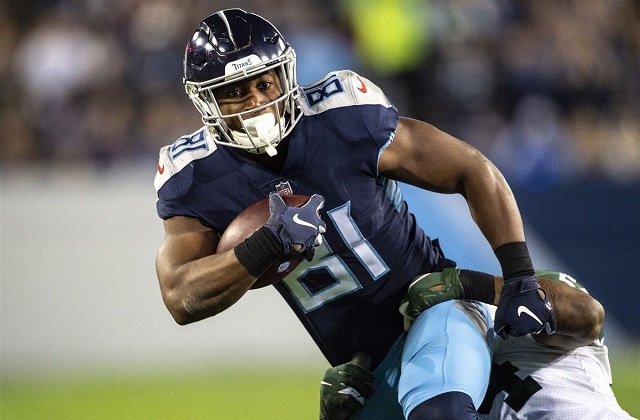 Written by Chris Hexter
22 October 2019
Kansas City Chiefs
Injury
Patrick Mahomes (O-Knee)
Opportunity
Matt Moore (QB2)
A scary moment for fantasy owners here, as Mahomes went down with a knee injury during Thursday night's game. Early reports are positive after news broke he dislocated his kneecap, saying his injury turned out as well as they could've imagined. Most reporters are speculating a week 11 return and some say earlier. With a week 12 bye, the Chiefs just might play it safe and wait for him to return for week 13. That's what I'm planning for as a Mahome's owner and you should too. Guys like Stafford and Darnold are still available in most leagues and have very nice matchups coming up (yes, Darnold). Matt Moore is not a QB worth considering unless you are desperate in 2-QB leagues.

Detroit Lions
Injury
Kerryon Johnson (O-Knee)
Opportunity
Ty Johnson (RB3)
J.D. McKissic (RB4)
Yikes. This is not a situation you want to be in. Even as the Johnson owner, you do not want any handcuff in this backfield. The truth of the matter is, with Kerryon Johnson the productivity was not there. Now, give the opportunity to either Ty Johnson or McKissic? No thanks. Detroit doesn't even know who their feature back will be. Stay far away.


Minnesota Vikings
Injury
Adam Thielen (O-Hamstring)
Opportunity
Stefon Diggs (WR2)
Bisi Johnson (WR4)
Well, at least he left you with a nice touchdown catch; more than Kerryon or Fuller owners (who we will get to). Thielen was ruled out of this game with a hamstring injury, which results say is nothing to be too concerned about. However, he will be held out of Thursday's game due to the quick turnaround. Stefon will finally give his owners more confidence after two great consecutive games. Without Thielen, there shouldn't be a situation where Diggs is on your bench. As for Bisi Johnson, he came in and played well. Johnson had a nice stat line of 4/40/1. He should see a decent amount of targets but not enough to warrant a start. If you are desperate in a deep PPR league, then maybe you can flex him. But I would stay away, especially against the Redskins where the run game will be the Viking's gameplan.
'
Atlanta Falcons
Injury
Matt Ryan (O-Ankle)
Opportunity
Matt Schaub (QB2)
Don't play Matt Schaub. The 38-year-old signal caller completed all of his pass attempts for 65 yards and a touchdown. Hooper and Jones are going to be obvious plays every week, even if I was throwing them the football. But they are downgraded along with the rest of this offense that has now lost Sanu to the Patriots. Ryan hasn't been playing amazing, but he hasn't been playing terrible. But Schaub will do what he always does, heavily target his number one receiver. Hooper is still a great option as we saw in Schaub's limited time. But I would place Ridley on the bench this upcoming week against a Seahawks secondary that has only allowed one passing touchdown in the past two weeks.
Injury
Ito Smith (O-Concussion)
Opportunity
Devonta Freeman (RB2)
Brian Hill (RB4)
Ito Smith left with head and neck injuries in last week's game against the Rams. Freeman had the backfield all to himself… until he threw a punch and was ejected. Freeman has been annoying for fantasy owners and this past week doesn't help. But with a middle of the pack run defense next and Matt Schaub behind center, the Falcons should pound the rock. Freeman should have the volume to give his owners RB2 numbers. As for Brian Hill, he should play a limited Ito Smith role but is not a worthy play in any league.
Houston Texans
Injury
Will Fuller (O-Hamstring)
Opportunity
Deandre Hopkins (WR1)
Kenny Stills (WR3)
Keke Coutee (WR4)
Unlike Thielen, Fuller's hamstring injury is one that will keep him out multiple weeks. This is a shame to hear. Fuller is a speedy receiver who has flashed in his time in the NFL, but injuries have capped his potential. Hopkins should remain a target hog and never leave your lineup. As for Stills and Coutee, they seem to be toss ups. However, I would try to roster Stills (if he isn't already). He offers more upside and has been playing the majority of snaps. Don't forget he is a field stretcher and will most likely take over the Fuller role. He has flex appeal.
Tennessee Titans
Injury
Delanie Walker (Q-Ankle)
Opportunity
Jonnu Smith (TE1)
I've said this in a previous article, but the tight end landscape is rough this year. Delanie Walker has been a borderline TE1 majority of his time in Tennessee. This scheme features the tight end so give me the more athletic Jonnu Smith in a revitalized offense. Now, when I say that I don't mean this is a top offense with Tannehill behind center, but it is much better than a Mariota led offense. The Titans have a friendly tight end matchup against the Buccaneers. He is a solid play if you are in desperation mode and could be a sneaky start with no Walker.
San Francisco 49ers
Injury
Marquise Goodwin (Q-Head)
Opportunity
Dante Pettis (WR3)
Deebo Samuel (WR4)
George Kittle (TE1)
Goodwin only played a few snaps before leaving with a head injury, however, he was kept out due to precautionary reasons. Watch his status and see if he pops up on the injury report. If he is out, Pettis gets the largest upgrade and becomes a nice flex play against my Carolina Panthers. I also like Deebo as a DFS play due to his speed and that he will most likely take over the role of Goodwin if he misses time. Kittle would only see more targets and you would be forced to play him, I know. Could you imagine? If Goodwin plays, do as you have been with Pettis as a borderline flex and Samuel out of your lineups.
Injury
Matt Breida (P-Head & Eye)
Opportunity
Tevin Coleman (RB2)
Raheem Mostert (RB3)
Jeff Wilson Jr. (RB4)
Breida is on this report due to the team leaving him out of last week's contest against the Redskins. He was evaluated with a concussion but cleared to return. Breida came out and was poked in the eye and then remained out for the rest of the game. He will play next week but if for some reason Breida is out, Coleman will be a solid RB2 for fantasy. Raheem Mostert would be the poor man's Matt Breida (but still serviceable in this offense). Jeff Wilson Jr. would be nothing more than a cheap DFS play due to his touchdown upside, which we have seen earlier this year.
Washington Redskins
Injury
Adrian Peterson (Q-Ankle)
Chris Thompson (Q-Toe)
Opportunity
Wendell Smallwood (RB3)
Opportunity is king in fantasy right? That's the only thing I can say about Smallwood if both Thompson and Peterson are out. It looks like Thompson will miss Thursday's game and my hopes are not too high for Peterson either, especially against the Vikings defense. No matter the outcome, you don't play any of these running backs.