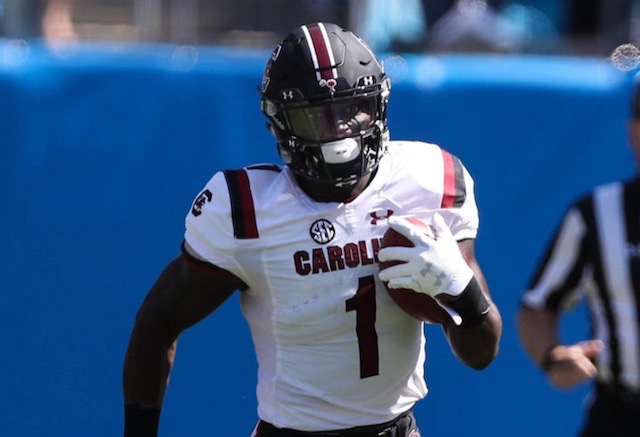 Written by John Adams
16 January 2019
The wide receiver rankings are always a hotly debated topic coming into the NFL Draft season. Wide receivers are often broken down into two categories, players who are pro ready and those who are packed with potential, but need some work. Many mock drafts project D.K. Metcalf from Mississippi or N'Keal Harry from Arizona State going in the first round. I think N'Keal Harry should go in the first round, but D.K. Metcalf is more likely to slip to the second or third.
Deebo Samuel, WR - South Carolina
Deebo Samuel is the ultimate risk-reward selection for the wide receiver position coming into the 2019 Draft. This South Carolina product is lightning in a bottle and IF he can stay healthy, there's nothing to stop him from becoming a top-tier wide receiver in the NFL. Even though he's only 6-0 and 210 pounds, there is no questioning his superior athleticism. He's a great route runner who easily creates separation with speed to burn and gets the majority of his yards after the catch. He's also a player who can make an immediate impact on special teams.
The big drawback for Samuel is his injury history. He broke his leg during his junior season and has a long list hamstring issues. But for now, those problems are behind him. Deebo has drawn comparisons to Stefon Diggs and is an immediate impact player who should be taken off the board in the first round. 
Build the best lineups with the power of The Machine for Daily Fantasy Sports
A.J. Brown, WR - Ole Miss
Ole Miss WR A.J. Brown is only listed at 6-1 and 230 pounds, but he looks even bigger than that when he lines up in the slot. He was one of the most productive wide receivers in college football this year finishing the 2018 season with 85 receptions for 1,320 yards averaging 15.5 yards per catch and catching six touchdowns.
Brown is an explosive player after the catch and although he needs to work on his separation, he not afraid to tough it out in the middle. Many NFL scouts were hoping that Brown would declare for the draft last season, but going back to school did not hurt draft stock at all. He has the kind of physical presence that have NFL scouts drooling.
- See ASL's 2019 Top 3 Running Back Prospects -
N'Keal Harry, WR - Arizona State
Despite catching 73 passes for 1,088 yards and 9 touchdowns for the Sun Devils this season, there are those that doubt that N'Keal Harry has the speed and athleticism to warrant a first round pick in this year's 2019 Draft. But at 6'4 and 216 pounds, the attribute that many scouts are ignoring is his strength in traffic.
Harry fits the prototype of the NFL receiver who can wrestle the ball away from defenders all day long and uses his size to gain significant yardage after the catch. Both coaches and scouts describe his talent as still "raw" but they also know that you can't teach size or strength, which are Harry's standout attributes.
Never miss ASL's latest fantasy sports news.
Send us an email at This email address is being protected from spambots. You need JavaScript enabled to view it. and list the sports you are interested in (NFL, NBA, MLB, NHL) to start receiving ASL's newsletter.