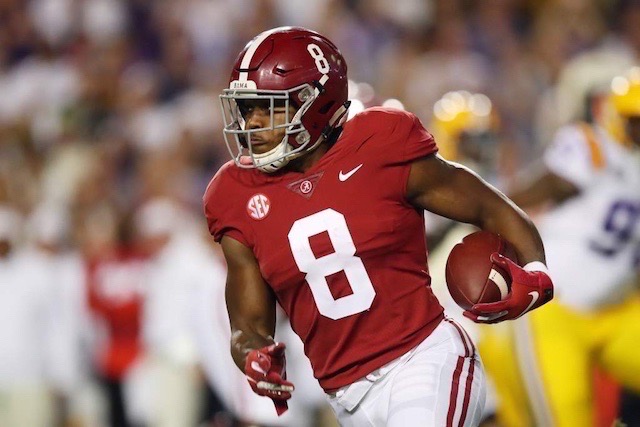 Written by John Adams
11 January 2019
The incoming 2019 NFL Draft class isn't exactly the cream of the crop when it comes to running back talent. The Bills, Raiders, Jets, Chiefs and Steelers could all use an upgrade at the running back position, but this year's crop of players doesn't appear to have any first round worthy talent.
The bottom line is that there is NO Saquon Barkley or Ezekiel Elliot caliber running back entering this year's draft. Three running backs went in the first round last season including Barkley, Rashaad Penny and Sony Michel, but that won't happen this year. However, with the high demand for a shiny new running back coming out of college, we have the three top RB prospects for this year's draft who will likely be selected in the 2nd or 3rd rounds. 
Build the best lineups with the power of The Machine for Daily Fantasy Sports
Josh Jacobs – Alabama 
Junior Bama running back Josh Jacobs is one of those rare players who made the most out of his limited opportunity.
On just 120 rushing attempts this season, he gained 640 yards averaging 5.3 yards per carry while hauling in 20 receptions for 247 yards. Even though he wasn't the lead back for the Crimson Tide this season, he finished the year with 11 rushing touchdowns and 3 receiving scores. His backup role also means that he would come into the NFL with a fresh set of legs and no injury issues.
Jacobs has until January 14th to decide whether or not he will enter the draft, but if he does, he'll be at the top of his class if he decides to make the move to the NFL during the upcoming season.
- See ASL's 2019 Top 3 Wide Receiver Prospects -
Damien Harris – Alabama
Senior Damien Harris was the lead back for Alabama during his senior season and he did not disappoint. 
He finished the 2018 season with 9 rushing scores and 876 yards on 150 carries and caught 22 balls for 204 yards. Harris put up much better numbers during his 2016 and 2017 seasons, but he says he has no regrets about coming back for his senior year.
Harris eclipsed the 1,000 yard rushing mark in both his 2016 and 2017 seasons with the Tide, but he does not have the pass-catching versatility of his team mate, Josh Jacobs.
Bennie Snell - Kentucky
Wildcat Junior Bennie Snell was the driving force in helping the Kentucky Wildcats to their first ten win season since 1977. He will forgo his senior season to enter the NFL Draft. Snell racked up 16 rushing touchdowns during the 2018 season rushing for 1,449 yards on 289 carries for an average of 5.0 yards-pre-carry.
He's projected to be taken somewhere in the second or third round after finishing his Kentucky career with 48 touchdowns in three seasons moving him into third place all-time in the SEC behind Tim Tebow and Herschel Walker. 
Never miss ASL's latest fantasy sports news.
Send us an email at This email address is being protected from spambots. You need JavaScript enabled to view it. and list the sports you are interested in (NFL, NBA, MLB, NHL) to start receiving ASL's newsletter.