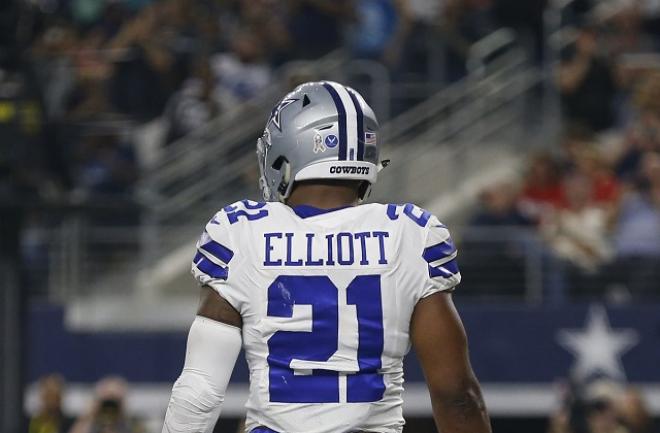 Written by Michael Morrow
25 October 2018
As we near the fantasy playoffs, it's time to start thinking about issues we as owners face each season:
- Our first-round pick who was in the top five at his position all season suddenly underperforms
- Teams who have locked in their playoff position begin resting their stars
- The inevitable and unpredictable injury bug
Unloading the following players could help you bolster your roster in preparation for your road to glory! Scoring is based on 0.5 PPR.  

Build the best lineups with the power of The Machine for Daily Fantasy Sports


QUARTERBACKS
Matt Ryan, Atlanta Falcons
Matty Ice has had a fantastic fantasy season; he's currently the No. 2 fantasy QB behind sophomore sensation Patrick Mahomes. But Ryan has the seventh-hardest strength of schedule for fantasy quarterbacks going forward, including tough matchups during the fantasy playoffs at Green Bay in Week 14 (brrrrr) and at Carolina in Week 16. Additionally, Ryan struggled toward the end of last year, posting four touchdowns and four interceptions in the Falcons' final four games. Trading Ryan to fill holes in your roster could bring you a championship.
Deshaun Watson, Houston Texans
Watson has had a disappointing sophomore season thus far and it doesn't look like it will get any better. Watson has the fourth-hardest remaining SOS for fantasy quarterbacks, highlighted by a visit to Philly in Week 16 -- the championship week for many leagues. I believe there should also be concern regarding the number of hits Watson has taken this season, especially as he is coming off the torn ACL that halted his impressive rookie campaign. Taking preventative measures and unloading Watson while you can is something to consider.
RUNNING BACKS
Ezekiel Elliott, Dallas Cowboys
Zeke has been a force since he came into the league in 2016. Him and Dak Prescott put together one of the most impressive rookie seasons in recent memory. However, the Cowboys' offense (with the exception of Week 6 against Jacksonville) has been anything but impressive in 2018. Elliott also has to face the second-hardest SOS among running backs. His remaining opponents are allowing only 96 rushing yards and less than one score per game to RBs. Plus, he has the top three teams in run defense -- New Orleans, Philadelphia, and Washington -- still on his slate. Look to sell high on Zeke!
Kareem Hunt, Kansas City Chiefs
The Chiefs have been an absolute bulldozer this season, decimating teams on their way to a 6-1 record atop the AFC West. But Hunt's fantasy owners should monitor the team's success over the next 4-5 weeks. Should the Chiefs pull away in their division, separating themselves from the Chargers, they could look to rest their stars in preparation for the playoffs. The product from Toledo can for sure get you to the championship, but his availability for that day could be in question. Side note: Stashing Spencer Ware within the next couple of weeks would be wise!


Build the best lineups with the power of The Machine for Daily Fantasy Sports


WIDE RECEIVERS
Golden Tate, Detroit Lions
Tate has been an underrated fantasy receiver every season, but it may be time to unload him if you can afford to do so. The Lions seem to have finally developed a running game under head coach Matt Patricia. Kerryon Johnson has been more and more involved in the offense; he took 21 touches for 179 yards last week. This has led to the Lions cutting down on Matthew Stafford's passing attempts as he has averaged just 26 through the last three games, compared to 35 attempts per game last season. If you need any more convincing, Tate faces the fifth-hardest remaining SOS for fantasy wideouts.
TIGHT ENDS
Rob Gronkowski, New England Patriots
Gronk has been battling injuries his whole career but remains one of the games top receiving threats. I've honestly considered Gronk the deep threat in New England as the Pats really haven't had that type of player since Randy Moss. That changed this season when they traded for Josh Gordon, who in his limited time with his new team has shown flashes of the receiver we saw dominate the league in 2013. Gronk, even in a down year, is still Gronk, so someone in your league will overpay for him in a trade. I recommend trying to unload Gronk for a tight end such as George Kittle and additional pieces that can help you down the stretch.
Related: 6 Players to Trade For
Good luck the rest of the way!


Never miss ASL's latest fantasy sports news. Send us an email at This email address is being protected from spambots. You need JavaScript enabled to view it. and list the sports you are interested in (NFL, NBA, MLB, NHL, EPL) to start receiving ASL's newsletter.