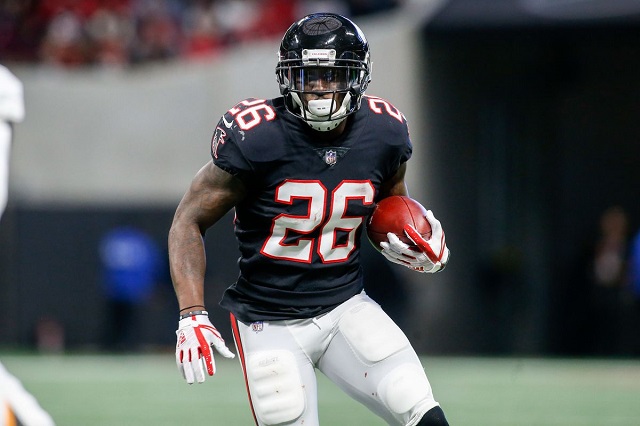 Written by Michael Morrow
18 October 2018
It's that time of year everybody. By that time of year, I mean it's time to check your league standings, find your friend that's 1-5 and try to give their players a better home. It is honestly my favorite thing to do in Weeks 7-10, and it all starts with knowing your fellow league mates. Now, I'm not going to say you should go exploit your friends' weaknesses -- but I'm also not saying NOT to do that exact thing. 
Let's start off with quarterbacks, kind of a forgotten position in fantasy. I refuse to draft one every year until a later round because there are plenty productive ones and, in my opinion, only three are worth rostering before Round 4: Drew Brees, Tom Brady and Aaron Rodgers. But here are players you should target for a trade going forward. Scoring is based on 0.5 PPR.
Andy Dalton, Cincinnati Bengals
Dalton ranks 13th among QBs this season in points at 18 per game, but he is owned in only 65 percent of leagues. Why do I mention this? Because the 12 QBs ahead of him, on average, are owned in 94 percent of leagues. That is an interesting number and more than likely means you won't have to overpay for him. Dalton had thrown 14 touchdowns through six games. With 10 games left, he is on pace to throw 37 TDs, which would make this his best season as a pro. Pair that pace with a relatively cake upcoming schedule (from a pass-defense perspective), Dalton is a great option if you're struggling at QB this season.
Russell Wilson, Seattle Seahawks
Wilson, at fewer than 16 points per game, has seen better days as a top-tier fantasy QB. However, I think he's getting back on track. He has thrown three TDs in each of his last two games, one being against a very talented Rams team. The Seahawks seem to have finally figured out their running back situation (they currently rank ninth in rush yards per game), and that only helps the dynamic QB. With salivating matchups in Weeks 15 (at San Fran) and 16 (hosting Kansas City), otherwise known as the fantasy playoffs, target Wilson in your leagues.

Build the best lineups with the power of The Machine for Daily Fantasy Sports

RUNNING BACKS
Tevin Coleman, Atlanta Falcons (9.1 fantasy ppg)
Timing is literally everything. I had Coleman as a top RB target when I started my research on Saturday with the hunch that Devonta Freeman was going to miss multiple weeks. Well, now we know that Freeman is on injured reserve. Funny how things play out. Coleman is worth owning regardless of Freeman's health, but now that he is the feature back in Atlanta, I encourage you to go all-in on him. Atlanta's offense, despite their record, has been very good this season. Matt Ryan is putting up MVP-caliber numbers, bodes well for Coleman, who has been very adept at catching passes out of the backfield. With a favorable schedule versus bad defenses ahead of him, Coleman is worth a high-asking price.
James Conner, Pittsburgh Steelers, (20.3 fantasy ppg)
Now, I know what you must be thinking: "Le'Veon is reporting back to the Steelers!" Well, let me ask you this: Where is he? He's not in Pittsburgh. It appears that everyone in the media was fooled by a Twitter post. If you are in the middle of the pack in your league and need to make something happen, I would risk it with Conner. He is worth a high-asking price as he's proved to be an effective replacement for Le'Veon Bell. I'm not saying he is as dynamic as Bell, but he has proven to be effective on the ground and in the pass game. If -- and I stress IF -- Bell comes back, I still figure Conner would be utilized based on how well he has performed.
WIDE RECEIVERS
T.Y. Hilton, Indianapolis Colts (8.4 fantasy ppg)
T.Y. makes this list because I am confident he can be acquired for a low cost. He is returning from injury, and the Colts have been far from impressive this year. Fortunately, that's not what fantasy football is about! Andrew Luck is AVERAGING 48 passing attempts per game. FORTY-EIGHT. I'm no mathematician, but 48 attempts per game equal more targets for receivers. More targets equal more receptions., more receptions equal more yards, and more yards equal more possible touchdowns. See where I'm going with this? Go get him!
Mohamed Sanu, Atlanta Falcons (9.7 fantasy ppg)
The way I see it, someone has to catch touchdowns in Atlanta. Couldn't be the receiver who I own in two leagues. Absolutely no way it could be the receiver who's on pace for 1,885 yards and 0 TDs. Nah, it couldn't be Julio Jones. As previously mentioned, Matt Ryan is having a spectacular season so far, and Sanu and Calvin Ridley have been the beneficiaries. By no means do I think Sanu is a WR1 for a fantasy team; I struggle to even justify him as a WR2. But for the right price, Sanu is probably one of the best flex options this season, especially in deeper leagues.
Remember: great drafting wins games, but great in-season management wins championships. Good luck the rest of the way!


Never miss ASL's latest fantasy sports news. Send us an email at This email address is being protected from spambots. You need JavaScript enabled to view it. and list the sports you are interested in (NFL, NBA, MLB, NHL, EPL) to start receiving ASL's newsletter.