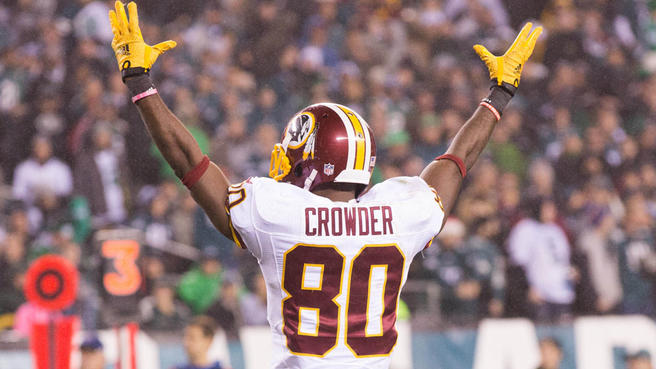 Written by AJ Schreiver
11 September 2018
WR Jamison Crowder, Washington Redskins
Head coach Jay Gruden and QB Alex Smith used a no-nonsense approach on Sunday, running on 58 percent of their snaps and controlling the clock as they handled the Cardinals with ease. As a result, Crowder was in on 65 percent of the plays. The inability of Josh Doctson to win down the field should give Crowder plenty of opportunities in this offense. KEEP Crowder as he goes against a subpar Colts defense in Week 2. Indy gave the Bengals' skill players a lot of room to operate in Week 1.
RB Devontae Booker, Denver Broncos 
Bill Musgrave, the Broncos veteran OC, has found himself a duo of young running backs in Denver, and it doesn't include Booker. He has underperformed as a pro and, barring injury, will have a minimal role in the offense. His two rookies, third-rounder Royce Freeman and undrafted free agent Phillip Lindsay, will play the respective roles of thunder and lightning for the Broncos from here out. CUT Booker, whose NFL career is now hanging by a thread. 


Build the best lineups with the power of The Machine for Daily Fantasy Sports.


WR Chris Godwin, Tampa Bay Buccaneers 
What was that about the Saints' improved defense? That wasn't a concern for a journeyman vet QB Ryan Fitzpatrick, who showed he is still more than capable. Fitz is not afraid to let it fly and that bodes well for a receiving corps that can absolutely make plays on the ball in the air. Godwin can co-exist with Mike Evans in the Bucs' offense because of his ability to run every route. His stature allows him to make plays over the middle, underneath, or go over defenders to win balls in the air. ACQUIRE Godwin, whose role will continue to evolve, certainly now with the unknown status of DeSean Jackson; his stellar Week 1 performance was cut short by a concussion.
WR Brandon Marshall, Seattle Seahawks
Most of us should know Marshall's pedigree as he has entered his 13th season in the NFL. With the departure of Jimmy Graham, the Seahawks called Marshall in to help out Russell Wilson. Doug Baldwin missed all of the preseason with a banged-up left knee and then began his 2018 campaign by partially tearing the MCL in his right knee; that should keep Baldwin out for at least a month, opening the door to ACQUIRE Marshall for instant fantasy production on a team who will rely on Wilson's right arm all year.
For more waiver wire acquisitions, visit Levi Andrew's Top 5 Waiver Wire Adds
Further questions? Mention me on Twitter, @ajsports4u_ASL, for answers and I may feature your player on next week's Keep, Cut, Acquire.


Never miss ASL's latest fantasy sports news. Send us an email at This email address is being protected from spambots. You need JavaScript enabled to view it. and list the sports you are interested in (NFL, NBA, MLB, NHL, EPL) to start receiving ASL's newsletter.