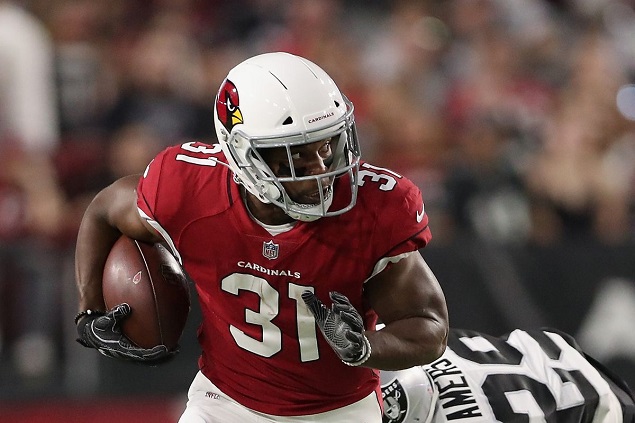 Written by Etan Mozia
06 September 2018
As a fantasy analyst, my goal is not to simply tell my readers what to think of a player. Rather, it is tasking myself to present information that can allow those owners to think for themselves and draw their own well-informed conclusions. With that understood, here are 16 facts I found interesting for this upcoming NFL season.

To win your league, start by winning your draft. Draft Analyzer can make you a champion! New in 2018 - full sync to all leagues!


1. The last full season we saw Cardinals RB David Johnson play, he accumulated more than 2,000 yards from scrimmage and 20 TDs. He netted 373.8 PPR points, 18.5 more than Todd Gurley last season. In his 2016 season, Johnson scored fewer than 14.3 fantasy points in a week just once. Gurley fell shy of that mark four times last year.
2. The Steve Sarkisian-led Falcons offense accrued 36.8 yards per drive last season, second-best in the league. They ranked 20th in yards per point, however, and averaged only the eighth-most points per game.
3. No Baltimore Ravens wide receiver has reached the 1,100-yard mark since Torrey Smith in 2013. Since 2014, 54 wide receivers have hit or exceeded this mark. New Ravens wideout Michael Crabtree experienced major drops in multiple efficiency metrics last year.
4. The Buffalo Bills' expected win total last season was 6.8. They exceeded that and went 9-7 despite -0.34 net points per drive. Overall, they ranked No. 22 in scoring offense with 18.9 points per game. This year, they will have to overcome major losses along the O-line and are expected to start Nathan Peterman at QB.
5. Cam Newton has thrown for 4,000 yards just once in his seven-year career. He did that in his 2011 rookie season. He has also thrown more than 24 touchdowns only once in his career (35 in 2015). This year, he has his deepest group of pass catchers in recent memory with Christian McCaffrey, a healthy Greg Olsen, 2017 breakout Devin Funchess and first-round wideout D.J. Moore.
6. Allen Robinson has registered 1,000-plus yards once in his four-year career (2015). His catch rate has also never exceeded 60 percent. In two of those four years, he was targeted more than 150 times. Bears QB Mitchell Trubisky will be tasked with spreading the ball around to Robinson, tight end Trey Burton, running back Tarik Cohen, and wide receivers Anthony Miller and Taylor Gabriel this season.
7. Bengals RB Joe Mixon averaged less than 1.85 yards per carry this preseason. Granted, these numbers must be taken with a grain of salt, and Mixon did split out wide on multiple occasions during the preseason and looks to do so much more frequently than last year.


To win your league, start by winning your draft. Draft Analyzer can make you a champion! New in 2018 - full sync to all leagues!



8. The Cleveland Browns have not recorded a positive point differential since 2007 when they scored 20 more points than they allowed. They won 10 games that year, one of the team's only two winning seasons since 2000. New signal caller, Tyrod Taylor, has finished no worse than QB16 in each of the last three seasons.
9. In Russell Wilson's first two seasons in the NFL, he accounted for 6,475 yards passing, 52 passing touchdowns, 1,028 yards rushing and six rushing touchdowns, good enough for 545.7 PPR points. In Dak Prescott's first two seasons, he has accounted for 6,991 yards passing, 45 passing touchdowns, 639 yards rushing and 12 rushing touchdowns, good enough for 547.9 PPR points. Prescott should also have a healthy Tyron Smith and a motivated Ezekiel Elliott for a full season in 2018.
10. The Denver Broncos had the 14th-most concentrated offense in terms of targets last season. They have ranked in the top half of this category for several seasons consecutively. This year, they have added RB Phillip Lindsay, wideouts Courtland Sutton and DaeSean Hamilton, and TE Troy Fumagalli in hopes of bucking this trend.
11. There hasn't been a 1000-yard rusher playing for the Lions since Reggie Bush did it in 2013. This year, LeGarrette Blount, Theo Riddick, Ameer Abdullah and Kerryon Johnson will all vie for control of that backfield.
12. Prior to last season, Green Bay hadn't failed to make the playoffs for eight straight years. That includes Aaron Rodgers' previous injury-shortened season of 2013. With a revamped defensive backfield and some capable RBs to balance out the offense, Rodgers has $134 million reasons to restart that streak.
13. DeAndre Hopkins has finished as WR14, WR4, WR26 and WR2 in fantasy through the past four seasons. In that same span, Mike Evans has finished WR13, WR23, WR3, and WR17. Both were valued very differently this offseason though both have added competition for targets this year.
14. Andrew Luck is back. I'm just happy about that. No fancy stat here.
15. Last year, the Jacksonville Jaguars were tied with the Minnesota Vikings with 527 pass attempts, 21st-most in the NFL. The Jags had the 17th-ranked passing offense with 3,593 yards despite that low volume. Wide receiver Keelan Cole finished 11th among WRs in fantasy from Weeks 11-17 last year while acting as an injury replacement for Marqise Lee, Allen Hurns and Allen Robinson. He is Jacksonville's clear No. 1 wide receiver this year.
16. Alex Smith ranked sixth in terms of deep-ball passing proficiency in 2017. Prior to that, he ranked in the bottom third of the league annually. Coincidentally, his deep ball seemed to greatly improve once Tyreek Hill was installed as his lead wide receiver. Patrick Mahomes can throw the ball 60-plus yards downfield consistently, and the Chiefs let Smith go after a career year last season. We'll see what Mr. Smith does in Washington in 2018.
But wait, there's more! Read 16 more facts from Etan here!


Follow Etan on Twitter: @MrAllTwentyTwo
Never miss ASL's latest fantasy sports news. Send us an email at This email address is being protected from spambots. You need JavaScript enabled to view it. and list the sports you are interested in (NFL, NBA, MLB, NHL, EPL) to start receiving ASL's newsletter.