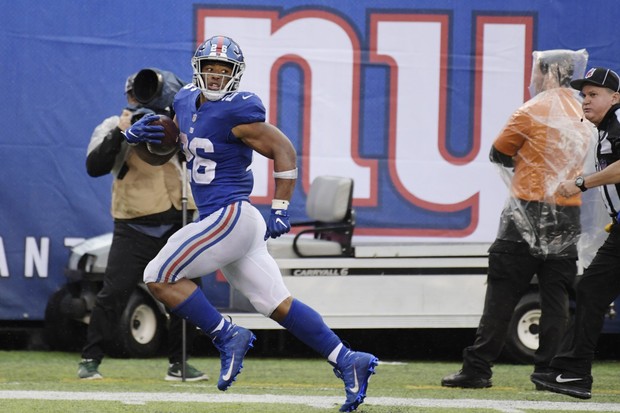 Written by Etan Mozia
13 September 2018
This is Part 2 of an article Etan began last week. To read his first 16 facts, click here.
17. Dolphins head coach Adam Gase opened the season by listing RBs Kenyan Drake and Frank Gore as co-starters. Drake is 24 years old and has never recorded 150 carries in either a collegiate or professional season. Gore has averaged 248.2 carries over his 13-year career. That said, the 2019 draft class is one of the weakest at running back in recent history. This proves doubly true after Oklahoma's Rodney Anderson's recent season-ending injury.
18. The Minnesota Vikings had no qualms with giving their No. 1 RB heavy usage last year. In 2017, Dalvin Cook averaged 22.5 touches in each of his healthy games before going down in Week 4. This year, Jerick McKinnon isn't around to steal pass-catching opportunities.
19. Tom Brady is a much better quarterback when Rob Gronkowski plays since Gronk has entered the league. When Rob sits, Brady's pass completion percentage drops from 65.5 to 60.2. His yards-per-game average drops from 293.9 to 273.3. His TDs-per-game average drops from 2.3 to 1.7. Regardless of the talent or lack thereof in New England's wide receiving corps, Brady is a different animal with Gronkowski on the field.
20. The New Orleans Saints ran the ball on 45.3 percent of their plays last season and had an even split in passing and rushing touchdowns -- 23-23 -- during the regular season. In the playoffs, they ran only 38.6 percent of the time. The Saints have added Cameron Meredith & Tre'Quan Smith to their roster this season.


Build the best lineups with the power of The Machine for Daily Fantasy Sports.


21. In 2017, the Giants' offensive line ranked 15th as a run-blocking unit. While Saquon Barkley's talent is undeniable, he is best viewed as a home run hitter rather than a consistent yards creator. However, nothing is wrong with the Jamaal Charles way of doing things.
22. Sam Darnold was the only rookie QB to start in Week 1. His backup, Josh McCown, threw for 2,926 yards, 18 touchdowns and had the 11th-best QBR in the league (94.5).
23. Chucky is back! 'Nuff said.
24. Eagles head coach Doug Pederson has never had a bell-cow feature back. He has used his No. 2 and No. 3 backs at a rate greater than the league average during his time in Philly. Jay Ajayi had a red-zone success rate of just 45 percent last season compared to Corey Clement's 65 percent. They had 13 and 15 red-zone touches, respectively.
25. Steelers head coach Mike Tomlin doesn't mess around when it comes to letting his best players play. Since 2013, Tomlin has fed his No. 1 running back a staggering 78.3 percent of the total carries. For reference, Leonard Fournette of the Jacksonville Jaguars -- the team with the most rushing yards in 2017 -- received only 58.4 percent of the handoffs last year. Take note, James Conner owners, for as long as Le'Veon Bell is absent.
26. Philip Rivers now has 58 300-yard games in his career. That's the sixth-most since 1960. Still, he was seen as more of a QB2 during draft season.
27. Jimmy Garoppolo is a promising young QB with a quick release and the ability to throw with the anticipation required of a high-quality NFL QB. That said, after Week 1, his career TD-to-interception ratio with San Fran now stands at 8:8 The 49ers led the league last season in pace with just 25.6 seconds spent between plays last. Maybe patience is a virtue?


Build the best lineups with the power of The Machine for Daily Fantasy Sports.


28. Doug Baldwin in a 29-year-old receiver who dealt with a knee during the preseason, suffered a new knee injury in Week 1 that will sideline him for at least a couple of weeks, and he declined in several key efficiency metrics last season. He holds a $13 million cap hit in 2019 and his dead cap drops from $17 million in 2018 to $6 million in 2019. Tyler Lockett's new deal has him holding a cap hit of just $6 million next season. The Seahawks have not been known to heavily spend on wideouts since Pete Carroll came to town.
29. The Los Angeles Rams ran "11" personnel (three wide receivers) at a league-high 81 percent of their snaps in 2017. Head coach Sean McVay's play-calling tendencies have favored the possession/slot receiver going back to his time as the Redskins' offensive coordinator. Cooper Kupp led the Rams' wideouts in targets, catches and red-zone targets last season.
30. Mike Evans received 27.5 percent of the Buccaneers' red-zone targets last season, good enough for 12th-most in the league. He caught five touchdowns. Fantasy football is variance and variance is fantasy football.
31. Derrick Henry is an enormous human being. Dion Lewis is a more efficient runner. In 2017, Lewis outpaced Henry in yards per carry, yards per touch, breakaway runs, evaded tackles and juke rate. Lewis does have a lengthy injury history, however.
32. Alex Smith completed the 2013-2014 season without a TD pass to a wide receiver. Washington does not boast game-breaking talent at WR.

Thanks for reading! Agree? Think I'm nuts? Follow me @FF_Wonderkid and let me know on Twitter

Never miss ASL's latest fantasy sports news. Send us an email at This email address is being protected from spambots. You need JavaScript enabled to view it. and list the sports you are interested in (NFL, NBA, MLB, NHL, EPL) to start receiving ASL's newsletter.