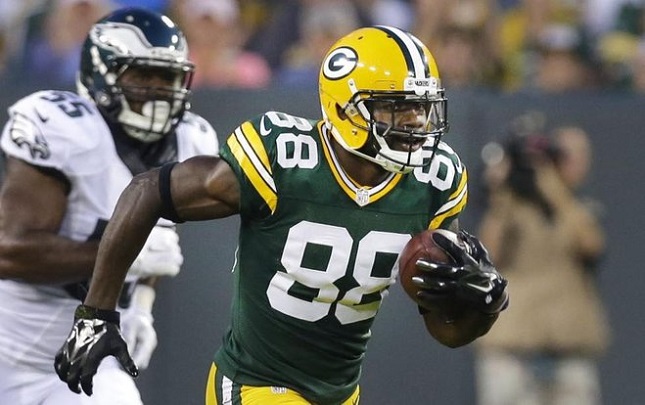 Written by Brian Murphy
14 July 2018
TE Eric Ebron, Indianapolis Colts
According to ESPN.com's ADP chart, Ebron has made the biggest jump up -- by far -- over the past seven days. Specifically, his average draft position has risen 26 spots, and he is now being selected at pick No. 144 on average. There are some fantasy analysts out there who think that it will be Ebron, not Jack Doyle, who will be the best tight end for fantasy purposes in Indy this year. That may happen, and I can almost guarantee that I won't benefit from that if it does happen. Ebron teases us every summer because he has all of the physical tools to be a difference-maker. But being a good athlete doesn't mean you are a good player, and that's kind of the story with Ebron. He has been held back by his lack of soft hands and inconsistent play. As is, he was a back-end TE1 in each of the past two seasons. But with Doyle in the picture, I don't think Ebron will be anything better than a top-15 TE this season. I have him currently ranked 20th among tight ends.
RB Ty Montgomery, Green Bay Packers
It makes sense for Montgomery to get a stock bump following the two-game suspension handed out to Aaron Jones last week. As a 13th-round pick on average in 12-team leagues, that's a great, low-risk price for Montgomery, who we already know will have a decent-sized role in Green Bay as the best receiver among their RBs. Perhaps his role will expand with a strong start to the season. Jamaal Williams is present as well (106 ADP), so this isn't cut and dried. But in PPR formats, I'd prefer the versatile Montgomery.
RB Sony Michel, New England Patriots
The ADP of this rookie has gone up about 5-6 spots over the past week and he is now a mid-fifth-round pick on average in 12-team formats. Although Michel definitely has the talent to be a lead back, you know the Pats are going to be messing with their RB depth chart all season long, driving fantasy owners crazy. Rex Burkhead will have his big weeks and might be a weapon often at the goal line. James White will feature as a pass-catcher out of the backfield. Plus, there is Michel's collegiate history of fumblitis, I see him as a risk-reward choice in the fifth. I slotted him as the No. 26 RB in my standard ranks earlier this month.
You can follow, ask fantasy questions and yell at Brian on Twitter: @Spokes_Murphy
Never miss ASL's latest fantasy sports news. Send us an email at This email address is being protected from spambots. You need JavaScript enabled to view it. and list the sports you are interested in (NFL, NBA, MLB, NHL, EPL) to start receiving ASL's newsletter.