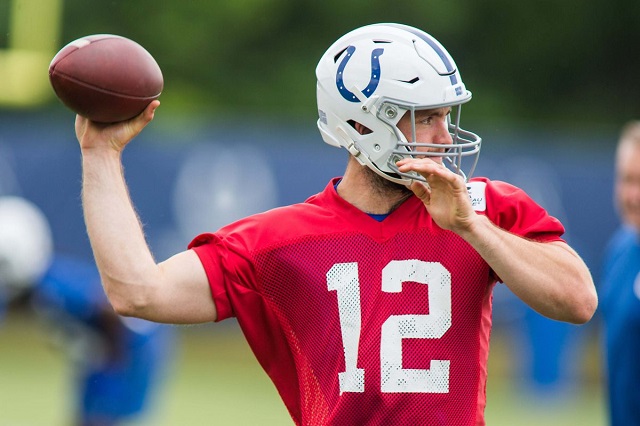 Written by Brian Murphy
19 June 2018
Colts QB Andrew Luck throws a real football, is pain-free
It's fairly substantial news that Luck threw a regulation-size football last week in front of NFL reporters. That's the first time he's done that since before the start of the 2017 season, which he missed entirely. Luck told Sports Illustrated's Albert Breer that the "pain is gone" in his twice-surgically repaired right shoulder, "and it's going to stay that way."
Fantasy Take: I'm not quite ready to move Luck into QB1 territory, but you have to admit that this is encouraging. I and many others have mocked the Colts and Luck for this protracted drama with his throwing shoulder, but it will be forgotten in relatively short order if the former top-five fantasy QB is ready to go come Week 1. His draft stock should be starting to rise, even if selecting him in Rounds 7-9 makes you feel slightly uneasy before the start of the regular season. His injury risk remains very real.
Buccaneers rookie RB Ronald Jones ready for 15-20 touches per game?
Bucs beat writer Rick Stroud wrote this past weekend that Jones could be the most productive player in Tampa Bay's 2018 rookie class "since he should get 15 to 20 touches per game."
Fantasy Take: Our Levi Andrew would probably scoff at this kind of speculation; he's much more of a Peyton Barber guy, as he wrote about last week. It's also worth repeating that this is speculation. Stroud is very well connected and has been on the Bucs beat for years, but no one can honestly know how a team's depth chart will pan out at this stage. Especially when it's a depth chart that contains multiple cogs who are either unproven or don't possess star quality. It wouldn't shock me if the Bucs cut Jacquizz Rodgers and/or Charles Sims this summer. That would indicate just how much they like Jones. But at this point, Tampa Bay's backfield looks rather crowded, and I wouldn't select Jones as anything more than an RB3 right now. Don't forget that the Buccaneers' offensive line was average at best last season.
Packers announce RBBC for the upcoming season
Expected yet frustrating news out of Green Bay Packers camp as head coach Mike McCarthy announced recently that, yes, the team will be using a running back-by-committee strategy in 2018.
"The fact of the matter is we're going to go running back by committee," McCarthy said via ESPN's Rob Demovsky. "But if one of them would emerge as that full-time guy then you have to have that ability to ... adjust to that."
Fantasy Take: Sure, they will "adjust" if one of the team's three main running backs -- Ty Montgomery, Jamaal Williams, Aaron Jones -- deserved more work, but I think we can all safely assume heading into the season that each man will see some portion of the backfield carries in Week 1. Injuries will likely determine how this mess shakes out, but nobody here is more than an RB3/RB4 dart throw right now. Those in standard leagues have a tougher decision if they choose to wade into these murky waters. Montgomery's natural receiving skills should give him an advantage in PPR formats. 


You can follow, ask fantasy questions and yell at Brian on Twitter: @Spokes_Murphy
Never miss ASL's latest fantasy sports news. Send us an email at This email address is being protected from spambots. You need JavaScript enabled to view it. and list the sports you are interested in (NFL, NBA, MLB, NHL, EPL) to start receiving ASL's newsletter.