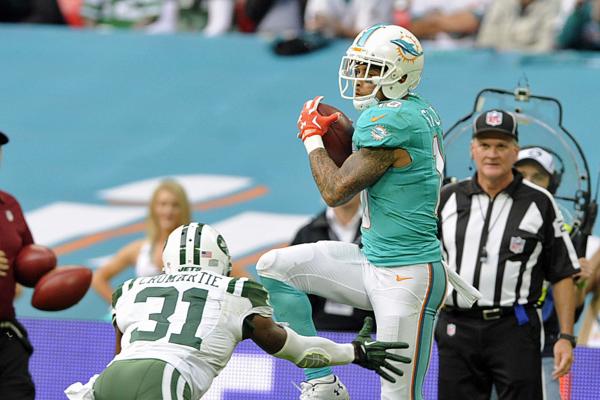 Written by Levi Andrew
14 June 2018
By no means is this a "Buy Low" article. These are just some players from whom I see big things coming this season, and I am targeting them in offseason negotiations.
WR Kenny Stills, Miami Dolphins
Jarvis Landry is gone, and no matter what you believe about DeVante Parker, Stills sits atop Miami's WR depth chart. Stills finished as the No. 28 wideout in PPR formats last year, averaging 10.9 points per game. With Landry now in Cleveland, that's 292 targets from the past two years out of the picture. Yes, the Dolphins have brought in Albert Wilson and Danny Amendola to try and replicate what Landry was, but even when Ryan Tannehill was healthy and slinging the ball, Stills averaged 10.6 fantasy points per game in 2016. He has averaged 16.8 yards per reception with Tannehill at QB, so if Stills sees an increase of 30-40 targets and finishes in the 120-130 range, he could break the 1,000-yard receiving mark. He almost accomplished that on just 83 targets in 2014 while with New Orleans.
This is the season Stills and Tannehill get on the same page, making him a reliable WR2. More targets mean more receptions. I would like to see Stills average 6-7 receptions per game, which would double his 2017 average.
I would start by offering a third-round pick for him and see where trade talks take me. Don't overspend by sending either a second-round pick or a proven stud to another team.
TE Trey Burton, Chicago Bears
Since 2016, Burton has 629 yards and six touchdowns on 63 receptions. Mind you that five of those TDs came in 2017, but most of the yardage came in 2016. He now shifts to a team that has a head coach in Matt Nagy and an offensive coordinator in Mark Helfrich, both of whom know how to properly deploy a pass-catching TE. Case in point, Nagy has coached Travis Kelce for the past two years and helped him become an elite offensive force.
I think quarterback Mitchell Trubisky will become very comfortable with Burton as his go-to target both in the red zone and between the 20s. With Burton's 10 yards per reception average, he could make a huge impact. I'm not predicting him to be a TE1 right away, but he could easily become a top-10 option. I like his ceiling and would love to have him on my team. However, the Burton hype is real, so he may be a little expensive right now. 
WR Robby Anderson, New York Jets
First off, what's going to make Robby cheap are his off-field concerns. He could be facing a suspension for an altercation with a police officer in January. With that said, Anderson finished as the No. 18 WR last year. His sophomore season saw him record 63 catches for 941 yards and seven TDs. With the Jets bringing Josh McCown back, signing Teddy Bridgewater and drafting Sam Darnold, there is better QB play on the horizon. Both Josh and Teddy have shown us what they can do with a speedy receiver; McCown and Anderson had a bona fide connection last year, and Bridgewater had a good connection with Stefon Diggs in Minnesota. Robby was pretty consistent for a long stretch last season as he tallied at least seven points in seven straight weeks. He reached double-digit points in five of those games.
I would not be afraid to draft Robby as my WR3 even though he may be suspended for the first four weeks or more. He could easily finish as a top-20 WR again and benefit your team down the stretch. See if you can throw your WR4 who's not suspended to the team that owns Robby and see where that takes you in negotiations.
RB Peyton Barber, Tampa Bay Buccaneers
I, for one, am not a Ronald Jones guy. I fully believe that this will still be Barber's backfield come the regular season. On Barber's 108 totes last year, he totaled 423 on 3.9 yards per rush. Most of his yardage came in the four games he started toward the end of last season. We know head coach Dirk Koetter wants a steady workhorse back and that's Barber. If the Jeremy McNichols experiment last year shows us anything, it's that Dirk isn't afraid to drop a guy who can't grasp the playbook and is limited in pass protection. I'm not saying Jones will be cut, but Jones hasn't done much pass protecting.
Charles Sims will likely be handling third-down work and passing situations. But it should be noted that Barber caught 16 of 19 targets for 114 yards last year. If he can get some more work there, that could really make his value jump up. Sims caught 35 of 47 targets for 249 yards, so there's not as much of a gap there as people think.
Given the hype surrounding Jones and the uncertainty in the backfield, now is the time to hop on the Barber train and acquire him for cheap. You might end up with a low-end RB2 or a high-end RB3.


As always, follow me on Twitter: @LeviAndrewFF
Never miss ASL's latest fantasy sports news. Send us an email at This email address is being protected from spambots. You need JavaScript enabled to view it. and list the sports you are interested in (NFL, NBA, MLB, NHL, EPL) to start receiving ASL's newsletter.