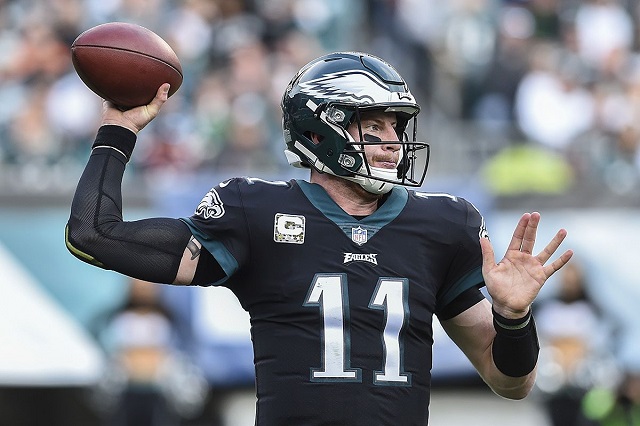 Written by Brian Murphy
08 May 2018
Panthers add C.J. Anderson to their backfield mix
Three weeks after being released by the Denver Broncos, Anderson found out where he will continue his NFL career as he signed a one-year deal with the Carolina Panthers on Monday.
Fantasy Take: Well, maybe it's already time for me to revisit this opinion on Christian McCaffrey from last week. Bringing Anderson in does stifle some of McCaffrey's upside in standard leagues. Those extra touchdowns I thought he'd be getting will now go for the most part to the guy who weighs 20 pounds more than McCaffrey. That makes sense, but it means that the Stanford product is back to being a safe RB2; the RB1 dreams I was having about him following the draft are off the table right now. In PPR formats, however, he remains a top-10 commodity. Anderson is a competent pass-catcher, but he can't really hold a candle to what McCaffrey can do in open spaces.
Anderson takes over the Jonathan Stewart role in Carolina and is a pretty perfect fit for it. Anderson will get 200-plus carries, including a bunch of tries at the goal line. He should be good for at least 6-7 touchdowns and will hold some bye-week RB2 value in standard leagues. CJ's fantasy value would rise if a major injury befell McCaffrey and vice versa.
Seahawks rookie RB Rashaad Penny: 3-down back?
Seahawks head coach Pete Carroll said last weekend that the first-rounder "caught the ball beautifully" during rookie minicamp. Caroll also said that Penny "won't have any problems" with learning how to pass block. 
Fantasy Take: Penny caught just 42 passes in his four years at San Diego State, maxing out at 19 in his 2017 senior season. He is also a neophyte when it comes to blocking, which is pivotal to any dreams he or the Seahawks have of Penny being a true every-down factor. For now, color me skeptical. We all know that Carroll sees each one of his players through rose-colored glasses. His quotes sound great but really should be taken with a grain of a salt, especially because we are dealing with a rookie still in need of plenty of polish. When you add in the other RB options Seattle currently has -- Chris Carson, Mike Davis, C.J. Prosise, J.D. McKissic -- Penny's fantasy placement should be somewhere in the RB3/RB4 range right now. He could make a drastic move up if he is given the role that Carroll envisions, but there is a lot that needs to shake out here, and I'm not overly confident that we'll have a clear picture of this backfield by Week 1. That's why I gave a fantasy downgrade to this entire flock last week.
Texans "hoping" RB D'Onta Foreman will be ready for training camp
Foreman tore his left Achilles tendon during a touchdown run last November. Texans general manager Brian Gaine said recently the team is "hoping" Foreman "will be back here when we get ready to put the pads back on."
Fantasy Take: Good luck with that. Achilles tendon tears can still be a career-changing type of injury, especially for running backs. While players can get back on the field within 12 months, those who have been where Foreman is now will tell you that full recovery doesn't come until months further down the road. Suffice it to say, I don't think Foreman will be ready for training camp this summer, and I doubt we will see him play before November. His injury is one reason why I was flummoxed to see Houston not pick a running back during the draft, but the fact that they didn't kind of leaves Lamar Miller as the safe, clear-cut leader in this backfield. Miller may not be an exciting fantasy choice, but the dearth of talent behind him does help his stock in our game. I talked more about Miller here.
Eagles QB Carson Wentz says his goal is to be ready for Week 1
Wentz made the proclamation Monday on NFL Network. He tore his right ACL in a December game versus the Los Angeles Rams. Up until that point, Wentz was widely considered to be a strong MVP contender.
Fantasy Take: I'm not as pessimistic on Wentz as I am on Foreman. For one, ACL recovery timetables seem to be getting shorter and shorter as time advances, and the impact of this lower-body injury shouldn't be as drastic on a quarterback as it would be on a running back. So, can Wentz make a nine-month return following his ACL tear? I'm not going to give you a hard no, but I won't say yes either. He will be well worth monitoring throughout the summer because if Wentz is actually on track to start against the Falcons on Sept. 6, he should be drafted as a mid-range QB1. 


You can follow, ask fantasy questions and yell at Brian on Twitter: @Spokes_Murphy
Never miss ASL's latest fantasy sports news. Send us an email at This email address is being protected from spambots. You need JavaScript enabled to view it. and list the sports you are interested in (NFL, NBA, MLB, NHL, EPL) to start receiving ASL's newsletter.