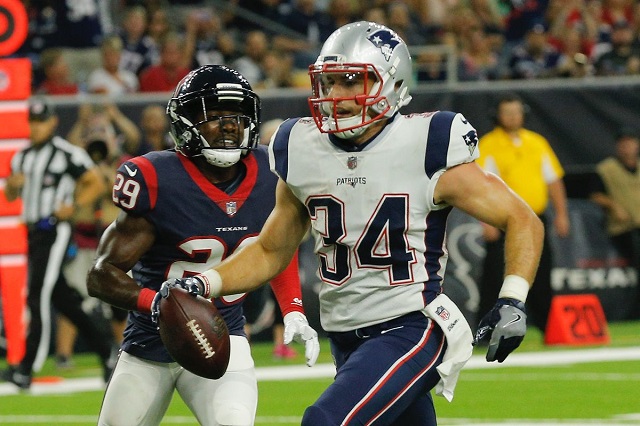 Written by Brian Murphy
01 May 2018
Carlos Hyde, Cleveland Browns
The Browns' backfield looked just fine prior to the draft, with Hyde tasked to be the early-down back and Duke Johnson remaining a prolific receiver out of the backfield. And then Cleveland spent a second-round pick on Nick Chubb. It's a pick I don't understand, but it's obvious the Browns think the Georgia product can have a role right away. And it won't be as a pass-catcher since Chubb caught just 13 balls in his final 34 games in college. So, Johnson gets to keep his bread and butter, which can only mean that Hyde, a power-first runner, will be hurt most in fantasy by Chubb, a power-first runner. Chubb is actually a better athlete than Hyde, especially at this point in the latter's career, and given Hyde's injury history, I have no interest in taking him before the fifth or sixth round in standard leagues.
All Seattle Seahawks RBs
Rashaad Penny, a surprise first-round pick, is the hot new thang in the Northwest. Unfortunately for him, he's entering a quagmire in Seattle. Chris Carson, Mike Davis, C.J. Prosise, J.D. McKissic have all had some shining moments but they also have some serious concerns. Carson and Prosise are coming back from major lower-body injuries, Davis is a middling player at best, and 195-pound McKissic is too slight to have a massive workload but quick enough to be worthwhile on passing downs. And now, Penny, a possible every-down player if he ever learns how to block, joins this mess. I think I'd put most of my money on the rookie, but odds are this is going to be a frustrating situation for fantasy owners throughout the fall. Don't forget that the Seahawks still have a bad offensive line. They did little to change that during the draft.
Rex Burkhead, New England Patriots
First-round rookie Sony Michel can be a three-down player right now(unlike Penny, he can block), but that's just not how the Patriots operate. I'm not even going to consider Jeremy Hill or Mike Gillislee because one of those players will not be on this team come Week 1 and the role of the "winner" of that position battle probably isn't going to mean much to fantasy enthusiasts. So, when considering the Patriots' backfield with Michel, you have to look at how his inclusion impacts Burkhead and James White. I think White's value will be generally OK because almost all of it comes via his work as a receiver. Burkhead is a sufficient pass-catcher too, but his fantasy stock really shot up late last year when he started taking on double-digit carries and scored five rushing touchdowns in his final four games of the regular season. As long as Michel doesn't get in Bill Belichick's doghouse, he should be able to claim those short TDs for himself. He has the size to do it; Michel is 5-foot-11, 214 pounds while Burkhead is 5-foot-10, 210 pounds. 
Samaje Perine, Washington Redskins
If you paid attention last year, you should know why Chris Thompson isn't being downgraded. Even though he carried the ball just 64 times in 10 games, Thompson was the No. 12 RB in fantasy points per game last season in standard leagues. Thompson is an elite receiving weapon out of the backfield, and that won't change with Derrius Guice coming to town. Drafting Guice adds a needed injection of speed to the Redskins' backfield. He's a welcomed sight for those who are tired of watching Perine plod along. Rob Kelley is already on the outside looking in. I would be shocked if Guice isn't Washington's top rusher in 2018. It shouldn't be close.
Every veteran on the Broncos, Buccaneers, Colts and Lions
In Denver, Royce Freeman has to deal with De'Angelo Henderson and Devontae Booker.
In Tampa Bay, Ronald Jones has to deal with Charles Sims, Peyton Barber and Jacquizz Rodgers.
In Indianapolis, Nyheim Hines and Jordan Wilkins have to deal with Marlon Mack, Robert Turbin and Christine Michael.
In Detroit, Kerryon Johnson has to deal with LeGarrette Blount, Theo Riddick and Ameer Abdullah.
Look at the non-rookies in those groups. Riddick is a PPR asset. Mack is talented but needs to prove himself this year. Other than those two, I can't say I prefer any of those guys. This may be a lot of recency bias, but right now, I'd rather take a flier on a rookie than draft any of those other players. Jones would be the top pick if you were just selecting from these four teams. Then I would go after Freeman and Johnson, in that order. Wilkins is intriguing to me as a dynasty sleeper. But the point here is I'm not going to concern myself too much with any of those RBs on the right side.  
 
You can follow, ask fantasy questions and yell at Brian on Twitter: @Spokes_Murphy
Never miss ASL's latest fantasy sports news. Send us an email at This email address is being protected from spambots. You need JavaScript enabled to view it. and list the sports you are interested in (NFL, NBA, MLB, NHL, EPL) to start receiving ASL's newsletter.