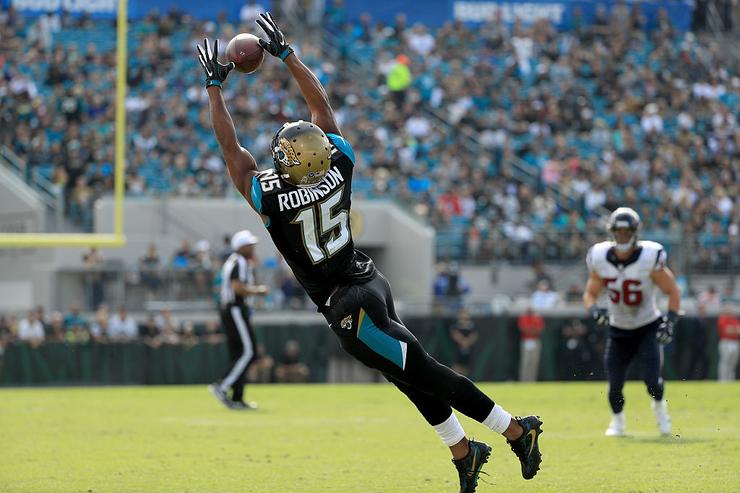 Written by Chad Samuels
15 March 2018
The NFL season is upon us. Not only are we ramping up for the NFL Draft, but free agency has exploded on the scene with many splashy moves. Here are some quick thoughts on what's happened at the beginning of the free agency period and how it can affect the dynasty landscape.
Sammy Watkins to the Chiefs: Watkins' value should go down from this move but he fits well. Patrick Mahomes has a big arm, and Watkins' main receiver competition is deep-ball threat Tyreek Hill. Watkins has the size to capitalize on the short and intermediate routes. He and Travis Kelce will take some targets away from each other; Kelce drops in the TE rankings, and Watkins is a buy-low if you can get him. Robert Woods and Cooper Kupp will miss Watkins drawing top corner coverage away from them.
If you play in a dynasty league, give your team the best chance to win with Chad's Dynasty Diagnostic service. 
Allen Robinson to the Bears: Robinson's value should soar. Mitchell Trubisky flashed with little receiving help last year and he now has weapons. Unless you are in a superflex league, there are too many QBs to say Trubisky will rise to be a top-six QB in dynasty, which is what you want from your starter, if possible. Robinson may start out slow as he adjusts to a new system and completes his recovery from a torn ACL last September. If he does begin slowly, look to buy low early in the season. Kevin White and Cameron Meredith lose significant value. However, if you have roster space, White becomes a great buy-low and stash. He still has his first-round draft pedigree and odds are he will be a free agent after this year.
Jarvis Landry to the Browns: The Browns' offense is on the rise. There are too many mouths to feed in Cleveland so look for all three receivers -- Landry, Josh Gordon and Corey Coleman -- to have to fight for targets. There were rumors of Coleman possibly being traded, so if you can buy him on the cheap, he is a great speculative buy for roster growth. He flashed in his first two seasons and has a first-round pedigree. With the potential reduction in Landry's stat line, try to sell him.
Paul Richardson to the Redskins: Free-agent wide receivers are often risky propositions. The Redskins need a deep threat, but I think Richardson will be useful mostly in best-ball formats. He can bring WR depth for your dynasty team, as will Josh Doctson and Jamison Crowder. Doctson has the third-year wide receiver upside going for him and is a breakout candidate.
Jordy Nelson Cut!: I have been telling owners to sell Nelson for a while. Now his value is in the tank so it is time to buy, buy, buy! Get him thrown in on another trade deal for cheap. Or give up a fourth-round rookie pick and do it before he signs. He might be able to squeeze out one final year of production for your roster.    
Tyrod Taylor to the Browns: This move scares me that the Browns are going to now blow it and draft Josh Allen. Taylor will be productive enough for the Browns in the short term, but this move does not solve their QB problems and they will receive heat if they stand pat. Taylor will be a great one-year rental for fantasy purposes. This does free up Cleveland to trade out of the 1.1 spot for a windfall or possibly draft the best player available (Bradley Chubb?). I am not a draft expert, but 1.1 is too high for a running back, even one as good as Saquon Barkley, to be drafted there in today's NFL.
Teddy Bridgewater to the Jets: This is a one-year, prove-it deal, and I would not be surprised if he beats out Josh McCown for the starting gig. The Jets are probably still in the market to draft a QB, but this move has me wondering if they will trade back with the Bills depending on what quarterbacks are available. This move allows the Jets to take a wide receiver early in the draft.
Kirk Cousins to the Vikings: This is a lateral move for Cousins, who will probably lose some garbage-time stats as Minnesota's defense is much stronger than Washington's. However, the Vikings' receiving corps is better. It remains to be seen how he develops chemistry with Stefon Diggs and Adam Thielen. Both WRs remain solid options. Dalvin Cook is a winner here as teams will not be able to stack the box against him.
Drew Brees re-signs: The Saints' offense keeps humming for the next two years.
Alex Smith to the Redskins: A former No. 1 overall draft pick who never seems to get any love, Smith is an undervalued QB who should overachieve in Washington. He is worth picking up in superflex leagues and can be useful in a quarterback-by-committee approach in standard leagues.   
Sam Bradford to the Cardinals: The Cardinals are in disarray. Look for more large doses of David Johnson and for Bradford to not finish the season healthy. Bradford could produce, but he needs to stay on the field to do so. The retirement of head coach Bruce Arians hurts.
Case Keenum to Denver: No matter which QB the Broncos draft next month, Demaryius Thomas should have improved stats compared to last season's nightmare. Emmanuel Sanders gets an uptick as well, but he is probably not worth a roster spot unless you absolutely need depth.
Jerick McKinnon to the 49ers: McKinnon is solid, but the running back carousel is not done in San Francisco, which will most likely draft another RB in a deep class of talent. It may be wise to sell McKinnon for a value.
Carlos Hyde to the Browns: The Browns are upgrading their offense, and Hyde should get plenty of touches and carries. This hurts Duke Johnson's value, but Duke should still get some receiving work, so do not expect Hyde to be a true workhorse in Cleveland.
Isaiah Crowell to the Jets: Another three-headed RB committee is on the horizon for the Jets. All three can provide cheap roster depth.
Doug Martin cut!: It doesn't matter where Martin signs. Peyton Barber is at the top of the Bucs' depth chart. That won't last, so sell Barber for what you can while his value is high.   
Jimmy Graham to the Packers: The Packers don't use their tight ends much. Graham is aging and injury prone. I will pass on him.  
Trey Burton to the Bears: This hurts the upside of Adam Shaheen, but at least he has one year of experience in this offense. Take a wait-and-see approach with the Bears' tight ends this year.

Nate Solder to the Giants: The Giants need this! The tackle will boost the value of whomever wins the Giants' lead running back job. Even though they just signed Jonathan Stewart -- and he does have some value -- I don't think their starting running back is on the roster yet.
Dynasty never goes out of style. The following is previous content you may want to refer to:
Introduction to Growth Strategies 
Growth Strategies and Startup Drafts, Part 1
Growth Strategies and Startup Drafts, Part 2
Growth Strategies and Rookie Drafts
When Roster Growth Strategies Go Right
Why You Should Join a Devy League
Never miss ASL's latest fantasy sports news. Send us an email at This email address is being protected from spambots. You need JavaScript enabled to view it. and list the sports you are interested in (NFL, NBA, MLB, NHL, EPL) to start receiving ASL's newsletter.