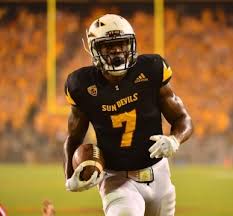 Written by Chad Samuels
02 January 2018
Back in August I wrote about several players to watch during the college football season. These weren't necessarily the elite players like Courtland Sutton and Saquon Barkley, but players who with solid seasons that could become players we should pay attention to in our dynasty drafts. There is much more to the draft process than watching some college football games. The NFL Combine is a key part of any prospects chances to be drafted and to become dynasty relevant, so the process is far from over. As we begin the new year let's review what happened to these seven players from that article and how it affects their draft status going forward and potentially their dynasty value.
If you play in a dynasty league, give your team the best chance to win with Chad's Dynasty Diagnostic service. 
Kalen Ballage:  As noted this past fall Ballage has the size to be an elite running back. The problem was that he didn't have the college production to back him up. A strong production year would vault him up draft boards. Unfortunately, Kalen didn't dominate a market share of attempts with only 153 attempts and he produced at 4.3 yards per carry on his limited touches. He did, however, have the bulk of the receiving versus Demario Richards 19 receptions to 7 and 46 receptions in 2016. Ballage is in no way a receiving back like Christian McCaffrey but the stats do suggest that if he does get touches he could stay on the field for third downs and pick up some additional value through receptions in PPR leagues. The lack of production indicates a risk/reward profile. If he can prove he has some weight-adjusted athleticism at the NFL combine, Ballage will have value at the top of the second round in rookie drafts.      
Sad that the NFL season is ending? Don't be. Make your own offseason prop bets here.
Nick Chubb: Georgia has an elite rushing attack this season on it's way to the College Football Playoffs. Chubb performed well in a two-headed monster running backfield with him and Sony Michel, which produced 2123 rushing yards from scrimmage. Because both players did so well during their senior seasons, it's impossible to talk about one back without talking about the other. Both players were comparable yards wise. Chubb passes the test and his 6.2 ypc has him number two on my rookie running back board behind SaQuon Barkley. Michael did better with a 7.2 ypc his senior season and is worth conversation as well. Both backs scored 13 touchdowns and were within 60 attempts of each other, which demonstrates how evenly the two backs were used in 2017. Last night, both players also excelled versus Oklahoma State with Michel getting the edge in yards and yards per carry. They will meet Alabama in the Peach Bowl for the national title, and this game will be critical. Alabama is an elite defense and if one of the two backs perform and the other does not it will cause some separation between the two. As of right now the difference between the two is recruiting status. Chubb was a five star recruit while Michel is a four star recruit. Runningback is a position where recruiting status matters at the top levels of the NFL draft. Running back skills can develop early and there is not route tree to learn. More than anything the growth in college we want to see is putting on good weight. Size is finally where you seperate the two backs Michel is one inch taller at 5'11" but Chubb is ten pounds heavier at 225 lbs to 215 lbs. From a durability standpoint in the NFL 220 lbs is the benchmark that running backs want to meet Chubb meets it while Michel is in the tweener size. Michel being taller also reduces his BMI and that is why Chubb will be ranked higher than Michel come rookie drafts. The weigh in for the NFL combine will be critical for Michel if he can put on weight and both backs still need to put up respectable drill times to confirm their status in the NFL. At this point Nick Chubb is my number two running back behind SaQuon Barkley. Michel, on the other hand, looks to be a late first round, early second round rookie pick at this early point in the draft process.      
Royce Freeman- In 2017 we wanted to see Royce Freeman bounce back after a subpar junior campaign. He did just that with 244 attempts for 1475 yards with 16 touchdowns. HIs 6.0 ypc is what we want to see in running back prospects. For his career he is just under 6 ypc but with his size we can feel pretty good about his draft status. His performance in 2017 barring a combine meltdown should have him being drafted day two of the NFL draft. Depending which team drafts him, he could be drafted middle of the first round after Barkley, Chubb, and Guice are off the board or he could be a bargain in the second round of rookie drafts. The good news for those who like Freeman is that this year's draft class is loaded and there are many differing opinions. Players like Ronald Jones muddies the water and people will be drafting them and pushing down players like Freeman. As we start the 2017 process Freeman should be a name on a short list of players to pay attention to at the combine.    
Christian Kirk- Kirk still has first round draft status possibilities. He is thick for a WR as he is listed at 5'11" and 200 lbs. While he is not prototypical for a wide receiver, the position is such that several different body types can succeed in the NFL. Last year Kirk underwhelmed as his production dropped to 58 reception and 730 receiving yards but his average per reception jumped to 12.6 yards per reception. He still logged 7 games with five or more receptions and two games of 100 yards or more receiving. Texas A&M offense dropped in production as well  in 2017. While it does not give Kirk a complete pass for his reduction in stats it is enough of a reason to assume he is still in first round consideration for the NFL draft. And it is very likely he will be a first round pick in your rookie drafts.  
Equanimeous St. Brown- I would be very surprised if St. Brown declares for the NFL draft. Notre Dame had a strong rushing attack with Josh Adams. In fact Adams is a player to watch and see if he declares for the NFL draft. If he does (and probably should) he will be another running back name to monitor in the draft process. Equanimeous, however was hurt by a new quarterback. He had only 31 receptions for 468 yards and four touchdowns in 2017. While wide receivers can have many different frames to succeed, he is very light for 6'5" (208 lbs). If he decides to come out, his lack of production for his junior year makes him a risk/reward player profile. HIs name recognition and 15.9 career yards per reception would put him in the top 15 or so draft picks of rookie drafts and that price is way too high to invest in. For 2017 St. Brown is shaping up to be an avoid player. If he stays in school he has a chance to change this designation.   
Auden Tate- It is hard to take anything away from Auden Tate's performance this year. This season he amassed only 35 receptions for 464 yards and three touchdowns over 12 games. The downside is his starting quarterback Deondre Francois suffered a knee injury week one and he played with his backup, James Blackman all season. Blackman produced one game with 250 yards passing and three touchdowns. The rest were suboptimal. The one game where Tate did play with Francois was against Alabama which is one of the top defenses in the country. With Tate's size and build plus head coach Jimbo Fisher leaving for Texas A&M, Tate is a good candidate to declare for the NFL draft. If he does 2017 will be a mulligan and the NFL combine will be a major part of where he ends up in the NFL draft. Someone will fall in love with his size but he has to convince a team he is talented enough to draft him high and develop him. With Tate's college production dynasty owners will need to be very careful. Even if he is drafted in round one of the NFL draft he is a likely candidate not not make the one season production and sell benchmark of wide receivers.
Jake Wieneke- Of the players mentioned in the previous article Jake Wieneke was the long shot for dynasty purposes. He was a senior from a small school and in order to make a splash he needed four seasons of historic production to be noticed and drafted high. We were looking to see production that might put him on a path similar to Cooper Kupp or Corey Davis. His first three years with South Dakota State had him in the conversation but as a senior he underachieved hauling in 65 receptions and 965 yards receiving. This is disappointing because as a senior he should have age and experience on his side to produce as he has the previous seasons. The passing game for the Jackrabbits was consistent with previous years with 3668 yards from scrimmage.These numbers suggest Wieneke is a day three prospect for the NFL draft with a risk of becoming an undrafted Free agent. This removes Wieneke from our players to watch during the draft process for dynasty purposes.  

Never miss out on the latest content and receive ASL's free newsletter. Send us an email at This email address is being protected from spambots. You need JavaScript enabled to view it. with the sports you are interested and receive custom content in your inbox.