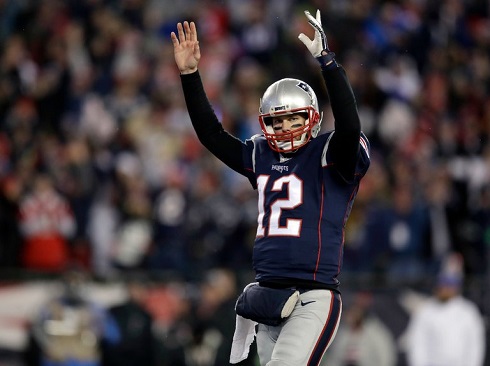 Written by Jeff Hayes
14 December 2017
Oops. For those coming to this article from the Week 16 newsletter, we linked to the wrong article.
Round 1 of the fantasy playoffs has come and gone. I hope all teams riding with Alvin Kamara were able to survive last week. For those Carson Wentz owners who likely had a first-round bye, I hope you enjoyed your star QB while you could. I'm sure the Kamara owners will have a sympathetic ear for you if you need to vent. Week 14 was a quick reminder of how quickly things can change and why you should never give up. Upward and onward, welcome to those who survived the madness.
I have included Vegas' projected point totals for each team. The offensive and defensive rankings presented are the product of many statistical categories outside of just yardage and points allowed. They take into consideration fantasy points allowed, yards allowed, the strength of opposition and defensive efficiency. They are also heavily weighted by recent production trends and injuries.


Thursday night game
DENVER BRONCOS (21.5) at INDIANAPOLIS COLTS (19.0)
Coming off a shutout of the New York Jets, can the Denver Broncos' defense do it again? They carry the sixth-ranked pass defense and the 13th-ranked run defense. This is a rough, quick turnaround for Indianapolis and Frank Gore after the snow bowl in Buffalo on Sunday. Tight end Jack Doyle could be in a good spot with Denver's defense struggling against tight ends but don't expect much else. The Colts bring in the 25th-ranked pass D, but they are trending upward. Denver's offense may be good for two scores here, but this should be a low-scoring Thursday night game. If I had to, I would start Doyle, Demaryius Thomas and the Denver defense. I do like the under here.  


Saturday games
CHICAGO BEARS (19.0) at DETROIT LIONS (25.0)
It must be Christmastime as the NFL has finally taken another night of the week. Sorry, family!! Matthew Stafford threw for 299 yards at Chicago in Week 11 and now he gets them at home. Chicago's defense is stout against the pass, but I'm going to trust Stafford at home. The running game was stuffed in Week 11, but Theo Riddick could have some opportunity here as a receiver. The top plays are Stafford and Marvin Jones (85 yards and a touchdown in their last meeting) while Golden Tate and Riddick look good as well. Jordan Howard is in a great spot against Detroit's 29th-ranked rush defense. Mitch Trubisky threw for 271 yards last week. It looks like the game is slowing down for him. Actually, it was probably just the Bengals' defense that helped him a lot. He should remain decent against Detroit's 29th ranked pass defense. Last stat of note: Detroit is ranked last in defense against tight ends, so good luck if you are taking a chance on Adam Shaheen. 
LOS ANGELES CHARGERS (24.3) at KANSAS CITY CHIEFS (22.3)
Here's one of my favorite games this week. Should we look into the past? Kareem Hunt totaled 172 yards against the Chargers in Week 3 while Philip Rivers posted minus-two fantasy points. Rebound Game or not, none of that matters really. I'm with Vegas on this week's matchup being close, and the Chargers are on a roll. Kansas City is ranked 11th against the pass, but Rivers can hold his own in this one, although I don't think he will be spectacular. Wide receiver Keenan Allen and tight end Hunter Henry are in good spots while all other receivers are a toss-up. Looking at run defenses, the Chargers are ranked eighth while the Chiefs are ranked 20th. Melvin Gordon and Hunt looked good last week and that should continue. I like Travis Kelce a lot here to notch the scores that replay cost him last week. This game could go over the projected score easily.


Sunday games
NEW YORK JETS (15.5) at NEW ORLEANS SAINTS (31.5)
This should be a one-sided contest as New Orleans should have its way all day. The Jets' pass defense is ranked 27th so look for Drew Brees to dominate along with Michael Thomas and Alvin Kamara. The Jets' seventh-ranked run defense is considerably better, but New Orleans is too good. Kamara, Brees, and Thomas could be top-five plays while Mark Ingram and the New Orleans defense should be worthwhile starts. Stay away from all Jets.
NEW ENGLAND PATRIOTS (27.8) at  PITTSBURGH STEELERS (25.3)
It's going to be a shootout. And it's going to be great. Tom Brady and Ben Roethlisberger are both top-five QBs. Maybe Brady has 70 pass attempts and 550 yards? Defensive rankings don't really matter here for obvious reasons. Le'Veon Bell, Antonio Brown and JuJu Smith-Schuster -- welcome back! -- all great starts. Dion Lewis, Brandin Cooks, Rex Burkhead and Rob Gronkowski -- welcome back! -- you can just play them all. I would pick Smith-Schuster and Gronkowski to potentially blow up here.  
TENNESSEE TITANS (21.0) at SAN FRANCISCO 49ERS (23.0)
The passing defense for each team is ranked around 20th. Jimmy Garoppolo gets an edge based on his recent play. Once he starts scoring TDs from the red zone, look out. Marquise Goodwin is a good play as well based on his recent volume. Own him, play him and win with him, hopefully. San Francisco's defense is also trending well as they are fifth-best against WRs and fourth-best against RBs over their last five games. I'm not feeling the Titans' receivers due to Marcus Mariota's inconsistency. One will more than likely score, but good luck guessing which one. Delanie Walker should do alright in his revenge game, if it still counts as one. Both running games look average at best. Not only have the 49ers permitted just one opposing back to score more than 10 points in their last five games, the Titans' run defense is ranked fifth during that time period. One of Tennessee's backs should get into the end zone. Spin the wheel, and I say it's "Oh, Henry!"
CINCINNATI BENGALS (15.5) at MINNESOTA VIKINGS (26.5)
Cincinnati's defense is in trouble as injuries have left it with some holes. Latavius Murray and Jerick McKinnon should be able to take control against a bottom-barrel run defense recently. Specifically, Murray is a top-10 RB this week. Cincy's passing defense is trending down as well to 25th, so Adam Thielen and Kyle Rudolph could get in on the fun. Cincinnati will have to throw to keep up, so A.J. Green will get plenty of volume, but Minnesota's pass defense is ranked third, so don't expect him to give you big points. And when it comes to Joe Mixon, don't get too excited about what Jonathan Stewart did to Minnesota's run defense last week. Mixon could be decent if he clears the concussion protocol, but not three-touchdowns decent. The Vikings' defense is also a good play.  
ARIZONA CARDINALS (19.5) at WASHINGTON REDSKINS (24.0)
This game could go either way as both defenses and quarterbacks have been streaky. Arizona's pass defense is ranked eighth but trending into the top three while their run defense is ranked fifth. Kirk Cousins will have to grind this one out, and the only Redskins wideout with an advantage will be the one not covered by Patrick Peterson. Due to Josh Doctson's leaping ability, Peterson should cover him around the goal line, so I would lean toward Jamison Crowder or tight end Vernon Davis for TD upside. Washington's defense ranks 17th against the pass and 24th against the run. Blaine Gabbert and those Cardinals WRs are too inconsistent to like a lot, but Washington is vulnerable versus tight ends (ranked 25th). Thus, I like Ricky Seals-Jones in this one, and running back Kerwynn Williams is in a good spot. If he gets enough volume, Williams could be a top-15 RB this week.  
BALTIMORE RAVENS (23.5) at CLEVELAND BROWNS (16.5)
Baltimore is one of the top defenses for Week 15. I'm sure the Josh Gordon hype is skyrocketing after what the Steelers did to the Ravens, but DeShone Kizer and Gordon are not Roethlisberger and Brown. Kizer will have to throw a lot, but he will garner nothing more than some empty yards and a possible score. Both defenses are stout against the run, but Baltimore's run game should overcome the matchup. I like Alex Collins but not overwhelmingly so as it's hard to trust who gets the goal-line carries. There's not much to like here outside of Collins, Gordon the and Baltimore defense. 
GREEN BAY PACKERS (21.0) at CAROLINA PANTHERS (24.0)
Hey, it looks like Aaron Rodgers and Jordy Nelson will return this week. Jordy was injured too, right? Might as well have been. As Carolina's pass defense is trending down, look for Rodgers to make Nelson relevant again and to help Davante Adams continue his pace. Carolina's rush defense is trending down as well, so you must like Jamaal Williams while he is hot. Does Rodgers have enough in his first game back to support all three of those players? I think he does. I'd rank them Nelson, Williams, Adams in order of potential. On the flip side, I love Cam Newton here as he will have to unleash it with Rodgers playing. Green Bay is dead last in pass defense, making Cam my top QB of the week. As a result, I like Devin Funchess a lot, and Christian McCaffrey should be catching plenty of passes out of the backfield. Jonathan Stewart has some potential against a weak Green Bay run defense, but I wonder if the opportunities will be there for him if it's a shootout. I'm on the over here with potential points everywhere.
HOUSTON TEXANS (14.0) at JACKSONVILLE JAGUARS (25.0)   
Good luck, DeAndre Hopkins! He is the only Texan I would take a shot on, but be wary as Jacksonville's defense could dominate this game. The Jags are the top defensive play of the week. Houston's run defense versus Leonard Fournette is interesting. Houston is ranked second against the run this season, but it has given up more than 20 fantasy points to RBs in each of their last three games. If Fournette is healthy and runs like normal, he should produce top-10 numbers. Just keep an eye on his injury updates. Houston's pass defense is No. 30, so Blake Bortles has some potential to finish among the top-10 quarterbacks. Wideouts Marqise Lee and Dede Westbrook, both solid plays, should continue to produce yards, but the Jags' offense may take its foot off the gas early as this game should not be close.  
MIAMI DOLPHINS (-) at BUFFALO BILLS (-)
This game has yet to draw a Vegas line. It could be due to the massive amount of snow in Buffalo last week, the Bills' daily change at QB or the line-setters trying to determine if that was actually Jay Cutler who dominated the Patriots on Monday night. Buffalo's defense doesn't get any respect, but it is No. 1 against the pass, so temper your "Cutler is the best" expectations. Over the last six weeks, the Bills have faced Brees, Brady, Rivers, Alex Smith and Josh McCown. Yet, they are inside the top 10 in fewest passing yards and QB fantasy points allowed during that time. Play Jarvis Landry as his volume should keep him locked as a good play. Buffalo's rush defense is abysmal (ranked 31st), so start Kenyan Drake and watch him go. Drake can be a top-five back this week if Cutler keeps the offense moving. LeSean McCoy goes up against the Dolphins' 27th-ranked run defense, so let's hope his 32 carries from last week didn't wear him out. I don't see much potential in the Bills' passing game in frigid conditions, but I do think tight end Charles Clay grabs a touchdown. I like both of the running games and defenses here.
PHILADELPHIA EAGLES (23.8) at NEW YORK GIANTS (16.3)
Let's take a look at Nick Foles against the 31st-ranked Giants pass defense. Foles has had some big games before, but, of course, his Riley Cooper security blanket is gone. Foles is in a great spot, but so is Philadelphia's run game against the 32nd-ranked Giants run defense. I can see the Eagles pounding the ball all day with their big three RBs, led by Jay Ajayi. In terms of fantasy potential, I would rank the Eagles' notable fantasy players in this order: Ajayi, Zach Ertz, Alshon Jeffrey and LeGarrette Blount. Philadelphia's defense is a must-play while the only Giant I would consider is tight end Evan Engram. However, this is a tough matchup for him.
LOS ANGELES RAMS (23.0) at SEATTLE SEAHAWKS (25.0)
Seattle's defense is No. 18 against the pass by No. 1 against the run. What do you do with Todd Gurley? Well, in Week 5, Seattle held him to just 50 yards from scrimmage. But I say you shouldn't worry. Seattle's pass defense was much better then, so it was not easy to move the ball against the Seahawks. Now, Gurley should remain valuable against an injury-riddled D. Robert Woods should be back from injury, and two of the Rams' three top WRs should produce well. The Rams showcase the 10th-best pass defense and a 30th-ranked run defense. You have to play Russell Wilson, Doug Baldwin and Jimmy Graham per usual, but what about running back Mike Davis? He is in a great spot and has looked fantastic. He is a definite sleeper start and a possible top-10 RB. Both Jared Goff and Wilson round out the top five for QBs. This should be a great game!
DALLAS COWBOYS (24.5) at OAKLAND RAIDERS (21.5)
The passing stats should be plentiful as both defenses are trending around 24th. The running games should be useful as well. OK, so there's not much defense here. The Oakland offense concerns me after that horrible performance in Kansas City, but they must show some life here. I like Derek Carr and Michael Crabtree, but everyone else is too inconsistent for Oakland. Dak Prescott looks like a very good play, and Dez Bryant is quietly producing good points. Alfred Morris and Rod Smith should see some room to run, but sharing carries hurts their upside. I say Morris gets the TD this week. Jason Witten is in position to score as he has the past two weeks, but one catch for 20 yards like last week is very likely. I'm just going to look at starting both QBs and their top target, but the potential is there for more players to shine.

Monday night game
ATLANTA FALCONS (27.0) at TAMPA BAY BUCCANEERS (21.0)
Atlanta's defense is trending inside the top 10 against the run and the pass. It's going to be a tough day for the ever-inconsistent Jameis Winston. The attempts will be there, so O.J. Howard or Cameron Brate could show up.  I believe this will be a Brate week on Tampa Bay's tight end teeter-totter. Mike Evans has to be in play here. It's been difficult to trust him, but someone has to step up for this offense. Peyton Barber has looked good, but there's not much room to run versus Atlanta. Tampa Bay's defense is much softer -- 28th against the pass and 22nd against the run. Warning to any fantasy owners who are facing Devonta Freeman this week: He could have a huge game if Tevin Coleman can't play due to his concussion. Freeman has No. 1 RB potential as a Week 15 workhorse in this matchup. I like Matt Ryan to rebound this week, and Julio Jones should be in a great spot as well.   

Never miss ASL's latest fantasy sports news. Send us an email at newsletter@advancedsportslogic.com and list the sports you are interested in (NFL, NBA, MLB, NHL, EPL) to start receiving ASL's newsletter.