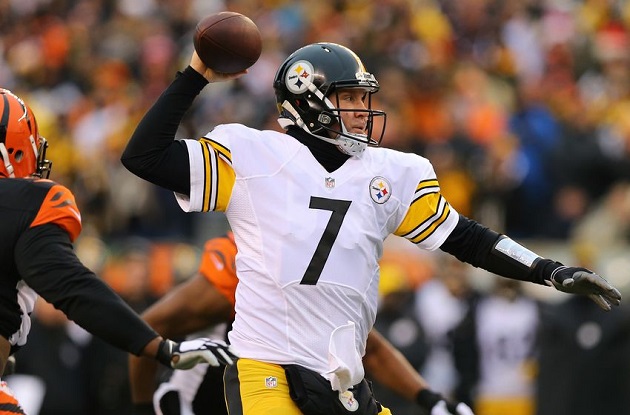 Written by Jeff Hayes
21 December 2017
It's championship weekend! Good luck and good job to those of you still playing. Those of you who are not still playing probably aren't reading this, but go ahead and blame your fate on injuries. I'm right there with you. As with last week's article, I have included Las Vegas' projected point totals for each team. The offensive and defensive rankings presented in this article are the product of many statistical categories outside of yardage and points allowed. They take into consideration fantasy points allowed, yards allowed, the strength of opposition and defensive efficiency. They are they heavily weighted by recent production trends and injuries as well.


Saturday Games
INDIANAPOLIS COLTS (14.3) at BALTIMORE RAVENS (27.3)
We have a live one right out of the gates. Baltimore's defense has looked pretty stout across the board this year and that should continue here. Look for the Ravens to get refocused on their running game with Alex Collins leading the way against Indianapolis' 24th-ranked rush defense. Javorius Allen should be able to notch a TD in this game as well. It definitely looks like a great matchup for Joe Flacco, but do you really want to place your luck in Flacco? Ben Watson and Mike Wallace may be in an equally likely spot for a TD here; I would lean toward Watson. Baltimore's defense/special teams looks like a great play as I don't see much offense from Indianapolis.
MINNESOTA VIKINGS(25.0) at GREEN BAY PACKERS (16.0)  
The line is out and Vegas has it as an one-sided affair as predicted. With Aaron Rodgers back on IR, it could be a very rough day for Brett Hundley as Minnesota controls the top spot in passing and rushing defense. Minnesota's defense/special teams looks like a great play here, and I'm staying away from all Packers. Green Bay's defense is quite the opposite as it's in the bottom five in both categories. The Vikings should be able to do whatever they like here with Latavius Murray having another great game, and Case Keenum could be in for a top-five finish at QB. Look for Kyle Rudolph and Adam Thielen to continue to roll. 
Sunday Games
ATLANTA FALCONS (23.8) at NEW ORLEANS SAINTS (29.3)
Here's the highest scoring game, according to Vegas. Both defenses have been pretty good this year, but don't expect much from either in this one. Atlanta's defense is 19th against the pass and seventh against the run. Drew Brees and the big three of Michael Thomas, Alvin Kamara and Mark Ingram are fantastic plays here. New Orleans' defense is 13th against the pass and 18th against the run. Matt Ryan scored only eight points in their last meeting two weeks ago, but if he is ever going to come through and put a stellar game together, it needs to be here. Julio Jones is in a good spot (five catches for 98 yards in the last meeting). Devonta Freeman looked great last week outside of his fumbles, and Tevin Coleman might be back from his concussion. Both RBs should be in good spots with Freeman getting the edge in production. 
BUFFALO BILLS (17.5) at NEW ENGLAND PATRIOTS (29.5)
As the Buffalo Bills try to hold on to that last playoff spot, here come the Patriots again. In their last meeting three weeks ago, New England ran all over them as the Bills rank 31st against the run. With Rex Burkhead out, expect Dion Lewis to be a great play as he can do it all.  James White and Mike Gillislee should have some value and could be potential sleepers here, but trying to determine New England's backfield is always a headache. As for Tom Brady, he scored only eight points against Buffalo's third-ranked pass defense in Week 13.  Brady's Patriots can pretty much move the ball as they see fit so TDs are all about playcalling in the red zone. Look for Brady to put up plenty of points in this one. Rob Gronkowski is in a great spot as the volume should be there for him and Buffalo is a tougher matchup for WRs than TEs. I say Lewis, Gronkowski and Gillislee all score. Tyrod Taylor was unimpressive against New England previously and see his fortunes not changing here. LeSean McCoy should produce well as the volume will be there for him, but he is the only Bills player I would take a chance on.  
CLEVELAND BROWNS (16.0) at CHICAGO BEARS (22.5)
Neither QB will produce much here. Cleveland is ranked 26th in pass defense, but I don't see Mitchell Trubisky capitalizing on it. Instead, it should be all about the running games here as these teams try to keep the score as close and low as possible.  Both run defenses are good, however; Cleveland's is sixth-best while Chicago's is ranked 12th. Jordan Howard appears to be the only one worth starting in fantasy since he should have all the touches he can handle.
DENVER BRONCOS (18.8) at WASHINGTON REDSKINS (22.4)
Here's a battle between two top-10 passing defenses. Washington's has been more up and down of the two. We are still awaiting word on who will start at QB for the Broncos. If Paxton Lynch is called upon to make his first start on the road, that's good news for the streaming potential of Washington's defense. If Brock Osweiler gets the call coming off a great game, you can expect a better performance from Denver's passing game, but nothing spectacular. This should be a low-scoring affair as Denver's defense should keep it close. Keep an eye on C.J. Anderson as he has quietly sneaked into a workhorse role, totaling 24 and 30 touches in his last two games. As an Anderson owner, I am pulling for Osweiler to start as the defense will have to play more honestly and may not be able to sneak an extra man into the box after his outing last week. Demaryius Thomas and Jamison Crowder are in decent spots. They are the only wideouts I would think about playing here. 
DETROIT LIONS (24.0) at CINCINNATI BENGALS (19.0)
Here we have two defenses that are trending toward the worst in the league, so anything goes. I look for great games from Matthew Stafford, Golden Tate and Marvin Jones. The potential for the Lions to have a good ground game is there, but their backfield has become fairly muddled. Any RB that gets the volume versus Cincinnati's 30th-ranked run defense is just asking to blow up. On the Cincinnati side, A.J. Green is obviously in play. If Joe Mixon gets the cobwebs cleared out in time, he looks like a good play as long as Andy Dalton can keep this offense on pace with the Lions. Brandon LaFell could have some potential if the Bengals have to play catch-up.
LOS ANGELES CHARGERS (24.5) at NEW YORK JETS (18.0)
The Jets support the 11th-ranked rush defense and the 21st-ranked pass defense. The potential for Philip Rivers to put up some points is there and he should cash in on it. Keenan Allen will benefit the most, especially as Hunter Henry is out.  Melvin Gordon should continue to produce. Does Antonio Gates score again? He has some deep sleeper potential at TE and should at least get plenty of looks around the end zone. The Chargers come in with the third-ranked pass defense so I'm staying away from Bryce Petty, as should you. The Chargers' defense/special teams is in a great spot here.
LOS ANGELES RAMS (27.5) at TENNESSEE TITANS (21.5)
You have to like everything with the Rams here. Jared Goff could turn in a top-five performance. Although Todd Gurley is essentially matchup-proof, Tennessee does have the third-ranked run defense. Goff should be able to move the ball as Robert Woods and Cooper Kupp should be in consideration for good games here. Tennessee, on the other hand, is hard to like. Their running game should be good but it has been way too inconsistent. Same goes for Marcus Mariota. Is it time to give Derrick Henry the reins yet? I would definitely like to grab the Rams' defense/special teams here.
MIAMI DOLPHINS (17.0) at KANSAS CITY CHIEFS (27.0)
These teams are very similar in run defense as both are hovering around the No. 20 mark. Both teams also have a workhorse back. We all know what Kareem Hunt does with his touches, and a top-five finish for him is likely here. Kenyan Drake should produce a top-10 finish. Both teams have a pass defense that is about league-average. Alex Smith should remain solid but not spectacular, and Travis Kelce should be his top target as Miami gave up more than 100 yards to tight ends last week. For Jay Cutler and the Dolphins, I don't think Cutler will be able to stay in control in Kansas City as the Chiefs should get all over him. I like Jarvis Landry as a volume play, but there won't be a lot of scoring for Miami.
TAMPA BAY BUCCANEERS (18.3) at CAROLINA PANTHERS (28.3)
Cam Newton gets my No. 1 QB spot for the second straight week as he now faces Tampa Bay's 24th-ranked pass defense.  You have to love Christian McCaffrey's usage and I would expect it to keep going. Greg Olsen is in a fantastic spot, and Devin Funchess should be a good play as well. Tampa Bay is weak against the run, so there's hope that Jonathan Stewart will get some goal-line carries if you have to play him. Carolina's defense is much more stout as it stands 16th against the pass and third against the run. I think you should stay away from Tampa's run game in any matchup, but definitely here. However, you have to like Jameis Winston and Mike Evans here as the Bucs will need to throw a lot to keep up. Cameron Brate, if he can tough it out through his knee injury, should have top-five potential at tight end. There could be a lot of offense here if Winston shows up.
JACKSONVILLE JAGUARS (23.5) at SAN FRANCISCO 49ERS (19.0)
This game has the storylines going for it. Jimmy Garoppolo is 3-0 while starting for the 49ers and is putting up great yardage totals, but Jacksonville's pass defense is obviously strong. Something has to give here. While Jimmy G looks every bit as poised and skilled as the best QBs in the game, his lack of red-zone production could leave him with an average fantasy day. I think Garoppolo to perform well enough to keep Marquise Goodwin rolling. Outside of these two, it could be tough to like any aerial option for San Fran. Robbie Gould is still on fire if you need a kicker. San Francisco's rush defense is ranked first over the last five weeks, averaging only 71 total yards. But here comes a well-rested, healthy Leonard Fournette. The 49ers' pass defense is vulnerable, so I expect Blake Bortles to do well again. I think you have to give Keenan Cole another shot to shine here. If only the 49ers were in playoff contention, this game would be great. Either way, I am taking Jimmy G to continue his amazing run and pull off the major upset here. 
NEW YORK GIANTS (18.0) at ARIZONA CARDINALS (22.0)
Arizona has a stout defense across the board -- seventh in rushing and passing. It could be a tough day for Eli Manning and the Giants, but you should still start Evan Engram and Sterling Shepard for their volume. New York's defense is pretty vulnerable in all facets, but with Drew Stanton getting the call under center for Arizona, there's too much uncertainty to risk starting a Cardinals receiver. Kerwynn Williams was compiling a nice game last week before sustaining a quad injury. If he gets the green light, he could have sleeper potential.  
SEATTLE SEAHAWKS (21.0) at DALLAS COWBOYS (26.0)
Big news if you haven't heard: Ezekiel Elliott is back and bigger than ever. Congratulations to you if you are still in contention and have Zeke ready to re-enter your lineup. This week should be huge for Elliott as he faces a Seattle defense that was shredded by Gurley for four touchdowns in Week 15. Dak Prescott should also reap the benefits if Zeke decides to share TDs. Dez Bryant is a great play as he will likely be targeted early and often. I don't think you can trust Dallas' other wideouts, but Jason Witten is always up for a few catches and maybe a TD. Dallas' defense is also very vulnerable in both rushing and passing. Russell Wilson will likely exploit that. Doug Baldwin is a great play, and Jimmy Graham should return to better days. Outside of these two, you are taking some chances but at least this should be a high-scoring tilt. Paul Richardson would be my next in line if I wanted to start someone. I would just stay away from Mike Davis and the Seattle run game.
Monday Games
PITTSBURGH STEELERS (26.8) at HOUSTON TEXANS (17.3)
Ben Roethlisberger and Cam were neck and neck for my top QB spot this week. So, needless to say, I am high on Big Ben this week. I will also take his top two options in Martavis Bryant and JuJu Smith-Schuster. We don't know how this offense will roll without Antonio Brown, but I am excited to see these two open it up. Le'Veon Bell, of course, is the No. 1 RB against Houston, whose run defense is trending toward 20th. I think a big game is ahead for the Steelers' top targets and DeAndre Hopkins. He is the only Texans player I would consider, but you know he could put up a top score. Pittsburgh's defense/special teams is also very much a top play in this one-sided game.
OAKLAND RAIDERS (19.3) at PHILADELPHIA EAGLES (28.3) 
How will the phenomenon known as Nick Foles play this week? I'm not buying his Week 15 output, but this is a pretty safe game for Foles as Oakland's pass defense is ranked 22nd. The Eagles' running game may see a little tougher sledding with the Raiders' No. 13 rank. Philly's three-headed ground game doesn't present much upside, but the snap count for Jay Ajayi is continually increasing each week. You have to start Zach Ertz and Alshon Jeffery even if they don't play a full 60 minutes in a possible blowout. This is a tough opponent for Derek Carr and the Raiders going against the 11th-ranked pass defense. The volume will be there, and Michael Crabtree warrants a lot of attention here coming off a great game last week. Crabtree is the only option I would consider from Oakland's passing game. Likewise, Philadelphia's defense/special teams is a strong play here.

Thanks to everyone for reading, and I wish you the best in your championship hunt! Please feel free to follow me @TheFantasyHaze

Never miss ASL's latest fantasy sports news. Send us an email at This email address is being protected from spambots. You need JavaScript enabled to view it. and list the sports you are interested in (NFL,NBA,MLB,NHL,EPL) to start receiving ASL's newsletter.