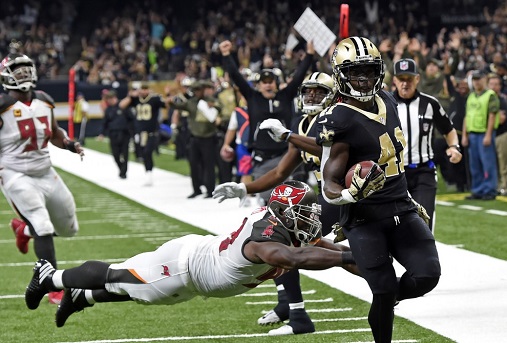 Written by Chad Samuels
02 December 2017
Week 14 is when playoffs hit for most dynasty leagues. As is often the case, players that get hot this time of year will lead teams to championship glory. The dynasty gods are fickle. There is a reason the catchphrase for football is "Any Given Sunday." It is true, any given Sunday any team can win. This is why the most important thing is just to get into the playoffs and see what happens. Whether you think you have what it takes to make it to the title game or not here are three players that should affect who wins in the playoffs.
Carson Wentz- Wentz is having a career year. He is only averaging 241 yards per game however he has a 28-5 touchdown to interception ratio and is fourth in quarterback rating for quarterbacks with fifty or more pass attempts. His postseason schedule is very good especially if you have earned a bye in week 14. He plays the Rams, Giants, and Raiders weeks 14 through 16, who are 9th, 29th, and 27th respectively in giving up fantasy points in the passing game. Look for Wentz to have a very good playoff run. I think Wentz has flashed enough that you can feel confident he will continue to have success for years to come and help your team this year in the playoffs. While I normally do not advocate trading for QB because too often teams want to much for them. Wentz is worth breaking that rule if you are in the playoff hunt.  Try not to give up a 2018 first round draft pick as next year's draft class looks strong. However, parting with a 2019 1st round pick and your starting QB for Wentz even if you own a top option is a solid play. The Eagles appear to be moving in the correct direction post Chip Kelly and barring injury Wentz will give you ten plus seasons as a dynasty starter.   
If you play in a dynasty league, give your team the best chance to win with Chad's Dynasty Diagnostic service. 
Alvin Kamara- For those who have read me since the summer, they know I have been high on Alvin Kamara. Kamara has proven to be a solid investment in PPR leagues. Through twelve weeks of the season he is third in fantasy points scored at running back behind Todd Gurley and Le'Veon Bell. He has done this while being a part of a committee with Mark Ingram. His performance has been quite impressive considering he has been out touched (including receptions) by Ingram 202 to 131. But his true worth is not seen in these numbers. Since Adrian Peterson has been traded just before week six, Kamara has outscored all players in standard PPR scoring leagues. Granted top point scoring RB's like Bell, Gurley and McCoy have had byes during that time span. Even if you adjust for missed games and compare their points per game only Ezekiel Elliott (27.7) has fared better than Kamara's 22.6 ppg during that span. Keep in mind Zeke will not be available for the playoffs and he has played only 3 games in the last seven weeks including a 40 point effort vs the 49ers. In real life terms Kamara is the top producing back in PPR to finish the season. A playoff team that has Kamars as their RB2 has a strong chance to go deep into the playoffs. The Saints do play the Falcons twice om weeks 14 and 16. The Falcons defense are ranked 13th vs RB in fantasy points scoring which is roughly middle of the road. The Falcons are also 5th vs WR so I expect Kamara to continue putting up solid numbers and catch a lot of balls out of the backfield. Unless you already have two elite running backs spending up to three late first round draft picks for him (which your own picks are likely to be) to acquire him for the playoff run is worth it to finish in the money. This is counter intuitive to growth strategies but Kamara is young enough to give you many years of positive returns in PPR leagues. You can probably get him for less. Ask the owner if he really thinks Kamars can sustain the production with the number of touches he is getting. Point out there are rumor mills that Drew Brees will not be back next year. If they are a Kamara believer they won't sell at any cost, otherwise these tactics should help you get him at a reasonable cost.     
DeAndre Hopkins- Hopkins has been a beast this season. First DeShaun Watson lit the world on fire and both Hopkins and Will Fuller were the beneficiaries. Then Watson went down with a season ending knee injury. Replacement QB Tom Savage has targeted Hopkins at an elite pace with 49 targets over 4 games. It is safe to expect this pace to continue. The downside is Hopkins playoff schedule. If you do not get a week 14 bye, Hopkins should help you get through that round. After week 14 Hopkins will be facing the Jaguars and the Steelers, who are ranked number one and number three in passing defense respectively. This gauntlet arrives when you will need Hopkins at an elite level the most. It is safe to assume he will have one really good game but the odds he will break out for two large weeks in a row versus these teams is questionable. Most likely Hopkins helped get you to the playoffs and depending on the rest of your roster, a week 15 or 16 stumble in production may cost you a win. If you own him you have to start him it's that simple. If you are a gambler and your league will allow you to, you can try trading him after week 14 for a windfall. Look to acquire a receiver or two and a couple of early to mid first round draft picks in 2018. If you trade Hopkins then you must absolutely be selective in what you get. Keenan Allen and Devin Funchess should be targets as they have solid matchups during the playoffs. Julio Jones has a good week 15 and an average week 16 matchup. If you can get an age discount on him go for it. Hopkins is a solid dynasty asset for the next three to five years. If you trade him you must get a premium back. Do not sell low at any cost. It will hurt your franchise. Understand if you do consider trading Hopkins it is the equivalent of a Gambit opening in chess.you are sacrificing material for a positional advantage to help you win. The key is the when (after week 14 when guaranteed pstud points are done for the season) and the position advantage (a wide receiver who should produce strong and is similar to Hopkins if he [Hopkins] has an average week and upside players and rookie picks for the future).    

Honorable Mention- If Wentz is going to have a solid couple of weeks Alshon Jeffery and Zach Ertz look to be solid plays as well. As mentioned above Devin Funchess and Keenan Allen have solid matchups. Julio Jones should perform as the stud you expect him to be. Just don;t expect another 12 catch 253 yard 2 TD performance vs Tampa Bay in week 15. With the benching of Eli Manning if Sterling Shepard can not play due to his migraines it is reasonable to expect rookie Evan Engram to be shut down. Shephard is the player to monitor and if he is listed as inactive start another option at TE during the playoffs. Finally, there is a chance Aaron Rodgers will come off of IR before your dynasty season is over. DaVante Adams will still be a solid play but it also increases the chances that Jordy Nelson will make an impact Weeks 15 and 16 in the playoffs