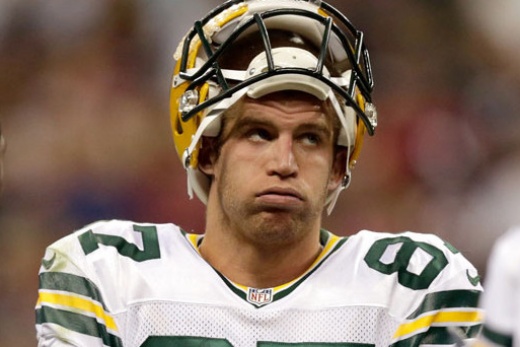 Written by AJ Schreiver
28 November 2017
Jordy Nelson, WR, Green Bay Packers
Being a sports fan often provides a tug-of-war affair between our fandom for certain players or teams and the reality of their successes or failures. Jordy Nelson is a hard guy not to root for on the playing field, but when it comes to the fantasy reality (there are two words not often used together), we need to CUT our ties with Nelson. Maybe we are hoping his talent prevails or that the possible return of Aaron Rodgers in a few weeks turns his season around. But the Packers simply aren't a good football team without perhaps the most valuable player in the league. Yes, over the next couple of weeks, the Packers face the Bucs -- who were just shredded by Julio Jones -- and the winless Browns. Fact is, Nelson has a total of 103 yards in five full games since Rodgers' injury. Although he looked improved on Sunday night, Brett Hundley has simply struggled to get the ball down the field and outside of the numbers, where Nelson makes his living. There is no reason to hold on to Nelson when you could be making a stronger playoff push with a wide receiver such as Cooper Kupp, Robby Anderson or even Sammy Watkins. Those are all guys I've said to keep or acquire in past articles.
If you play in a dynasty league, give your team the best chance to win with Chad's Dynasty Diagnostic service. 
DeMarco Murray, RB, Tennessee Titans
This year has been a far cry from last year for DeMarco Murray, who averaged 1.86 yards per carry in November, and his inconsistency is enough to drive one crazy. However, his upside is still there despite some rumors about him being banged up. Derrick Henry split time with Murray in Sunday's win against the Colts as Murray had just 9 yards rushing but saved his fantasy day with a touchdown. Murray is still a focal point in Tennessee's offense and can produce in the passing game as well. KEEP Murray for the fantasy playoffs because of his high-upside scoring potential.
Josh Gordon, WR, Cleveland Browns
Now, maybe head coach Hue Jackson and the Browns have nothing more to be excited about at 0-11, but describing Jackson as excited would be an understatement given how his face gleamed while he talked about the return of wide receiver Josh Gordon on Monday. Jackson has said he has big plans for the 6-foot-3, 225-pound receiver who hasn't played in three years. He will likely not play a majority of the snaps in his first game back, but the Browns need a playmaker on the outside and there's no question Gordon is that, so Cleveland may push him quickly. Quarterback DeShone Kizer has struggled in his rookie year, but his wideouts haven't helped him as they lead the league in drops. That includes Corey Coleman's dropped TD this past Sunday. Temper your expectations for this week, but if your team is looking for a jolt heading into the playoffs, ACQUIRE Gordon, who could be a key piece to a championship run. 
Have questions about other players or want to have your player featured in next week's edition? Follow me on Twitter @sports4u_ASL and let me know who you want to read about!
Never miss ASL's latest fantasy sports news. Send us an email at newsletter@advancedsportslogic.com and list the sports you are interested in (NFL, NBA, MLB, NHL, EPL) to start receiving ASL's newsletter.