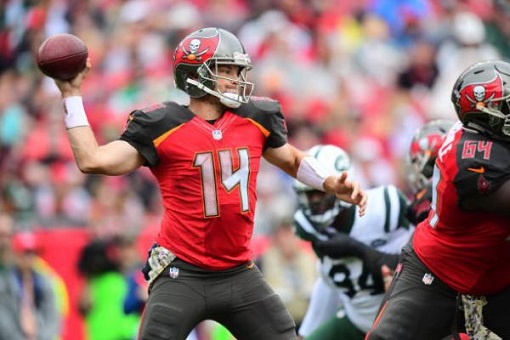 Written by Brian Murphy
16 November 2017
QB Ryan Fitzpatrick, Tampa Bay Buccaneers; $5,300
Honestly, this is not the week to penny-pinch at quarterback. Thanks to injuries and depth chart changes (what are you doing Buffalo?!), all sub-$6,000 options look pretty shaky. But if you have your mind set on taking a swing in the lower tiers this week, give Fitzpatrick another try. Yep, I'm doubling down after placing Fitzy in this column last week. If you want a newer option, my second choice was ... Blake Bortles ($5,200). Seriously. That tells you how much I don't like Case Keenum ($5,100) facing the Rams.
Fitz didn't live up to my expectations in Week 10, thanks in part to some crummy New York weather. But versus the Dolphins in Week 11, the atmospheric conditions shouldn't be a factor. Miami's defense has apparently given up on the season just judging from their effort level on Monday night in Carolina. Plus, when Fitzpatrick works his way into trouble, he will have Mike Evans there to bail him out. That wasn't a luxury Fitzpatrick enjoyed last week while Evans was suspended. This game has sneaky shootout potential, and Fitz should be slinging it all day versus a subpar defense, especially given Tampa Bay's recent inability to run the ball effectively.
RB Rex Burkhead, New England Patriots; $3,600
The people at DraftKings aren't paying attention to Burkhead; there is no way his price should be that low. But hey, take advantage of it while you still can. Burkhead has turned in back-to-back 15-point efforts in DraftKings scoring. The risk here is that Burkhead's recent involvement was game-plan specific and that now the Pats will turn back to Mike Gillislee or one of their other 13 running backs to carry a heavier burden. But why fix what's not broken? Plus, the Raiders have allowed the fifth-most receptions to running backs per game this season, so this is another matchup that seems to favor Burkhead's strengths. Even if he doesn't reach 15 points for a third straight week, it won't take much for Rex to be worth rostering given his cost.
If you haven't played Daily Fantasy Football yet, get started today with DraftKings!
WR Dontrelle Inman, Chicago Bears; $3,200
Here's another instance where I don't have to say much other than "Look at that price!" However, the number attached to Inman's name makes more sense than what Burkhead is going for. The former Chargers wideout had just two receptions and hadn't played since Week 5 prior to last Sunday's small breakout performance in which he posted a 6-88 line versus the Packers. We all know that the Bears are desperate for wide receivers -- that's exactly why they traded for Inman last month. There's plenty of room for expansion in this WR corps, and when you look at who's in the fold -- Kendall Wright, Josh Bellamy, Tre McBride, Markus Wheaton, Tanner Gentry, etc. -- it's possible that Inman has already become Chicago's top wideout and Mitch Trubisky's favorite perimeter option. Eight targets in his first game as a Bear is promising. As long as he can stay away from Lions cornerback Darius Slay this weekend, I'd give Inman a long look if I needed someone to give me cap space. Again, you're not taking on much risk at just $3,200.
TE Marcedes Lewis, Jacksonville Jaguars; $2,700
Tight end, like quarterback, is where you probably don't want to look for value this week. Travis Kelce, even at $7,300, looks like a tremendous buy against the Giants. But if you want to search elsewhere, here's a good question to ask yourself when you're wondering which tight end you should roster in 2017: Who is playing the Cleveland Browns? That's Lewis this week. Unsurprisingly, he hasn't done a whole lot since his fluke three-touchdown outing from Week 3. That's not to say he has been invisible; Lewis has seen at least five targets in each of the last two games and scored back in Week 7. I know those numbers don't pique your interest, but you must understand that the Browns are being routinely victimized by tight ends. Cleveland has given up the most targets, the most catches, the second-most touchdowns and the fourth-most yards to TEs this season. If Eric Ebron can score against them, so can Lewis. Gamble on the vet reaching pay dirt. 

You can follow, ask fantasy questions and yell at Brian on Twitter: @Spokes_Murphy
Never miss ASL's latest fantasy sports news. Send us an email at newsletter@advancedsportslogic.com and list the sports you are interested in (NFL, NBA, MLB, NHL, EPL) to start receiving ASL's newsletter.