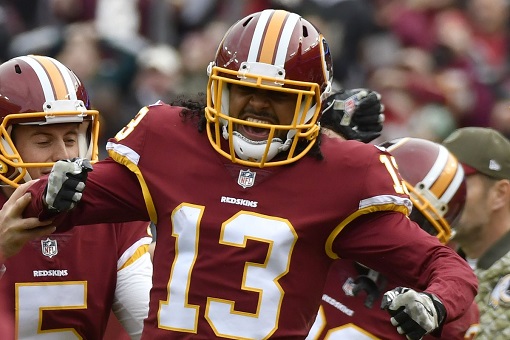 Written by Levi Andrew
14 November 2017
Minnesota Vikings 38 – Washington Redskins 30
The Vikings are on a roll. Case Keenum threw for 304 yards, four scores and two interceptions. It was a career day for the journeyman backup, who has proven more than capable of playing at a high level. Keenum completed pass after pass to both Adam Thielen and Stefon Diggs. Thielen is coming on as a true WR1 in fantasy. Yes, that could change if Teddy Bridgewater gets a start, but it's official that Keenum will start again in Week 11. This backfield has become a true RBBC where the coaches decide during the game to ride with the player with the hot hand. On Sunday, that was Latavius Murray, who took 17 carries for 68 yards and a score.
The biggest highlight of Washington's day was the one-handed TD catch by Maurice Harris. Just incredible. Washington showed good effort in this game and almost completed an 18-point comeback. Running back Rob Kelley got injured in this game, so Samaje Perine took over the power back role. Both Perine and Chris Thompson rushed nine times; Perine outgained Thompson on the ground, 35-26. Thompson saw seven targets but came down with only three catches for 41 yards. Jamison Crowder and Vernon Davis tied for the team lead with 11 targets. Crowder caught four of those targets for 76 yards. Davis, who benefited from Jordan Reed's absence, gained his 76 yards on seven receptions.
Takeaways: Thielen is currently fantasy's No. 5 WR for the season while Diggs is No. 19. Thielen has been such a fantastic value, you might be able to deal another, higher-drafted wideout in order to improve your team elsewhere before your league's trade deadline.
Terrelle Pryor had zero targets in this game. He is, by far, my worse call this summer. I've said it before: I think Sean McVay was Kirk Cousins' QB whisperer. Look what he has done for Jared Goff. Washington's offense just isn't clicking like it was before.
Tennessee Titans 24 – Cincinnati Bengals 20
This game had five highly talented rookies playing in it. For the Bengals, running back Joe Mixon, wide receiver  John Ross and wide receiver Josh Malone. Ross played only six snaps compared to Malone's 30. You would think that Ross, the fastest player in the NFL, could help a team or something. Mixon had a decent day, rushing nine times for 31 yards and a score. Andy Dalton's box score looks decent with 265 yards and two TDs, but two lost fumbles really hurt his fantasy box score. A.J. Green saw only two targets going into the second quarter, but late in the game, he caught a 10-yard slant and turned it into a 70-yard TD. Green finished his day with five grabs for 115 yards and that score.
Tennessee got away with a hard-fought win solely on the shoulders of DeMarco Murray. Murray rushed 14 times for 41 yards and two scores while catching all four of his targets for 30 yards and another score. The Titans' receiving corps looks to be coming together as Rishard Matthews and rookie Corey Davis both played more than 85 percent of the snaps. Davis was targeted a team-high 10 times but came away with only 48 yards on four grabs. Mathews came away with five of seven targets for 50 yards. Davis also fumbled the ball across the goal line, which resulted in a touchback instead of a touchdown. Delanie Walker is Marcus Mariota's security blanket and it showed in this game as Mariota targeted Walker nine times. Walker led the team in receiving with 63 yards on six catches.
Takeaways: The Bengals must start using Ross to their advantage. I don't know if the coaching staff doesn't trust him, but he can be the guy they need to take the top off a defense. Brandon LaFell had a good day as he caught six of his team-high 10 targets for 95 yards and score, but I wouldn't look at him as much more than a desperation WR3.
Matthews and Davis will both be WR2s at some point; I can just feel and see it. Rookie tight end Jonnu Smith may come into play next year if the Titans cut Walker this offseason. Smith has been building chemistry with Mariota, so just keep his name in mind if you play in a dynasty league.
And if you play in a dynasty league, give your team the best chance to win with Chad's Dynasty Diagnostic service.
Jacksonville Jaguars 20 – Los Angeles Chargers 17
Austin Ekeler had an amazing day on Sunday, rushing for 42 yards on ten attempts and catching all five of his targets for 77 yards and two scores. His first score was a tiptoeing sideline run. His second was a run down the sideline with a dive into the end zone. I told you a while ago to be on the lookout for this kid. I think he has a Darren Sproles-type role on the team and could more than hold his own if Melvin Gordon gets hurt. Speaking of Gordon, The Jaguars held him to just 42 yards on 21 total touches.
I am a Blake Bortles believer because I think he has the pieces around him to succeed. With a strong defense and an up-and-coming supporting cast, Bortles can be something. Don't get me wrong, he still does stupid things like throwing balls that shouldn't be thrown. He just needs his team to take a strong investment in him. In this game, Bortles threw for 51 times, which isn't his strong suit. Leonard Fournette just got nothing going on his 17 rushes, gaining only 33 yards. He gained 13 more yards off of two receptions.
Takeaways: Allen Hurns and Marqise Lee are high-end WR3s for me. They both have a nice amount of upside if Jacksonville can get its running game back on track. However, Hurns isn't expected to play in Week 11 due to an ankle injury. Rookie wideout Dede Westbrook hasn't played yet this season, but it's expected that he will be activated for this weekend's game, and he could be the next man up to replace Hurns. I feel as though Westbrook will take that role and run with it.
The Chargers are a mess and seem to have the worse luck in football. Keenan Allen hasn't scored since Week 1, but I told you not to draft him this summer. Hopefully you listened to me. Ekeler should be rostered in every league. He could end up winning you some matchups if you are mad enough to start him.
Quick Snaps
Los Angeles Rams 33 – Houston Texans 7
Robert Woods has become Jared Goff's WR1. Yes, Sammy Watkins has also scored in each of the last two games, but Woods and Goff have something going and it's not going to stop. Granted, it could be hard to trust Woods if he's matched up with Vikings cornerback Xavier Rhodes this Sunday, but the shutdown corner could end up being on Watkins as well. Woods should be considered a surefire start for the rest of the season. The whole Rams team is clicking and has been great for fantasy purposes. Even kicker Greg Zuerlein is scoring like an elite position player.
Atlanta Falcons 27 – Dallas Cowboys 7
Oh, how Jerry Jones is missing Ezekiel Elliott right now. I bet Dak Prescott is missing him, too. Dak was sacked eight times in this game, largely due to the poor play of Chaz Green, who was filling in for the injured Tyron Smith at left tackle. But not having to worry about Zeke made the task easier for Atlanta's pass-rushers. Dak saved his fantasy day by running for a touchdown from 11 yards out. If not for that play, Prescott would have had his lowest fantasy output of the year. Also, look at picking up running back Rod Smith this week. Smith was in on 38 snaps Sunday compared to 22 snaps for Alfred Morris and just one for Darren McFadden.
Julio Jones still has only one TD on the season. I heard someone say the other day that we can't rank Julio as a WR1 next year, and I'm going to have to agree with that. I feel as though Jones' shortcomings have a lot to do with the new OC in Atlanta, Steve Sarkisian. Jones and Matt Ryan seem to have to change playbooks every two years, and it may take a full year for the Falcons to feel fully comfortable in their newest system.


As always follow me on Twitter: @LeviAndrewFF
Never miss ASL's latest fantasy sports news. Send us an email at newsletter@advancedsportslogic.com and list the sports you are interested in (NFL, NBA, MLB, NHL, EPL) to start receiving ASL's newsletter