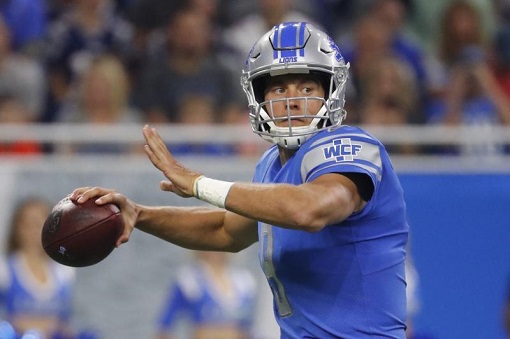 Written by Brian Murphy
14 November 2017
SELL
QB Matthew Stafford, Detroit Lions
Even though the fantasy playoffs are still about a month away, it's time to look at which players have positive and negative schedules during those crucial weeks, and much of this column will be built upon what those schedules look like. For Stafford, he does have one very enticing matchup on his upcoming slate: Week 14 at the Buccaneers. The rest of his season, however, looks like a rough road. Four of his next five games will come against defenses that are among the league's top five in fewest fantasy points allowed to QBs, including a pair of matchups with the Bears. These 2017 Lions don't run the chuck-and-duck offense of years past; this team wants to control the ball. Stafford's ceiling just isn't as high as it was in previous seasons, but coming off of a three-score outing in Week 10, his value is high. It's time for you to cash in before he faces a handful of challenging defenses.
WR DeAndre Hopkins, Houston Texans
Hopkins' fantasy value hasn't been torpedoed by the presence of quarterback Tom Savage, almost solely because Savage has no idea whom else to throw to. Hopkins has seen an amazing 29 targets in the past two weeks and has turned those into 13 catches, 197 yards and a touchdown. He remains a must-start because of that usage, but I wouldn't bet on those big box scores being a consistent product down the stretch. First, Hopkins will have to duel with Patrick Peterson and the Cardinals in Week 11 followed by a visit to Baltimore and the Ravens' stellar secondary. Even worse, Hopkins will see the Jaguars and Steelers in Weeks 14 and 15, respectively. Odds are Hopkins won't be carrying you to your league's championship final in those games. 
Secondly, although the Texans don't have a clearly better option at QB right now, Savage's simply awful performances should get him benched, and he may leave the Texans' coaching staff no choice but to turn to T.J. Yates or Josh Johnson at some point. If so, who knows if either man will have the tunnel vision that Savage has for Hopkins? 
RB DeMarco Murray, Tennessee Titans
Get out now! That's a warning to Murray owners who are still basking in the glow of his three-touchdown game in Week 10. Try to capitalize on that fluke afternoon. Murray's schedule isn't scary; he actually gets to face the 49ers and the Rams during the fantasy playoffs. However, he has averaged just 3 yards per carry over the past month and carried the ball just two more times than Derrick Henry during that span. It would be optimal if you could trade Murray, who is always nagged by sort of physical ailment, before this week's Thursday night showdown versus the Steelers because he just may not be ready for 18-20 touches on only three days of rest. But even if that effort is unsuccessful, do what you can to sell Murray while his fantasy value is at its zenith.
If you play in a dynasty league, give your team the best chance to win with Chad's Dynasty Diagnostic service.
BUY
QB Dak Prescott, Dallas Cowboys
Prescott owners are probably nervous right now after seeing their signal-caller get avalanched by the Falcons on Sunday. Prey on that uneasiness. Offensive tackle Tyron Smith may not play in Week 11, so that's an obvious concern, but the big man should be back by Week 12 at the latest. Regardless, Prescott obviously has to shoulder a larger burden in this offense, which will mean more throws and rushes from the Mississippi State alum, raising his already high floor. Consider that he just turned in his second-worst fantasy output of the year and still came away with 13 points. Plus, his two matchups during the fantasy playoffs against the Giants and Raiders -- Weeks 14 and 15, respectively -- look incredibly appetizing. Prescott should go bonkers in those critical weeks, especially because Ezekiel Elliott won't play again until Week 16 if he serves his entire suspension. Prescott's value is at its 2017 nadir. Take advantage of those Dak owners who are slaves to recency bias and overreacting to one bad game.
WR Amari Cooper, Oakland Raiders
I know some of you see Cooper's name here and just scoff. You've given up on him, and that's fine. But he is still someone I would like to have on my team for the stretch run and you should feel the same. Cooper is currently the No. 36 WR in standard leagues. If you can acquire him for another player in that range, you can't pass up that opportunity. Cooper, who, yes, is still really talented, has a bunch of attractive matchups ahead of him, including this Sunday's battle with the Patriots. Then after what will most likely be another down week versus the Broncos, Cooper will face the effort-bereft Giants, the Chiefs -- who have permitted the most fantasy points to wide receivers per game -- and the Cowboys' below-average secondary in succession. A Week 16 meeting with the Eagles doesn't look too daunting either. Maybe Cooper's nearly season-long slump will continue despite those green-light opponents; I can't rule that out. However, he shouldn't cost much in a trade, and it's still worth gambling on his talent to come through against those exploitable defenses.
TE Hunter Henry, Los Angeles Chargers
Again, just look at the upcoming schedule, especially in Weeks 13-16: The Browns, Redskins, Chiefs and Jets. It's difficult to draw up a friendlier path for a tight end in 2017. Three of those four teams rank among the five most generous defenses to TEs. The Browns, specifically, have allowed a league-high 63 catches as well as seven TDs to the position, second-most in the NFL. Unfortunately, Henry is being totally underutilized by the Chargers. That has to change, especially considering how L.A. hasn't scored more than 21 points since Week 5. Antonio Gates, who is playing less than 50 percent of the snaps these days and has seen a total of six targets over the past four games, is no longer a threat to Henry's value. Right now, it's the Chargers' coaching staff who is holding him back. Much like with Cooper, I'm betting on Henry's evident talent and the likelihood that he can succeed against teams that are some of the worst at stopping tight ends.


You can follow, ask fantasy questions and yell at Brian on Twitter: @Spokes_Murphy
Never miss ASL's latest fantasy sports news. Send us an email at newsletter@advancedsportslogic.com and list the sports you are interested in (NFL, NBA, MLB, NHL, EPL) to start receiving ASL's newsletter.