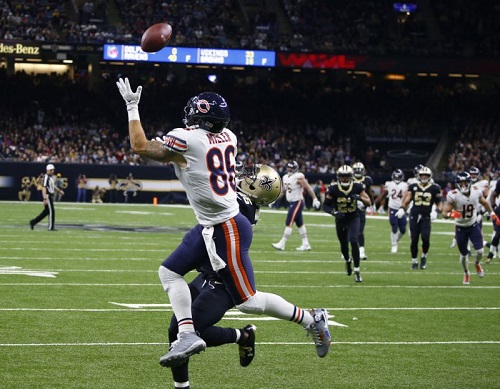 Written by Brian Murphy
31 October 2017
QUARTERBACKS
Jameis Winston, Tampa Bay Buccaneers
Winston's throwing shoulder has been barking at him since he suffered a sprained AC joint back in Week 6. Buccaneers head coach Dirk Koetter has yet to confirm that Winston will start this week at New Orleans. I think Winston will be out there, but given how improved the Saints' defense is and how much Winston has struggled while playing with the bad shoulder, he will be only a low-end QB1 for fantasy. If Winston sits, Ryan Fitzpatrick will step in and wouldn't be the worst desperation play if you need a quarterback.
Joe Flacco, Baltimore Ravens
Despite taking a blatantly illegal headshot from Dolphins linebacker Kiko Alonso last Thursday, Flacco is no longer experiencing any concussion symptoms and has a good chance of playing in Week 9, according to Ravens head coach John Harbaugh. Even with six teams on bye, I wouldn't want to start Flacco at Tennessee.
RUNNING BACKS
Devonta Freeman, Atlanta Falcons
Freeman is nursing a shoulder injury that will limit his practice time this week, but he is at no risk of missing Sunday's game at Carolina. The greater worry for Freeman's fantasy owners is his recent lack of production. He hasn't scored or recorded double-digit fantasy points in a standard league since Week 4. Furthermore, Freeman has been given 15 touches or fewer in three straight games and is on pace for only 34 receptions after catching 54 passes last season and 73 in 2015. Freeman's nagging shoulder is less of an issue than how Falcons offensive coordinator Steve Sarkisian is using his team's lead back.
Duke Johnson, Cleveland Browns
The Duke will be fine. He missed the closing stages of Cleveland's Week 8 loss as he was checked for a concussion. Those tests came back clean, so expect Johnson to play his usual role once the Browns return to action in Week 10. 
If you play in a dynasty league, give your team the best chance to win with Chad's Dynasty Diagnostic service.
WIDE RECEIVERS
Chris Hogan, New England Patriots
It's a good news-bad news mix for Hogan. The bad news: Yeah, he's hurt and will probably miss some time due to a right shoulder problem. The good news: He reportedly doesn't need surgery and with the Patriots on bye in Week 9, Hogan's fantasy owners may not be without him for long. New England will face the Broncos in Week 10. If Hogan isn't available for that game, extra targets will probably be sent to Danny Amendola and/or the Patriots' multiple pass-catching RBs.
Pierre Garcon, San Francisco 49ers
Not much is currently known about Garcon's status, but he was hardly seen during the second half of Sunday's loss to the Eagles due to a neck injury. Garcon said after the game that he expects to play in Week 9 versus Patrick Peterson and the Arizona Cardinals. We'll see, but that matchup makes Garcon a WR3 at best for fantasy purposes. 
Kenny Golladay, Detroit Lions
Golladay actually didn't play this past Sunday. That's because he suffered a setback with his hamstring injury during the practice week. Prior to that, he was scheduled to see the field for the first time since Week 3. Now, your guess is as good as mine regarding when this exciting rookie will play again. Soft-tissue aggravations can wreak havoc on wideouts, especially since re-injury becomes easier and easier with each aggravation (See: Jordan Reed). In the end, 2017 may end up being largely a wash for Golladay.
Cole Beasley, Dallas Cowboys
The Cowboys' slot receiver came out of Week 8 with a concussion. As such, he is out indefinitely. Fantasy owners shouldn't have been depending on him anyway.
TIGHT ENDS
Zach Miller, Chicago Bears
Miller wasn't the highest-profile fantasy commodity to get injury last weekend, but his injury was by far the worst of any player. He dislocated his left knee so badly, he suffered arterial damage around the knee, which was repaired with the help of a vein from his right leg. According to Rich Campbell of the Chicago Tribune, Miller's doctors "feel good" that he won't need to have the limb amputated. That was a real threat at one point. Here's hoping Miller can simply make a full recovery and live a normal life. His football future is insignificant right now. 
Jordan Reed, Washington Redskins
Shocker: Reed has a hamstring injury. This marks his fourth such injury since the start of 2014, and Reed is already expected to miss Washington's Week 9 game at Seattle. Considering his history, it's safe to assume that Reed will be out for multiple weeks. It's also worth mentioning that backup tight end Niles Paul suffered a concussion versus the Cowboys as well. Vernon Davis should be a popular pickup yet again.


You can follow, ask fantasy questions and yell at Brian on Twitter: @Spokes_Murphy
Never miss ASL's latest fantasy sports news. Send us an email at newsletter@advancedsportslogic.com and list the sports you are interested in (NFL, NBA, MLB, NHL, EPL) to start receiving ASL's newsletter.