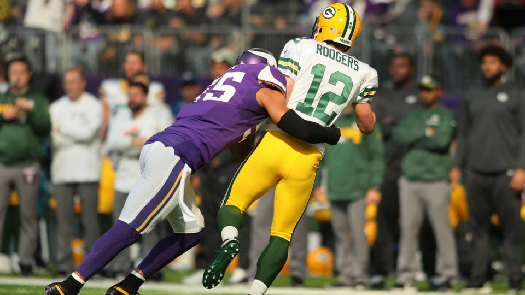 Written by Levi Andrew
17 October 2017
Minnesota Vikings 23 – Green Bay Packers 10
With Aaron Rodgers going down, you can't help but think the Packers' Super Bowl chances are all but gone. It's really too bad because we now have to downgrade all skill players in Green Bay. Jordy Nelson is now more a WR2 while Davante Adams is a high-end WR3. Aaron Jones and Ty Montgomery look to be in a true committee, which can't be good. The Packers are now a complete fantasy mess. Most fantasy teams will have to start Jordy, but I would be willing to wait at least a week to start any Packer going forward.
Adam Thielen benefitted from Stefon Diggs being inactive, posting nine grabs for 97 yards. The news on Monday was that Teddy Bridgewater has been cleared to practice. The Vikings have three weeks to decide what to do: Make him active on game days or keep him on the PUP list for the rest of the year. My money is on he comes back quicker than we think. Sam Bradford's knee is worse than we all know. When Bridgewater does come back, it will be time to fire up Diggs as those two have always had a connection. Laquon Treadwell came down with all three of his targets for 51 yards, including a spectacular one-handed grab.
Takeaways: I kind of gave you my takeaway with the Packers already: I'm waiting a week to see what the offense looks like with Brett Hundley behind center.
If you lost Rodgers, I would look Bridgewater in the eye and say, "I want you." If his repaired knee is 100 percent, he could be a nice stopgap at QB for you. Jerick McKinnon looks like the back to own in Minnesota as he touched the ball 21 times and scored twice Sunday (one rushing, one receiving). He now has rushing TDs in back-to-back games.
Chicago Bears 27 – Baltimore Ravens 24
What a horrible display of football in this game. I'm sorry, but I am a coach and watched this game closely due to my investment in Jordan Howard, who rushed 36 times for 167 yards. Mitchell Trubisky had that deer-in-the-headlights look and didn't progress through his reads, which led to the Bears feeding the ball to Howard. Trubisky managed the game, completing half of his 16 throws for 119 yards and one TD. He also rushed four times for 32 yards. However, there were two passing touchdowns in this game for Chicago as the 5-foot-6 Tarik Cohen became the shortest player since 5-foot-6 Willie Smith in 1934 to throw a TD. That saved Cohen's fantasy day as he gained just 46 yards on his 15 other touches.
Joe Flacco looked almost as bad at Trubisky, completing 24 of 41 passes for 180 yards and two interceptions. He added a two-point conversion. Mike Wallace also came back to earth in Week 6, catching three balls for 30 yards. Alex Collins is running like a freight train in Baltimore and gained 74 yards on 15 rushes here. I will bet money that no one started Bobby Rainey or Michael Campanaro, both of whom notched special teams TDs for the Ravens.
Takeaways: Howard is a must-start RB2 with an RB1 ceiling on a bad football team. The Bears badly need to get their passing game going to take some pressure off Howard. I'm not starting any other Bears in non-IDP leagues.
Just like with Chicago, I'm starting only one RB from Baltimore; Collins is a low-end RB2. One of these weeks, he will get the TD we're waiting for. Don't look for Baltimore's passing game to get going against the Vikings next week. Xavier Rhodes will most likely be on Wallace, so that won't be a good day at the office for the deep threat.
Arizona Cardinals 38 – Tampa Bay Buccaneers 33
Last week, I said the Cardinals were a mess with no running game. Then they traded for Adrian Peterson. Not even a full five minutes into the game, Peterson scampered 27 yards into the end zone in old-school AP fashion. Peterson finished the day with 134 yards and two touchdowns on 26 carries. That took pressure off of Carson Palmer, who completed 18 of 22 passes for 283 yards, three touchdowns and one interception. If you continued to start Larry Fitzgerald, you were rewarded with a 10-catch, 138-yard, one-score fantasy day.
With Jameis Winston hurt early in this game, The Bucs struggled to get anything going until the second half. Ryan Fitzpatrick appeared in relief and threw for 290 yards, three TDs and two INTs. Thanks to the Bucs being in catch-up mode throughout the final 30 minutes, their top fantasy commodities had decent days. Mike Evans caught three balls for 95 yards and a score late in the game. Tight end Cameron Brate put up a 6-76-1 line. DeSean Jackson secured three of six targets for 38 yards but salvaged his day with a touchdown as well.
Takeaways: If Winston misses time, I wouldn't fear starting any Bucs skill players as Fitzpatrick did a great job in spot duty. That being said, early word out of Tampa is that Winston could play this weekend.
I said last week that I wouldn't start any Cardinal outside of Fitzgerald and Andre Ellington. Well, now, I may start anyone but Ellington. He didn't even get a single touch in this game. I wouldn't get too excited about Peterson, but Tampa does have a good run defense and AP ran all over them. I would start him in Week 7 versus the Rams.
Pittsburgh Steelers 19 - Kansas City Chiefs 13
Kareem Hunt hasn't scored since Week 3, but he kept his streak of gaining at least 100 yards from scrimmage intact, thanks largely to his five catches for 89 yards. The Steelers' defense brought the heat all afternoon, forcing Alex Smith to stop slinging the ball all over the field and play his normal dink-and-dunk football instead.
Antonio Brown is magic. His TD catch was just amazing. Brown ended his day by hanging eight catches for 155 yards and that spectacular score on the Chiefs. While he saved Ben Roethlisberger from an interception there, he also cost Ben an INT earlier in the game and mouthed "My fault" to his QB. Le'Veon Bell did Le'Veon Bell things, carrying the rock 32 times for 179 yards and a score and added three catches for 12 yards.
Takeaways: Multiple times in this game, I watched Hunt get ran over in pass protection, leading to pressure on Smith. Hunt must get better at holding his ground back there. The Chiefs signed C.J. Spiller on Monday since Charcandrick West is out with a concussion. It's not time to panic on Hunt; he just had a relatively bad day at the office. Look for Andy Reid to get him more involved on Thursday against the Raiders.
The Steelers could be looking to move Martavis Bryant after he requested a trade, according to Ian Rapoport. However, Bryant came out later and said he's happy in Pittsburgh. If the move does happen, look for JuJu Smith-Schuster to get even more involved.
Quick Snaps:
Los Angeles Rams 27 – Jacksonville Jaguars 17
Todd Gurley had another great day on the ground, rushing 23 times for 118 yards. I don't know if Jared Goff doesn't like Sammy Watkins or if Watkins just can't get it together. This offense has only one starter for your fantasy teams and it's Gurley.
Leonard Fournette is the real deal! He sustained an ankle injury late in this game but should be fine for Week 7. This offense will flow through Fournette, not Blake Bortles.
New England Patriots 24 – New York Jets 17
If you started Austin Seferian-Jenkins, you were rewarded with a decent fantasy day as AS-J hauled in eight of his 11 targets for 46 yards and a short TD. And yet, you and AS-J were robbed of an even better day due to a simply awful call by the refs that negated what would have been his second touchdown.
Rob Gronkowski was back in action and dominated the Jets, piling up six catches for 83 yards and two scores. Chris Hogan went out for one play with an injury and was held catchless in the second half. He caught just one pass Sunday.
New York Giants 23 – Denver Broncos 10
The Giants did it: They won a game!! Not only that, but they did it against one of the best defenses in the league. Rookie tight end Evan Engram will be a stud in the absence of Odell Beckham and Brandon Marshall. On Sunday night, he recorded five receptions for 82 yards and a score. Orleans Darkwa was the hot hand in this game and led the Giants with 117 yards on the ground.
We had a Brock Osweiler sighting in this game. It's still crazy to me the Browns are paying this guy $15 million to sit on another team's bench. Trevor Siemian came back into this game after injuring his shoulder before halftime and proceeded to compile a lot of empty numbers. He put up 376 yards on 50 attempts. Emmanuel Sanders left this game late and will miss at least one week due to a sprained ankle. I would hit the waiver wire and grab Broncos running back Devontae Booker. He only had one rush but was targeted six times and secured four of them for 78 yards.


As always, follow me on Twitter: @LeviAndrewFF
Never miss ASL's latest fantasy sports news. Send us an email at newsletter@advancedsportslogic.com and list the sports you are interested in (NFL, NBA, MLB, NHL, EPL) to start receiving ASL's newsletter.