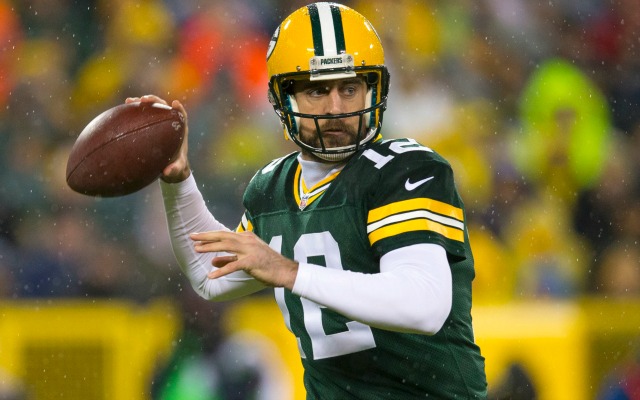 Written by Brian Murphy
17 October 2017
David Johnson and Odell Beckham Jr. are already out. Now, fantasy's best quarterback (arguably) has joined those other position-leading studs on the shelf. And that's where we must begin our Injury Rundown from Week 6.
Aaron Rodgers, QB, Green Bay Packers
I hate to say it, but you can drop Rodgers in redraft leagues. He will undergo surgery on his broken right collarbone and even though he hasn't been officially ruled out for the season, the chances of him helping your fantasy team within the next 10 weeks are extremely slim. So in steps Brett Hundley, a 2015 fifth-rounder from UCLA. He was OK when called upon against the Vikings, but -- news flash -= he's not Aaron Rodgers, and this offense is going to suffer because of it. Hundley can give you yards on the ground and, given the wealth of talent around him, I think he can be a serviceable QB2. Jordy Nelson and Davante Adams look more like mid-range WR2s for the time being, perhaps WR3s. Randall Cobb is a WR4, unquestionably. One reason why is because I think you will see a more conservative approach from the Packers. However, Green Bay's backfield appears to be hosting a full-blown committee right now as Aaron Jones and Ty Montgomery split touches pretty evenly in Week 7. Both men are probably low-end RB2s or flex options this weekend against the Saints at home. New Orleans' defense has been trending up over the past few weeks, but there are still holes that the Packers' receivers and backs can exploit. The question is: Can Hundley exploit them too?
Jameis Winston, QB, Tampa Bay Buccaneers
Winston suffered a right shoulder sprain versus the Cardinals, but according to NFL.com's Ian Rapoport, Winston's AC joint sprain is "as minor as [it] could be." He may not throw in practice this week, but the expectation is he will be out there in Buffalo this Sunday. He will be fringe QB1.
Trevor Siemian, QB, Denver Broncos
The Broncos' starter injured his non-throwing shoulder while trying to make a tackle as Giants cornerback Janoris Jenkins was returning one of his interceptions for a touchdown. He missed a few snaps before halftime but returned after the break and finished the game. An MRI confirmed that he isn't dealing with a significant injury, so he should be able to play in Week 7 against the Chargers. There are bigger injury concerns inside Denver's offense.
Emmanuel Sanders, WR, Denver Broncos
Siemian won't have Sanders available in Los Angeles after he sustained an ugly-looking ankle sprain late in Sunday night's loss. It's already been reported that Sanders is out for Week 7 and possibly longer. That should mean Demaryius Thomas could be a target monster versus the Chargers. However ... 
Demaryius Thomas, WR, Denver Broncos
Thomas hobbled his way through Sunday night's game but was able to tough it out and finish the game. His leg X-rays came back negative. But considering his health, Siemian's ineffectiveness, an upcoming matchup versus Chargers cornerback Casey Hayward, and Thomas' 11-game TD drought, the Georgia Tech product is more of a mid-range WR2 this week.  
Golden Tate, WR, Detroit Lions
Like Winston, Tate is dealing with an AC joint sprain his shoulder. But his ailment is more severe as he will reportedly miss "likely a few weeks," via Rapoport. The Lions are on bye this week, and Tate's status will undoubtedly be updated prior to Detroit's Week 8 showdown versus the Steelers. But if Tate can't make a quick recovery, you will probably see wideout Kenny Golladay and running back Theo Riddick targeted more often. 
Leonard Fournette, RB, Jacksonville Jaguars
I get a little nervous whenever I hear that Fournette is dealing with a foot or ankle problem, considering his history with those types of issues in college. Yet it appears Fournette avoided a major injury after he twisted his ankle in Week 6 versus the Rams. He is expected to play his normal role this Sunday against the Colts and will be a high-end RB1.
Robert Turbin, RB, Indianapolis Colts
You didn't need to be a doctor to see that Turbin dislocated his left elbow during Monday night's loss to the Titans. There's no official word on how much time he will miss, but there's no doubt that he will be sidelined for multiple games. Fortunately for the Colts, they still have Frank Gore and Marlon Mack to handle the backfield. Mack took the ball just twice versus Tennessee, but he should see an uptick in touches with Turbin out.
Luke Kuechly, LB, Carolina Panthers
It's not clear if Kuechly has suffered his third concussion in three years, but he is in the league's concussion protocol. We'll keep tabs on his status, but the verification of a brain injury would be awful news for both the Panthers' defense and Kuechly, personally. Carolina will visit the Bears in Week 7.
Dustin Hopkins, K, Washington Redskins
If you own Hopkins, you will need to make a change at kicker this week. He has already been declared out for this Sunday's game at Philadelphia due to a hip injury. 


You can follow, ask fantasy questions and yell at Brian on Twitter: @Spokes_Murphy
Never miss ASL's latest fantasy sports news. Send us an email at newsletter@advancedsportslogic.com and list the sports you are interested in (NFL, NBA, MLB, NHL, EPL) to start receiving ASL's newsletter.