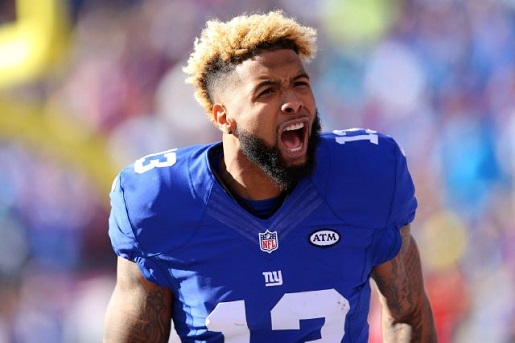 Written by Brian Murphy
10 October 2017
Odell Beckham Jr., WR, New York Giants
The marquee name of the Sunday's injury report, without question, is Beckham. He will undergo surgery this week to repair his broken left ankle, and the Giants have already said he will miss the rest of the season. My condolences to Beckham and to all of his fantasy owners. It doesn't get much worse than that. Of course, things got worse for the Giants ...
Brandon Marshall, WR, New York Giants
... because Marshall is also done for the year. He suffered an ankle injury that was initially called a sprain by head coach Ben McAdoo. Not too bad, right? Wrong, as Marshall announced Monday night that he will have season-ending surgery. That escalated quickly. We don't know the exact nature of Marshall's injury, but it's clear that he's dealing with much more than just a sprain.
And we're not done with the Giants.
Sterling Shepard, WR, New York Giants
At least Shepard isn't expected to miss the rest of the season -- yet. He also has an ankle injury, one that might force him to miss a game or two. 
So, where do the Giants and fantasy owners go from here? Well, New York's next game is against the Broncos in Denver, so you shouldn't want any part of this offense in that one. Eli Manning, who was already a QB2 for fantasy purposes, obviously takes a gigantic hit following these injuries. He should be on your bench or dropped for at least a couple of weeks. For as long as Shepard is sidelined, Manning's No. 1 wideout looks to be Roger Lewis. That fact alone makes Lewis a waiver add. He should be joined on the field by the likes of Tavarres King, Travis Rudolph and Ed Eagan. Seriously, those appear to be the Giants' top four WRs if Shepard can't play. I have no idea who will step forward from that group of three. Anyone who says they do is lying. Again, I would spend a few dollars of my FAAB on Lewis. Everyone else deserves a wait-and-see approach, although none of them may ever have weekly value. The 0-5 Giants are well on their way to a top-three draft pick.
Jordy Nelson, WR, Green Bay Packers
Nelson stood on the sidelines for the entirety of the Packers' game-winning drive versus the Cowboys. A hamstring injury is reportedly the reason for his absence, but the good news is Nelson doesn't seem too concerned. He said Monday, "I'm good." We'll see. You never like to see wide receivers dealing with a soft-tissue issue in their legs. Those have a tendency to linger.
DeVante Parker, WR, Miami Dolphins
The Dolphins' dysfunctional offense could be missing its most dangerous big-play receiver in Week 6 versus the Falcons. Parker sustained an ankle injury -- it was a really bad weekend for ankles -- early in Miami's Week 5 win over the Titans. NFL.com's Ian Rapoport has said that Parker's sprain is believed to be minor. So, he might not miss any games, but it's almost certain that he will miss some practice time this week. Keep your eyes on this one. Jarvis Landry should be a target monster if Parker is out while fellow wideout Kenny Stills would pick up some more downfield targets.
Stefon Diggs, WR, Minnesota Vikings
A groin injury caused Diggs to flop for his fantasy owners Monday night. He caught just one of his four targets for 4 yards before exiting. As of midday Tuesday, we are not sure of Diggs' Week 6 status. A fantastic matchup against the Packers is next on his schedule. Obviously, Adam Thielen and tight end Kyle Rudolph would get a nice bump up in value if Diggs is inactive.
Devin Funchess, WR, Carolina Panthers
While there was nothing evident from Sunday, Funchess apparently came out of Week 5 with a knee injury. That was disclosed on the Panthers' injury report Monday, and Funchess did not practice on Monday or Tuesday. That basically means he needs to get some reps in on Wednesday or else he will probably miss a golden opportunity to build upon his recent streak of solid play this Thursday against the Eagles. Funchess, if active, would be at least a strong WR3 against Philadelphia's poor secondary. If he can't suit up, look for Kelvin Benjamin to ball out.
Travis Kelce, TE, Kansas City Chiefs
Kelce has been diagnosed with a concussion. As with all concussions, there is no telling when Kelce will be able to play again. We will just have to monitor at what pace he progresses through the NFL's concussion protocol. If he can't play against the Steelers in Week 6, move Alex Smith at least a few notches down the QB rankings. By the way, Smith is the top-scoring quarterback in fantasy right now. How nuts is that?
Charles Clay, TE, Buffalo Bills
The Bills' receiving corps may not be as bad as the Giants' but it's getting close, especially after Buffalo lost its top receiver, Clay, to a knee injury Sunday. He underwent surgery Monday to fix a torn meniscus and is also dealing with a sprained MCL. For now, the Bills are saying that he will only miss a few weeks. Color me skeptical on that one. I wouldn't be surprised at all if Clay sits out for more than a month. With him unavailable and WR Jordan Matthews already shelved with a thumb injury, do you know who is the Bills' leading non-running-back receiver right now? It's tight end Nick O'Leary. He has seven catches while wideouts Andre Holmes  and Zay Jones have six and five, respectively. O'Leary should be on your radar if you are in a deep league given the lack of quality at the tight end position. However, I would stay far away from Buffalo's wide receivers for now. The Bills are on bye this week.
Bilal Powell, RB, New York Jets
The Jets lost another running back due to injury Sunday. Already without Matt Forte because of turf toe, Powell strained a calf muscle before halftime versus the Browns and didn't return to the game. The Jets haven't expressed much concern about the ailment, but calf strains usually keep running backs out of action for at least one game and usually more. If Powell is inactive in Week 6 against the Patriots, Gang Green would have almost no choice but to move sixth-round rookie Elijah McGuire into a starring role. He has taken on double-digit touches in each of the past two weeks and is a high-quality receiver, an important trait considering the strong likelihood that the Jets will have to throw often versus New England. Travaris Cadet is also in the building, but he hasn't established a role on offense since being signed two weeks ago. McGuire might see 20 touches in Week 6. He is a must-add in all leagues and will be in the RB2 conversation.
Terrance West, RB, Baltimore Ravens
West, like Powell, suffered a calf injury this past weekend, but he had to be carted off of the field and is expected to miss at least one game -- possibly many more. In his stead, Javorius Allen and Alex Collins picked up the slack. While everyone expected Allen to be the Ravens' receiving back -- and that was definitely the case in Week 5 -- I found it surprising that he also out-carried Collins, 21-12. Allen averaged just 3.5 yards per carry, but he was in the game whenever the Ravens were close to the goal line. It's clear that Baltimore doesn't quite trust Collins given his fumblitis. Conversely, the Ravens showed just this past week that they are OK with giving Allen 25 touches. That alone makes him look like a certain RB2 versus the Bears in Week 6. Collins and his 7.1 yards per carry average are still flexworthy. Although Baltimore would like to shy away from him at the goal line, Collins will get about 10 carries per week.
Carlos Hyde, RB, San Francisco 49ers
Hyde came into Week 5 with a hip injury, so when he touched the ball just nine times against the Colts, it was easy to draw a straight line connecting his modified workload to his health or lack thereof. However, 49ers head coach Kyle Shanahan said Monday that wasn't the case. Instead, he attributed Hyde's lowered involvement to Matt Breida being the "hot hand" in San Fran's backfield. The rookie Breida outgained Hyde 49-18 on the ground despite seeing just two more carries. He also caught three passes for 22 yards while Hyde caught just a single 7-yard pass. Our John Adams advocates for Breida as a top Week 6 waiver wire add, and I agree. Hyde is someone who is suddenly tough to trust; he was even out-snapped by Breida. Neither back may be more than a flex option for as long as this near-even split continues, you should pick up Breida this week.
Jonathan Stewart, RB, Carolina Panthers
Stewart, like his teammate Funchess, apparently came out of the team's Week 5 win over the Lions banged up. He has an ankle injury, which is very concerning given Stewart's long history of foot and ankle problems. If he is held out of Thursday's game, Christian McCaffrey would stand to see more work. Also, Cameron Artis-Payne would likely stop being a healthy scratch.
Matthew Stafford, QB, Detroit Lions
Stafford limped his way through much of the second half against Carolina. He was clearly impacted by ankle and quad pains, but it looks like he might still play Sunday in an awesome matchup versus the Saints. That would be great for the entire Lions offense, but I think Stafford's status will be one of the top stories on the injury report for the week ahead. His backup is 2016 sixth-rounder Jake Rudock.
Sam Bradford, QB, Minnesota Vikings
The Vikings clearly rushed Bradford back from his knee injury and may have ended up making the situation worse. Bradford never looked ready to play versus the Bears on Monday night and was replaced by Case Keenum prior to halftime. Following the win, head coach Mike Zimmer said Bradford aggravated his knee injury, so I wouldn't expect him to be active against the Packers in Week 6. 
J.J. Watt and Whitney Mercilus, Houston Texans
Finally, we don't do a lot of IDP writing around here, but I should mention what happened in Houston on Sunday night as the Texans experienced a couple of big losses on the defensive side of the ball. Watt is the obvious headliner an is out for the rest of the season with a left tibial plateau fracture. Mercilus, who has a torn pectoral muscle, will join him on the sidelines for the rest of the year. This softens up Houston's defense tremendously, and it should make life much easier for opposing quarterbacks. The Texans face the Browns this week, but Russell Wilson owners should up their expectations for him when he gets this wounded defense at home in Week 7.
You can follow, ask fantasy questions and yell at Brian on Twitter: @Spokes_Murphy
Never miss ASL's latest fantasy sports news. Send us an email at This email address is being protected from spambots. You need JavaScript enabled to view it. and list the sports you are interested in (NFL, NBA, MLB, NHL, EPL) to start receiving ASL's newsletter.