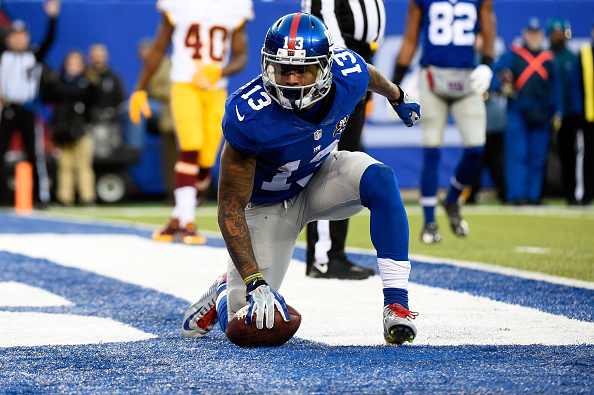 Written by Brian Murphy
07 September 2017
QUARTERBACKS
Andrew Luck, Indianapolis Colts
The Colts will ride with QB Scott Tolzien against the Rams this Sunday. Luck has already been ruled out as his surgically repaired throwing shoulder continues to bother him. We can only assume that he is recovering, albeit slowly; the fact that the Colts didn't place him on the Physically Unable to Perform list means they think Luck will play at some point before Week 7. However, there's no telling which point that will be right now since the team has been very vague about his health. He is week-to-week, and Tolzien represents a massive downgrade for the entire Indy passing offense. That's why T.Y. Hilton and Donte Moncrief are pretty low in my wide receiver rankings this week.
Cam Newton, Carolina Panthers
Newton and Luck were kind of in the same boat this summer, both dealing with throwing shoulders that didn't seem to be responding quickly from offseason surgery. But Newton is now practicing in full and is a worthy start at San Francisco. He is Daniel Brown's No. 10 QB for Week 1.
Joe Flacco, Baltimore Ravens
It wasn't too long ago when Flacco's status for Week 1, and perhaps beyond, seemed to be up in the air. No longer as he has been given the green light to face the Bengals this Sunday. He is a low-end QB2.
WIDE RECEIVERS
Odell Beckham Jr., New York Giants
The most valuable fantasy player whose Week 1 status is uncertain, Beckham didn't practice on Wednesday and looks to be headed toward being a true game-time decision for Sunday night's matchup with the Cowboys. His latest comments don't sound very encouraging. Beckham is more than two weeks removed from suffering his sprained during a preseason game, and the fact that he is still not practicing really concerns me. The Giants haven't said that he's dealing with a high-ankle sprain, but that's what this sounds like some your more standard low-ankle sprains shouldn't take this long to heal. If that more dire diagnosis is correct, Beckham might miss the first couple games of the season. For now, we sit and wait for each day's practice report. I have placed Beckham fourth in my Week 1 wideout rankings
Amari Cooper, Oakland Raiders
Cooper was officially limited during Wednesday practice due to a knee injury. He is expected to play his full allotment of snaps versus the Titans, but let's see what he is able to do on Thursday and Friday. Although it may be unrelated, Cooper missed a handful of practices in August because of an unspecified leg injury.
DeAndre Hopkins, Houston Texans
Hopkins was sidelined for multiple weeks in August due to a hand injury. It must have been mostly precautionary as Hopkins is now practicing in full and looks like a low-end WR1 for Sunday's matchup versus the Jaguars.
Demaryius Thomas, Denver Broncos
Thomas nursed a recent groin injury for about a week, but he practiced Wednesday and looks to be fine for Monday night's tilt versus the Chargers. He's more of a WR2 this week, in my opinion.
Brandon Marshall, New York Giants
Here's another veteran who sat out some practices and preseason action but also looks to be in no danger of missing Week 1. Marshall's shoulder pain shouldn't hold him back in Dallas. He is a solid WR3.
Jordan Matthews, Buffalo Bills
Matthews seems to have made a full recovery after suffering a chipped sternum more than three weeks ago (just writing the name of the injury gives me shivers). He practiced without limitations Wednesday and is set up to be a high-volume, low-ceiling WR3 options against the Jets in Week 1.
Corey Davis, Tennessee Titans
The good news is the No. 5 overall pick in this year's draft will play Sunday versus the Raiders. The bad news is he won't receive a full load of snaps. Davis missed nearly four weeks of training camp after a strained hamstring took him down in early August. He did not crack my top-50 wideouts for the opening week. Give him time to catch up.
John Ross, Cincinnati Bengals
This first-round rookie sprained his knee during the Bengals' preseason finale and will not play in Week 1. According to NFL.com's Ian Rapoport, Ross could be back by Week 3. Given his late start to the season and his rookie status, Ross probably won't be consistent enough for fantasy owners to use during at least the first half of the season. He should still be rostered in most leagues though.
Mike Williams, Los Angeles Chargers
Good health just hasn't been in the cards for Round 1 rookies yet. Williams is expected to miss at least the first month of the season due to a back injury that looked to possibly threaten his entire 2017 not too long ago. He has resumed running and is reportedly making progress. Stash him and wait.
Markus Wheaton, WR, Chicago Bears
Wheaton is expected to miss this weekend's matchup versus the Falcons due to a broken finger. Week 2 is no sure thing as a return date either. As such, Chicago will head into the regular season rivaling the Jets for the title of weakest receiving corps. Kevin White appears to be the Bears' No. 1 wideout right now and he's barely a WR4 for current fantasy purposes.
RUNNING BACKS
Leonard Fournette, Jacksonville Jaguars
Fournette doesn't appear on the Jags' initial injury report. That's mildly surprising to me after he missed a couple weeks worth of practice due to a foot injury and given his history with such ailments. But with this development, Fournette is a rock-solid RB2 for Week 1.
Danny Woodhead, Baltimore Ravens
Woodhead hardly played during the preseason and battled a hamstring injury into September, but he was a full participant in Baltimore's practice Wednesday and has RB2 upside for this week, even in standard leagues. 
Thomas Rawls, Seattle Seahawks
Rawls' Week 1 availability suddenly looks clear following weeks of speculation. He has reportedly dealt with a high-ankle sprain since mid-August but was a full participant in Wednesday's practice. That means it looks like he, Eddie Lacy, C.J. Prosise and perhaps a dash of Chris Carson will make up one crowded backfield versus the Packers. This situation isn't ideal for fantasy owners right now. I'd avoid it, if possible.
Matt Forte, New York Jets
The Jets managed Forte's knee and hamstring discomfort during the preseason and now he is ready to roll for Week 1. Even though he is expected to start versus the Bills, I'd rather play Bilal Powell in fantasy if I had a choice between the two, and Powell is certainly the back I want for the duration of the season. I think he will have a big year while Forte probably deals with the aches and pains that come standard with being a 32-year-old running back in the NFL.
Bilal Powell, New York Jets
A quick side note on Powell: He is listed as having a rib injury but is practicing in full. He is AJ Schreiver's No. 20 RB this week.
D'Onta Foreman, Houston Texans
Foreman was absent for a couple of weeks due to a thigh injury, but he should be fine for Week 1. The rookie looks like Lamar Miller's unquestioned handcuff right now, especially since Alfred Blue is only two weeks removed from suffering a high-ankle sprain and will probably miss this week's game, if not more.
T.J. Yeldon, Jacksonville Jaguars
The Jags' No. 3 RB at best right now, Yeldon didn't practice Wednesday and hasn't practiced since Aug. 17 because of a strained hamstring. It's still early in the week, but he appears until to play versus the Texans.
Devontae Booker, Denver Broncos
Booker is still making his way back from a fractured wrist. He hopes to practice soon but probably won't see the field in a regular-season game for a least a few more weeks. Jamaal Charles will have to pick up the slack behind C.J. Anderson.
TIGHT ENDS
Tyler Eifert, Cincinnati Bengals
Eifert is practicing. Even in Week 1, that's a feat for him considering how often he is injured. He has fully recovered from offseason back surgery and is a TE1 with big-time touchdown upside versus the Ravens.
Eric Ebron, Detroit Lions
After spending much of August on the sidelines thanks to a nagging hamstring problem, Ebron is no longer on the Lions' injury report. So, he'll be out there against the Cardinals if you need him as a low-end TE1.
George Kittle, San Francisco 49ers
Kittle appeared to be the Niners' new No. 1 TE following the trade of Vance McDonald to Pittsburgh last month. Unfortunately, it doesn't look like he'll be able to take advantage of his opportunity this week after re-aggravating a hamstring injury during Wednesday's practice. Kittle had missed about a week of camp previously because of a hamstring strain. Now, it looks like Logan Paulsen could be the starting tight end for San Fran against the Panthers. Fantasy owners shouldn't bother with him.
------------
Other notable players who are expected to play in Week 1 include: Tyrod Taylor, QB, Buffalo Bills; Blake Bortles, QB, Jacksonville Jaguars: Tyrell Williams, WR, Los Angeles Chargers; Eric Decker, WR, Tennessee Titans; Jeremy Maclin, WR, Baltimore Ravens; Kenny Britt, WR, Cleveland Browns; Tyler Lockett, WR, Seattle Seahawks; Cooper Kupp, WR, Los Angeles Rams; Kenny Golladay, WR, Detroit Lions; Curtis Samuel, WR, Carolina Panthers; JuJu Smith-Schuster, WR, Pittsburgh Steelers; Breshad Perriman, WR, Baltimore Ravens; Josh Doctson, WR, Washington Redskins; Travis Kelce, TE, Kansas City Chiefs; C.J. Fiedorowicz, Houston Texans.
You can follow, ask fantasy questions and yell at Brian on Twitter: @Spokes_Murphy
Get In-Season Analyzer for lineup, waiver and trade help with blended projections from Pro Football Focus, 4for4, Fantasy Gurus, NumberFire and Fantasy Sharks.
Never miss ASL's latest fantasy sports news. Send us an email at newsletter@advancedsportslogic.com and list the sports you are interested in (NFL, NBA, MLB, NHL, EPL) to start receiving ASL's newsletter.