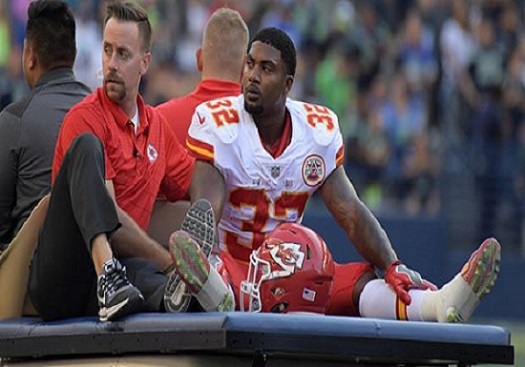 Written by Brian Murphy
31 August 2017
This will most likely be the final NFL News Roundup I write this year, which is great because it means that the regular season is within reach. It will most likely be replaced by an NFL Injury Roundup, which I penned consistently last year. The two pieces are very similar considering how many players are already hurt, but at least we'll have football. Ahh, football.
Preseason Week 3: The worst of times for a few players
Last weekend served up a few more examples of why you shouldn't hold your fantasy draft before the final week of the preseason if you can help it. Patriiots wide receiver Julian Edelman, Chiefs running back Spencer Ware and Bears wide receiver Cameron Meredith are all out for the season with knee injuries. Let's go through the fantasy impact of these injuries, one by one.
Edelman: I really don't think this hurts Tom Brady's value. The number of serviceable weapons in New England's offense borders on obscene. They've got wideouts Brandin Cooks, Chris Hogan, Danny Amendola and Malcolm Mitchell; running backs Mike Gillislee, Dion Lewis, James White and Rex Burkhead; and tight ends Rob Gronkowski and Dwayne Allen. Choose five of those guys, put them on the field and the Patriots will still hum. So, who gains the most value? That's tough to answer confidently also because the ball can be spread around so many ways. But Pats reporter Ben Volin thinks that White, Lewis and Allen will see an "uptick" in targets because they, like Edelman, can catch a lot short, quick throws. 
Ware: Chiefs head coach Andy Reid told us all we need to know Saturday when he tabbed rookie Kareem Hunt as his feature back. Obviously, Charcandrick West and C.J. Spiller will mix in, but Reid has always loved having a true lead back to lean on, from Duce Staley to Brian Westbrook to LeSean McCoy and Jamaal Charles. As such, I think Hunt is suddenly a top-15 fantasy RB.
For a little more on Edelman and Ware, check out what our John Adams wrote Wednesday.
Meredith: The Bears are now the anti-Patriots on offense; find me any pass-catcher here whom you trust? OK, Jordan Howard, fine. And then what? Kevin White has played four games in two seasons, and he looks like Chicago's No. 1 wideout at the moment! Deonte Thompson has mostly been a kick returner in the pros. Victor Cruz, even with the dearth of talent at his position, may not make the roster. Marcus Wheaton currently has a broken finger and is coming back from shoulder surgery. I said in our running back rankings that I was worried that Howard might turn into Todd Gurley -- the only player on his team opposing defenses need to plan for. Meredith's injury definitely doesn't help soothe my worries.
No decision yet in Cowboys RB Ezekiel Elliott's appeal hearing
Elliott's hearing will continue into Thursday but even if his six-game suspension is not reduced, it sure sounds like he will not stop fighting. And the longer he keeps fighting (and as long as the case, once it's brought to the circuit court level, sits unresolved), the better chance he will have of not only playing next weekend but many weekends thereaft. At this point, I think I'd take on the risk and select him late in the first round. 
NFL investigating Dolphins WR Jarvis Landry for domestic abuse incident
No charges were pressed against Landry when the incident took place back in March, but the NFL reportedly has video of what took place and is looking deeper into the matter. The Broward County State Attorney's office is also on the case. With Elliott serving as a cautionary tale, this is a story to track closely over the coming weeks and months.
Eddie Lacy and Thomas Rawls: co-starters?
Sure sounds like it if you listen to head coach Pete Carroll:
"You start with those two guys, but then C.J. [Prosise] brings some stuff .... "I am really comfortable and I have no problem with it. Also, I'm comfortable with a guy taking over. If a guy takes over and it's obvious, I got no problem with that either. We are pretty, I guess that's pretty wide open."
No one here is more than a flex option for the time being. I would like to have Prosise, who has the lowest ADP of the three and is the best receiver of the bunch, too. But he has problems with staying healthy. Speaking of which, Carroll also said Prosise and Rawls could play in the team's final preseason but didn't say if they will. Those two have been nursing groin and ankle injuries, respectively.
Panthers unsure how QB Cam Newton will perform in Week 1
What we do know is that Newton will play in the season-opener against the 49ers. Past that, all bets are off. Head coach Ron Rivera said the team "really won't know" how Newton will look in his first regular-season action since undergoing offseason shoulder surgery until he's actually out there. On the brighter side, he looked fine during his light work in last Thursday's preseason game. With all of this uncertainty surrounding his health and readiness, Newton may turn out to be a big value pick in many drafts.
Colts still not ruling out QB Andrew Luck for opener
Another week went by, and the Colts continued to pass out non-update updates on Luck's ailing shoulder. This game has been boring for a while now. Scott Tolzien looks like the clubhouse favorite right now to start versus the Rams, and that's bad news for basically ever Indy receiver.
Browns, Jets and Jaguars name their Week 1 starting QB
Cleveland is going with DeShone Kizer over Brock Osweiler, which is the right call. I'm kinda-sorta intrigued by the rookie in deeper two-quarterback leagues. The Browns have some decent targets for him to use, and Kizer can be a rushing threat.
New York chose Josh McCown over Christian Hackenberg, which is a lot like choosing to drive a Yugo over a 1972 Ford Pinto: Both are awful, but one could result in disaster. Backup QB Bryce Petty will be out for a few weeks due to a flat tire-- I mean a sprained knee. 
Jacksonville tabbed Blake Bortles after making him a second-stringer for their dress rehearsal preseason game last week. That all makes sense, sure. I'll predict that Chad Henne will be starting by no later than Week 5. At least having Blortles around makes me feel a smidgen more comfortable about drafting Allen Robinson.
Colts RB Marlon Mack gets compared to Jamaal Charles
The compliments came via head coach Chuck Pagano. I am a huge fan of Mack's, and I think he will play a major role in the Colts' backfield before 2017 is out. Frank Gore, now in his age-34 season, is clearly running on empty. Mack would give Indy's ground game some much-needed excitement. Please do yourself a favor and draft Mack in your final rounds. 
RB Jamaal Charles has made the Broncos' final roster
Speaking of Charles, the chances of this becoming a reality looked touch-and-go there for a while, but head coach Vance Joseph made it official over the weekend. Charles hasn't look spectacular in his limited preseason work, but he has looked healthy, and that's pretty much all that matters. With Devontae Booker expected to be on the shelf until at least Week 3 due to his surgically repaired wrist, Charles looks like C.J. Anderson's handcuff for now. Charles could usurp Anderson for the starting gig if he simply stays on the field.
Steelers RB Le'Veon Bell to end holdout Friday
You already know this if you read this column last week. Or if you follow Le'Veon on Twitter.
49ers trade TE Vance McDonald to Steelers
Bell will have a new teammate to greet when he shows up on Friday. Pittsburgh would be a really nice spot for McDonald's fantasy value to rise ... if Jesse James wasn't on the roster. As is, there's not much for fantasy owners to chew on here. But an NFL trade right before the start of the regular season is fun.
Lions QB Matthew Stafford is Rich
No real fantasy implications here. I'm just ogling his contract figures.
Bring on the rest of the injured notables!
Giants WR Odell Beckham Jr. (ankle): The G-Men have yet to say anything definitive about Beckham's Week 1 status, only that they continue to hope he is available. I've said it before and I'll say it again: Unless he is dealing with an unreported high-ankle sprain, I would be shocked if Beckham is not active next weekend.
Jaguars RB Leonard Fournette (foot): Fournette has returned to practice and wants to play in the Jags' final preseason tune-up. He hasn't been given the green light for that yet, but it's a good sign for his Week 1 availability.
Texans WR DeAndre Hopkins (hand): It's now been more than three weeks since Hopkins' last practice. However, everyone in and around the team is still giving off the impression that he will be good to go for Wee.k 1. OK, but keep an eye on this.
Broncos WR Demaryius Thomas (groin): Thomas was pulled out of Saturday's game reportedly as a precaution after coming down with his injury. However, he has yet to practice since. 
Ravens RB Danny Woodhead (hamstring): Not much to update here -- Woodhead remains sidelined by the hamstring injury he picked up two weeks ago. His Week 1 status is totally up in the air.
Bills WR Jordan Matthews (chest): J-Matt's chipped sternum will sideline him for the rest of the preseason, but he did say this week that he expects to be playing come Week 1. Bills coaches are thinking along those same lines.
Bengals RB Jeremy Hill (ankle): Joe Mixon's future backup saw his left ankle get rolled up on during Sunday's game. There's been very little information released regarding his status since, but it doesn't look like Hill has practiced over the past few days.
Bills QB Tyrod Taylor (concussion): Taylor suffered the brain injury Saturday night and is still in the league's concussion protocol. Obviously, he's out indefinitely. If his symptoms persist for another week or so, Nathan Peterman would likely have to fill Tyrod's shoes.
Titans WR Corey Davis (hamstring): Progress is being made here even though the rookie is likely to miss all of his first preseason. The good news is that Davis returned to practice on Tuesday. This first-rounder is bound to get off to a slow start.
Ravens QB Joe Flacco (back): Flacco has resumed throwing and is getting closer to becoming a practice participant. But there is still a real chance that we will see Ryan Mallett as Baltimore's starting QB in Cincy for Week 1. If so, do what you can to get your hands on the Bengals' defense.
Rams WR Cooper Kupp (groin): This rookie didn't play last weekend and there's no word on if he will play next weekend in the game that matters.
Seahawks WR Tyler Lockett (leg): Coming back from a broken fibula and tibia, it seems Lockett won't spend any energy in preseason games, but the Seahawks are still planning to have him on the field Sept. 10.
Redskins WR Josh Doctson (groin/hamstring): Doctson suited up for only two games in his rookie year due to injuries, and now his sophomore season looks like it will begin with more of the same. He wants to play in the Redskins' final preseason game but that's a total unknown right now. Same goes for his Week 1 chances.
Other players who returned to practice over the past week include: Falcons RB Devonta Freeman; Giants WR Brandon Marshall; Titans WR Eric Decker; Jaguars WR Marqise Lee; Patriots WR Malcolm Mitchell and Lions TE Eric Ebron.
You can follow, ask fantasy questions or just yell at Brian on Twitter: @Spokes_Murphy
Never miss ASL's latest fantasy sports news. Send us an email at This email address is being protected from spambots. You need JavaScript enabled to view it. and list the sports you are interested in (NFL, NBA, MLB, NHL, EPL) to start receiving ASL's newsletter.