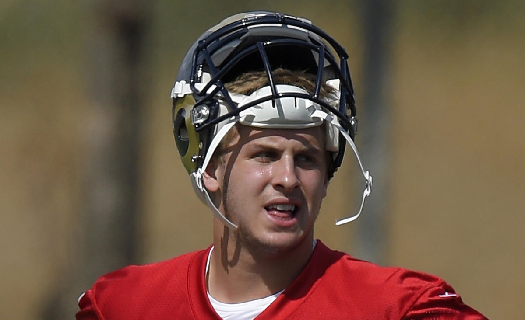 Written by Levi Andrew
27 July 2017
Kansas City Chiefs – Spencer Ware / Kareem Hunt
Last year Spencer Ware finished as the 16th best RB in standard scoring, finishing with 214/922/3 and catching 33 balls for 447 yards and 2 TD's. Not a bad season on paper, but most of his damage was done early in the season. So, the Chiefs go out and trade up to draft Kareem Hunt from Toledo.
This kid can do it all. His senior year he finished with 1,878 yards from scrimmage. 1,475 rushing and 403 yards receiving. Everyone has pegged Hunt as being an Andy Reid running back. He could easily take over early down work from Ware. But I don't see the coaching staff just giving Ware's job away. This will be an interesting and fun running back battle to watch during training camp/preseason.
Baltimore Ravens – WR Target Share's/ RB's / QB issues
The Ravens threw the ball for 672 times last year. After losing Steve Smith to retirement, Dennis Pitta to injury, Kamar Aiken to the Colts and Kyle Juszczyk to the Niners, there are 321 targets wide open. The Ravens only addressed the WR position by signing Jeremy Maclin, then signing Danny Woodhead who is a great receiving back.
Mike Wallace finished as the 24th best WR in standard scoring and 22nd in PPR in 2016, on 116-target last year. I could easily see that number shooting up to 130-140. Think about it; that's only 15-25 more. If Maclin fills the Steve Smith void then he'll take a 100-target's. I'm going to preach more about why Wallace is being drafted way too LOW. His ADP is currently 94.3. He was a WR2 last year and could finish this year as a WR1. Keep an eye this training camp for fantasy relevance.
The news hit late Wednesday that Joe Flacco could miss 3-6 weeks with a back issue that he supposedly injured during a lifting session. Then a report came out saying he'll just be taking a week off. So, who knows but keep an eye out.
Then you have only 3 healthy backs on the roster now. Danny Woodhead, Terrance West, and Buck Allen. Kenneth Dixon went down with a torn meniscus. I still think Woodhead sees the most time on the field this year.
Seattle Seahawks – Running back Battle/ O-Line
The Seahawks went out and signed Eddie Lacy to a deal that includes target weigh-ins. Thomas Rawls is coming off a down year. C.J. Prosise is coming back from injury. One of these backs already has a role, that's Prosise. If he stays healthy Prosise will be the passing down back. In 2016 the Seahawks RB's combined for 75 catches. That will be a great asset to your PPR squad. But for the early workhorse back its going to be a battle. Lacy has shown that he can produce when he's healthy. Rawls has shown that he can produce when he is healthy.
Next to the health factors for all backs, the biggest concern is the O-Line performance. I don't think Luke Joeckel or Oday Aboushi are going to solve all the problems. The O-line is what tore down the running game last year and got Russell Wilson sacked 41 times last year. Pro Football Focus is already giving the Seahawks the worse O-line for 2017. Doesn't look promising For Lacy, Rawls, Prosise and Wilson again this year. I will be keeping a close eye on this training camp; you should be too if your counting on any of these RB's.
Arizona Cardinals – Carson Palmer
Carson Palmer went to Coach Arians and GM Steve Keim at the end of the season and asked to throw less this offseason. He doesn't throw more than 50 balls a day. Other QBs like Rivers and Roethlisberger do the same. Palmer is now telling Keim that he has never felt stronger coming into training camp.
I see this as a plus and negative. Him not throwing a lot may end up being a great thing and saving him for a run this season. Him not throwing could bring bad chemistry to his WR's and RB's. Let's say Fitz gets hurt in the preseason or early season, Palmer didn't throw much to the 2nd string WR's now what happens? Opposing defenses start to stack boxes and bottling up David Johnson, creating nothing for Arizona. Let's see where this leads too in training camp; it could very well lead to Arizona being the best team in the NFC West.
Los Angeles Rams – Jared Goff/ Todd Gurley / WR target shares
Jared Goff had a horrible rookie season to go along with Todd Gurley's horrible sophomore season. Goff started 7 games in his rookie season throwing 205 times for 1,089 yards 5 TD's and 7 INT. Gurley finished his season with 278/885/6 on the ground and 43/327/0 receiving. The receiving line is the only thing to like about last season for Gurley. He doubled his catches and almost doubled his yards. That was mostly due to teams knowing they had to stack the box and bottle up Gurley. They also need Goff to play better so the defenses aren't playing 8-man fronts.
With the first time Head Coach, Sean McVay bringing a better offensive scheme to LA this year, I can see Jared taking a step forward and performing. Wade Philips will help keep games close, McVay is bringing a "spread" type offense. Jared played in the "bear raid" system at Cal which is pretty close to a spread offense. This should hand him the tools he needs to succeed. With big plays down the field it should open running lanes for Gurley.
Which then brings me to the WR/TE's. You have Robert Woods (you know my feelings on him), Cooper Kupp, Josh Reynolds, Gerald Everett all new to the team this year. Then you have Tavon Austin, Tyler Higbee, Mike Thomas and Pharoh Cooper from last year. I've heard the reports of McVay wants to use Everett as his new Jordan Reed. I can see it; he's got the athleticism but rookie TE's never make much of an impact. I see the targets shaking out more like this, Woods 1st in target's, Austin or Kupp 2nd, Everett or Higbee 3rd, Gurley 4th.  Austin just isn't the player to play the Desean Jackson role, Kupp is more that player I feel. That's the role they want Austin to fill. Kupp will show his skills in camp.
Washington – RB battle
Robert Kelley, Samaje Perine, Chris Thompson. The three backs in Washington to keep eyes on. Chris Thompson is most likely to keep his job. Washington likes him as a passing back/pass protector. Huge PPR asset. But the back that's going to have the most fantasy impact is yet to be determined. Kelley did pretty good after taking over for Matt Jones in 2016. Then Washington drafts Samaje Perine in round 4. These two will be the ones to compete in camp. Kelley has been working his tail off in the offseason, so I don't think they will hand the job to Perine. If Perine does in fact out-play Kelley in camp and win the job and if his pass protection is good enough he could steal plays and targets from Thompson. His receiving ability is underrated.
Quick Hits
Dallas Cowboys – Ezekiel Elliott
Not much to say other than just keep your eyes and ears glued to sites just in case of a suspension. If one does happen then Darren McFadden will be the guy you want for the first couple of games.
San Francisco 49ers – The Backfield
Reports are coming out about Carlos Hyde being cut. I don't see it even if he's not a fit for the offense. He's only making $800,000 for this year and he's a cap hit of $1.1million, and also a free agent next year. If they do get rid of him it will be through a trade. Just watch this play and make sure Joe Williams, Matt Breida, and Tim Hightower are available in your league.
Follow me on Twitter @LeviAndrewFF