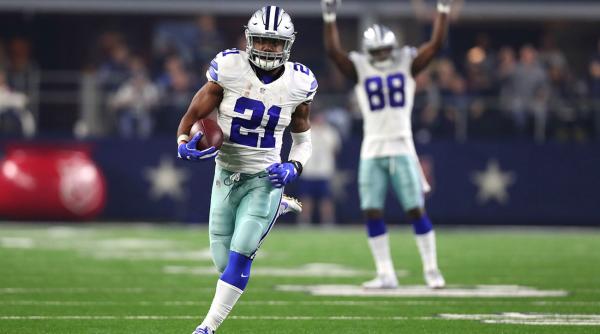 Written by Brian Murphy
25 May 2017
More Jay Ajayi hype
We learned a couple of weeks ago that Ajayi's receiving chops have noticeably improved. Since then, Miami Dolphins head coach Adam Gase has Ajayi could end up with as much as 350 carries this season. It sounds great, but you know it's wholly dependent on Ajayi's body being able to hold up under such punishment for 16 games. It's also worth noting that only two running backs have actually accrued 350 carries in a season this decade: Arian Foster and DeMarco Murray. Maybe Gase really meant to say that Ajayi will handle 350 touches, which is slightly more common and more realistic. If that were to happen, Ajayi would definitely finish above his 2016 fantasy football result as RB No. 11 in standard leagues. I think Ajayi will be a first-rounder in most drafts come September.
Dallas Cowboys RB Ezekiel Elliott OK after car accident
Elliott suffered a head injury as the result of a relatively minor car accident this past weekend. He has missed a few practices this week, but since it's May, that's not a big deal. The good news is that he doesn't have a concussion, according to the team's running backs coach. Elliott is going to be the second, third or fourth pick in a vast majority of drafts this summer. The Cowboys would be wise to make sure Elliott doesn't move faster than 3 mph in any capacity when he's off the field this year.  
Committees are coming in Denver and New York
In some very unsurprising "news" this week, the Broncos and Jets pretty much confirmed that they will be rolling with a running back committee this season. Broncos first-year head coach Vance Joseph said "two or three guys" will carry the load. Those three guys will most likely be C.J. Anderson, Devontae Booker and Jamaal Charles. Anderson will be the leader and drafted in the fourth or fifth round. But I'm on record as a Charles supporter in the final rounds if he recovers well from his latest knee reconstruction. 
In the Jets' corner, Bilal Powell and Matt Forte will head that committee, hopefully in that order. Powell turns 29 in October, but his legs should be pretty fresh as he has just 703 touches to his credit. Forte, on the other hand, is 31 and has taken on more than 2,700 touches. Powell was a fantasy stud in the final month of last season, totaling 138 yards from scrimmage per game while Forte was nursing injuries. At this point, Powell is clearly the more dynamic player and is looking like a steal right now as a sixth-round selection. Forte will probably come off the board 2-3 rounds later.