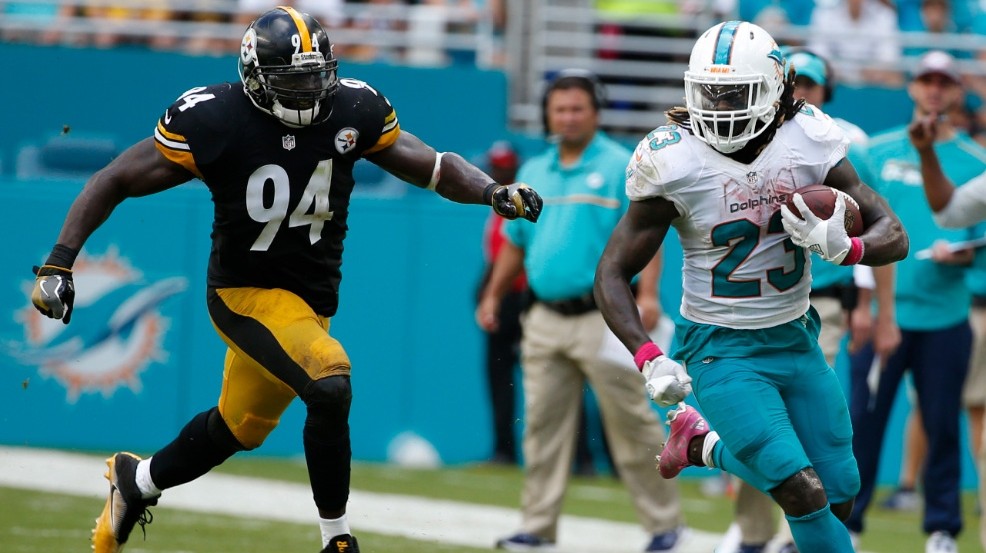 Written by Brian Murphy
11 May 2017
WR Michael Floyd signs with the Minnesota Vikings 
Floyd will try to resurrect his NFL where his football journey started. The Vikings signed Floyd to a one-year deal on Wednesday, bringing the 27-year-old back to his home state; he grew up and went to high school in St. Paul, Minn. However, Floyd can't report to his new team until his house arrest, stemming from last year's DUI arrest, expires in June.
Just a few years ago, Floyd looked like a star in the making as he topped 1,000 receiving yards in his second season. His career plateaued from there and then hit the skids completely in December when he was found to be driving with a .217 blood-alcohol level and subsequently cut by the Arizona Cardinals. He then played a couple of unmemorable games with the Patriots.
Floyd has been nothing more than an inconsistent WR3 since 2013. While he can still get downfield, the deep ball is not Sam Bradford's forte. Some owners in extremely deep leagues will take a chance on him -- that is if he even makes the Vikings' final roster. But he should go undrafted in most leagues.
Miami Dolphins OC raves about RB Jay Ajayi's improved receiving ability
Ajayi was the No. 11 running back in standard leagues last year even though he missed one game and wasn't fully committed to by his team until Week 5. Now the Dolphins are trying to make him more dangerous and versatile. According to offensive coordinator Clyde Christensen, Ajayi's receiving skills are "200 percent" better than in 2016. Ajayi hauled in 27 balls last season for 151 yards. Getting the rock into his hands in any way is good for the Dolphins and, obviously, Ajayi's fantasy owners. The Boise State product looks like a stellar RB1 right now, and he is taking care of his weaknesses. Get ready to buy him early in drafts.
Cleveland Browns, RB Isaiah Crowell come to terms on a one-year contract
Crowell wants a long-term deal, but he'll probably have to prove that he's worth it for one more year. After Cleveland threw down more than $100 million to improve their offensive line this spring, Crowell's fantasy stock is actually looking good right now. He should be the lead back yet again for Hue Jackson's club and is coming off a season in which he averaged 4.8 yards per carry and caught 40 passes (he caught 28 in his first 32 career games). He deserves to be considered an RB2, although the number of backs who can be a part of that conversation is admittedly large.
Tennessee Titans WR Tajae Sharpe beat a man unconscious, allegedly
Sharpe, a fifth-round pick in 2016, is reportedly upset that, on April 28, the Titans used the No. 5 overall selection in the 2017 draft on wide receiver Corey Davis. He took out his anger on a Nashville man later that night -- allegedly. You can read about the details of the lawsuit against Sharpe and another Titans player here and here. Needless to say, this isn't the best way to get on your coaches' good side when top-level talent was just brought in to compete at your position. But hey, let's see if anything comes of this. Sharpe was already a PPR-only commodity. With Davis and 2016 breakout Rishard Matthews around, there won't be many targets left for Sharpe in Tennessee's run-heavy attack.