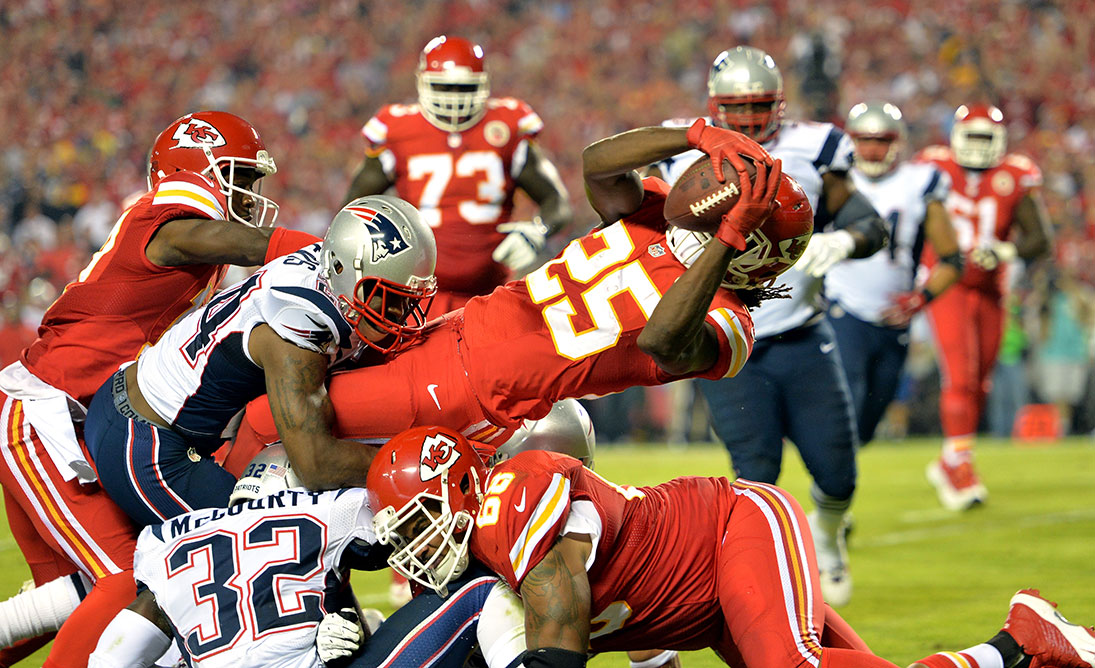 Written by Brian Murphy
04 May 2017
Here's a slight incongruity: Jamaal Charles may not make the Denver Broncos' Opening Day roster, and I want him on all of my fantasy teams.
There's very little at stake for Denver if Charles doesn't make the cut; his one-year deal carries no guaranteed money and a $1 million base. However, if he is on the final 53, he probably won't carry much risk for fantasy owners either.
C.J. Anderson is clearly the No. 1 man in the Mile High backfield right now, and Devontae Booker's job security is mildly comfortable right now as Anderson's handcuff. Charles has work to do if he wants to make the team -- and that's without mentioning sixth-round rookie De'Angelo Henderson.
Still, I will be drafting Charles late in every league if he makes it. Given his multiple knee surgeries and the 30 on his birth certificate, Charles probably won't cost you much in a draft, barring preseason injuries to Anderson and Booker that force the Broncos to lean on the former Chief from the get-go. The most likely scenario is that Anderson opens the year as the starter with Booker and Charles splitting passing-down reps behind him.
But consider that Anderson has never played in 16 games in any season and was limited to just seven contests last year because of a torn meniscus. And although this is a small sample size alert, Booker averaged just 2.99 yards per carry last season once he took over for an injured Anderson in Week 8. If Charles is and remains healthy, odds are he is going to have a significant role in the Broncos' offense given the recent history of his backfield mates.
Now, is Charles healthy? That's the unknown. He played in just five games in 2015 before tearing the ACL in his right knee. Then his 2016 campaign was basically washed away entirely due to lingering issues with that knee, which required another operation in November. He has been rehabbing ever since. He probably won't participate in the majority of the Broncos' offseason program, but that's not a big deal. If he is ready to go by August, he and the Broncos will be happy.
I think Charles is a good fit for the Broncos' offense, although there has been chatter that they will employ fewer zone-blocking schemes this year in favor of more power running plays. That wouldn't be great for Charles, but let's remember whom we are talking about. Before 2016, Charles never had a season in which he averaged less than 5.0 yards per tote. He is a very stellar receiver and has shown more toughness than his size would lead you to believe, commonly getting the rock at the goal line during his nine seasons in Kansas City. If Charles' knees hold up (he tore his left ACL in 2011), he is going to be difficult to keep off the field just because he can do so many things extremely well. And as I said, the Broncos will probably need him if Anderson's own knee problems crop up again and/or Booker shows he is still not yet ready for an expanded workload.
Yet, Jamaal's current slot as the third back in Denver and iffy health will keep his draft price low. Like the Broncos, what do you have to lose by taking him on? Let him go if someone in your league gets suckered in by his name value in the sixth or seventh round. But as we reach the double-digit rounds, take a chance on one of the best running backs of the past decade. He is on a run-first team and currently trailing two RBs with question marks. As long as he is healthy, Charles will be worth your time and a low-level draft pick.