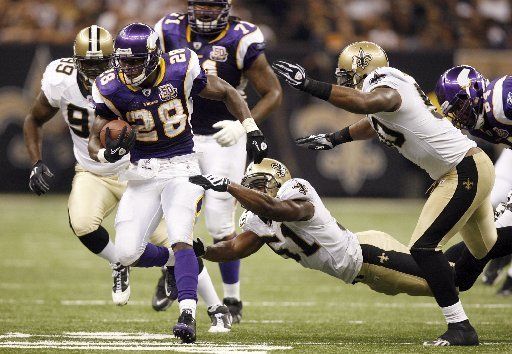 Written by Brian Murphy
27 April 2017
So, I was wrong. I'm still a little befuddled over why the New England Patriots chose Mike Gillislee over Adrian Peterson when both have similar contracts and guaranteed money. It can't all be about age. And I think Peterson would have fit that scheme just fine. But I digress.
Peterson has joined forces with the New Orleans Saints. On paper, just seeing him and Drew Brees lining up in the same backfield will be pretty neat. And I'm sure ESPN was feeling fortunate when news of the signing broke. But that's not what we really care about. What's the fantasy impact on the main parties involved? 
For Peterson, it won't matter if he can't stay on the field. He played only three games last year due to injuries and averaged just 1.9 yards per carry when he was cleared to play. But let's think optimistically a forecast a healthy 2017 for All Day. It helps that he's going to be in what will be a top-10 offense yet again. Even without Brandin Cooks, as long as Brees and head coach Sean Payton are around, points and yards will follow. How many of those points and yards will belong to Peterson? If nothing else, he should be a force around the goal line, so I could see him totaling double-digit scores if he plays a full season.
But his yardage total will obviously depend on his touches total, and he will unquestionably split a lot of work with Mark Ingram and, to a much lesser extent, Travaris Cadet. Ingram is coming off a career-best campaign in which he topped 1,000 rushing yards and 5.0 YPC for the first time during his six years in the league. He finished as fantasy's No. 10 RB in standard leagues. However, I have to believe that he will take a back seat of sorts to Peterson.
The Saints didn't sign Peterson to make him a backup or even a minority partner in what appears destined to be a committee backfield, especially considering the somewhat contentious relationship between Ingram and Payton. Peterson will likely lead this team in carries and with 200-230 touches, he should approach 1,000 yards to go along with those 10-plus TDs.
Yet Peterson has never been the most accomplished receiver, and that's where Ingram will establish his fantasy value. The Saints have always loved slinging it with Brees. They dialed up the third-largest percentage of pass plays last season and while the team clearly wants to become more run-based, I don't think that run-pass ratio is going to change drastically this fall. Although Peterson has caught more than 30 passes just once in the past six years, Ingram has hauled in 96 balls over the past two seasons. Chip in Cadet's contributions as almost purely a passing-down asset, and Peterson has the look of a one-dimensional threat.
He can still be quite a threat if he's healthy, and finding yards behind one of the NFL's top run-blocking lines -- Minnesota's was one of the worst last year -- should lead to good things. 
However, the days of Peterson being a 300-touch monster are over at age 32. He is going to share carries with Ingram and may cede almost every receiving opportunity to Ingram and Cadet. As such, I think Peterson will be the first RB among this trio drafted in fantasy leagues this summer. However, he carries plenty of injury risk. Considering that, he is a top-15 back at best for drafts. Ingram would be the player I prefer for the price in PPR formats, where he should also be in the RB2 mix.