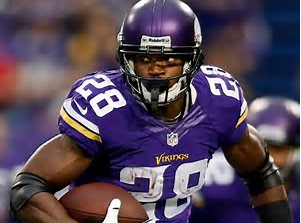 Written by Brian Murphy
13 April 2017
The title of this article insinuates that Adrian Peterson will indeed play somewhere this season. I guess he could retire if no team meets his asking price -- and there's a slim chance any team will -- but I believe that the 32-year-old Peterson is making the rounds because his football fire still burns. It may not happen tomorrow, but I think Peterson will accommodate some team financially and come to terms to continue his Hall of Fame career. 
But where? Our only known candidates are the New England Patriots and New Orleans Saints. He has visited each team. His trip to New England last week included a workout. A contract hasn't been extended anywhere, but I think interest remains inside the headquarters of each suitor. The Seahawks also brought in the 2012 MVP for a chat, but their signing of Eddie Lacy ended any Peterson pursuit. Other teams such as the Tampa Bay Buccaneers, Oakland Raiders and Green Bay Packers have reportedly expressed varying degrees of enthusiasm, but those rumors don't seem to have much support. 
In the end, I think the rich will get richer; Peterson is going play with the Patriots. The biggest reason why is clear and simple: Winning should mean everything to Peterson at this point in his career, and no franchise today can talk up a better Super Bowl game than the Pats. To a 12-year vet who has yet to even reach the sport's greatest stage, the prospect has to be awfully enticing. Plus, New England currently has a need for a power back. Sure, that void could be filled at a greater discount by free agent RB LeGarrette Blount. He played for about $1 million last year and although he scored 18 touchdowns for them, the Pats seem to be the only team talking to the 250-pounder. He needs them more than they need him, and both sides probably know that.
This has been an uncharacteristically splashy offseason for New England. They backed up the Brinks truck for cornerback Stephon Gilmore and then actually traded high-end draft picks -- something this organization has loathed to do for a long time -- to add wide receiver Brandin Cooks. Why not keep the glitzy moves coming by bringing aboard one of the best running backs of all time?
As an aside, just imagine an NFL offense that contains Peterson, Cooks, Rob Gronkowski and Tom Brady. That is something straight out of Madden NFL 18.
But I do think that will be a reality this year. Again, Peterson's demands will have to come down, and the allure of a Lombardi Trophy can certainly facilitate that. Although New England could re-sign the running back they know, Blount, for fewer dollars, the Patriots should continue their very un-Patriots-like offseason and, for a couple extra millions, see if they can get one more season out of Adrian Peterson where he actually looks like the Adrian Peterson we've watched for the majority of the past decade.
And if "All Day" can't swallow his pride a little bit and take a pay cut to play with other future HOF'ers on the 2016 champ and the 2017 title favorite, maybe he should retire. He will find no better landing spot.