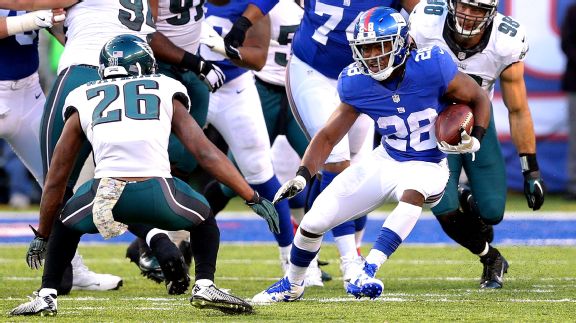 Written by Brian Munsonmurphy
12 February 2017
There has been no draft. Free agency has yet to begin. The lights at the Lucas Oil Stadium for the NFL Combine are dark. Heck, we're still recovering from the history-making conclusion of Super Bowl 51. However, it's never too early to talk about fantasy draft strategy. Here are three names you need to store away for future reference. They will go a long way in helping you win a championship next season.
Paul Perkins, RB, New York Giants
The Giants' offense overall was one of the league's least potent attacks in 2016, a confounding fact given that Odell Beckham Jr. is always around to help out. The most glaring weakness was the run game, which ranked 29th in yards, 30th in yards per attempt and dead last in touchdowns. Perkins, however, showed late in his rookie year that he might be able to spark this area of the team. He averaged 4.8 yards per rush over his final 47 regular season carries, and with Rashad Jennings all but certain to be cut this spring, the quick UCLA product is destined for a much larger role in 2017, and the Giants' desperately need more offensive balance along with a required rise in production. He won't singularly own New York's backfield, but I think Perkins will be an RB2 commodity more often than not.
C.J. Prosise, RB, Seattle Seahawks
As long as Prosise's own body doesn't hold him back, he could be a legitimate star for the Seahawks. We saw what he could do with an expanded role and when healthy in Week 10 as he racked up 153 yards from scrimmage on 24 touches (17 carries, seven catches). The following week, Prosise put up a 72-yard touchdown highlight before breaking a shoulder blade and missing the rest of the campaign. Therein lies the rub with C.J. He battled myriad injuries as a rookie and has been called out by head coach Pete Carroll to be more durable going forward. Whether he has true control over something like is highly debatable, but it basically sums up Prosise's fantasy profile: If he can stay healthy, he has the stuff to be a No. 1 back for a run-first squad. Think positively and spend a pick on Prosise. It could pay off, in the parlance of the U.S. president, bigly.
Ty Montgomery, RB, Green Bay Packers
Montgomery is in a different class than the two backs who precede him here. He will be the first player drafted of these three, easily. But I hold him to a higher standard; Montgomery can be a top-10 RB next season. He carried the ball just 77 times in 2016 but averaged nearly 6 yards per tote. His Week 15 performance (162 yards and two scores on 16 carries) single-handedly moved droves of fantasy owners into their league's championship round. Now entrenched as a full-time running back, Montgomery is set to showcase his abilities for a full season in an Aaron Rodgers' led offense. T-Mont is tough to tackle and is obviously an accomplished receiver since that was his main role in college. Montgomery has three-down back ability and size. To illustrate all of his gifts in such a dangerous offense headed by a QB maestro, that's the cherry on top.