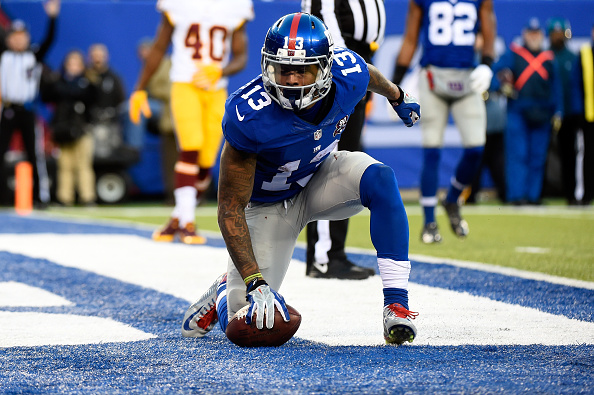 Written by Brian Murphy
31 January 2017
Here is the early list of the top 10 fantasy football wide receivers for 2017, according to ASL's Brian Murphy.
1. Antonio Brown, Pittsburgh Steelers
Brown would lose this top spot if Ben Roethlisberger actually retires this offseason. Assuming Big Ben sticks around, how can you bet against the NFL's controversial Facebook friend? He doesn't have a recent history of injuries, is not yet 30 and has posted a staggering four-year average of 120 receptions, 1,579 yards and 11 touchdowns.
2. Odell Beckham Jr., New York Giants
OBJ didn't score until October and still turned in a top-five fantasy WR campaign. Eli Manning's decline presents him with a little more risk, but his target share is never in question. Oh, and he's the most talented wide receiver in football.
3. Julio Jones, Atlanta Falcons
It simply feels safe to put Julio third, ahead of Mike Evans. Perhaps that's the only reason why I'm doing it. Matt Ryan won't be as good in 2017 as he was in 2016, full stop. And Jones has the most injury concerns of anyone in this top quartet. However, he can be just so dominant and could accomplish more if he got more targets. He averaged *just* 9.2 per game this season; Brown, Beckham and Evans were all north of 10. 
4. Mike Evans, Tampa Bay Buccaneers
He is still quite young, is impossible to cover in the red zone, sees a humongous amount of targets, is playing with a blossoming quarterback and was the position's top scorer in fantasy this season. I think fourth is as low as Evans should be in anyone's wide receiver rankings.  
5. A.J. Green, Cincinnati Bengals
Although he didn't catch a pass after Week 10, don't forget that Green finished the year with 66 receptions and 964 yards. Whenever healthy, he has been a consistent stud, six years running. 
6. T.Y. Hilton, Indianapolis Colts
If only T.Y. could find the end zone more often. He has missed just one game since 2013, averaging 1,250 yards per year during that time. But his highest TD total in that period was seven (2014). Let's hope he gets some overdue TD luck in 2017.
7. Jordy Nelson, Green Bay Packers
The only reason why Nelson is this low -- and I'll admit that this is probably too low -- is that he turns 32 in May. He proved a lot of people wrong with how he played in 2016, current company included. But how long can that last? He was the No. 2 fantasy wideout this past season, but drafting him as such is chasing stats. Even though he was outstanding, I think the players listed above Nelson here considerably more upside moving forward.
8. Dez Bryant, Dallas Cowboys
Injuries have played a big role in Bryant's last two seasons. He can still take over games with his pure skill, but that red flag and the Cowboys' run-heavy offense should make him more of a lower-end WR1 in drafts this summer. 
9. Michael Thomas, New Orleans Saints
You could place Thomas' teammate Brandin Cooks here without issue. I have slotted Thomas here because he was more consistent and provided a higher floor than the big-play Cooks, and became a WR1 as a rookie.  
10. Amari Cooper, Oakland Raiders
One of the most underwhelming fantasy wideouts from Week 9 on, Cooper still gets a spot in my top 10 because of his youth, raw talent and the high-scoring potential of the Raiders' offense. Plus, it's not like 83 catches and 1,153 yards from a sophomore-year player is truly bad. 
HONORABLE MENTION: Brandin Cooks, New Orleans Saints; Davante Adams, Green Bay Packers; Doug Baldwin, Seattle Seahawks; DeAndre Hopkins, Houston Texans; Sammy Watkins, Buffalo Bills; Allen Robinson, Jacksonville Jaguars.