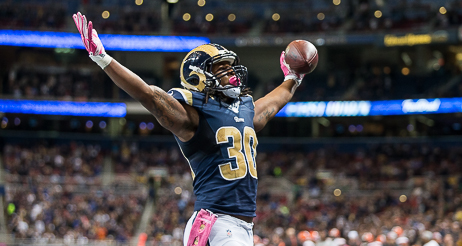 Written by Brian Murphy
07 January 2017
Fantasy owners invested so much into these players and what did they give back in return? More stress than stats. More tears than touchdowns. Here are the players -- one for each of the four offensive skill positions -- who really let their owners down in 2016. If you want to read something more positive, check out this article's counterpart, the most valuable players of 2016. 
Cam Newton, QB, Carolina Panthers
Newton's tough season was just a microcosm of the Panthers' year overall. Both stumbled like no one expected. When it came to passing, Cam looked like he was still at Auburn, wrapping up with a league-low completion percentage of 52.9. Rushing, his 359 yards were a career-worst by about 200 yards and he ran for half as many touchdowns compared to 2015. Plus, the one game he missed was due to a concussion sustained when Newton somehow forgot that he was playing in the NFL and didn't think a Falcons player would hit him as he jaunted in for two points. He could have easily avoided the contact, but ... well, I don't know. It was an error in a season filled with them for the 2015 MVP. As a second- or third-round pick in all leagues, Newton finished with fewer fantasy points than Tyrod Taylor and Blake Bortles.
HONORABLE MENTIONS: Russell Wilson, Seattle Seahawks; Carson Palmer, Arizona Cardinals; Eli Manning, New York Giants
DeAndre Hopkins, WR, Houston Texans
At a position with a bevy of backsliders, this was a very close battle between Hopkins and Allen Robinson, both of whom had 10 weeks with sub-60 yards receiving. But Robinson ends up in the Honorable Mentions because he scored two more touchdowns and actually might have helped people win their league championship with a 147-yard outing in Week 16 while Nuk put down another three-catch, 43-yard clunker. Plus, Hopkins had the higher draft position. Two words: Brock Osweiler.
HONORABLE MENTIONS: Allen Robinson, Jacksonville Jaguars; Brandon Marshall, New York Jets; Alshon Jeffery, Chicago Bears; Randall Cobb, Green Bay Packers; Jeremy Maclin, Kansas City Chiefs; Michael Floyd, Arizona Cardinals; Jordan Matthews, Philadelphia Eagles; John Brown, Arizona Cardinals; Tyler Lockett, Seattle Seahawks; Marvin Jones Jr., Detroit Lions; Allen Hurns, Jacksonville Jaguars
Todd Gurley, RB, Los Angeles Rams
At least you could drop Adrian Peterson, Eddie Lacy, Jamaal Charles or C.J. Anderson. But if you drafted Gurley in the top five, you were basically stuck with him for the duration. And it was horrible. He reached double-digit fantasy points just five times, never ran for more than 85 yards in a game and averaged only 3.14 yards per carry. Although the Rams' run-blocking was nonexistent and the team's quarterback fiasco basically guaranteed Gurley would face eight- and nine-man boxes on every play, the sophomore back also looked slower this season. His frustration is understandable, but Gurley deserves a healthy portion blame this bust of a year.
HONORABLE MENTIONS: Lamar Miller, Houston Texans; Jeremy Langford, Chicago Bears; Ryan Mathews, Philadelphia Eagles
Coby Fleener, TE, New Orleans Saints
If you thought Drew Brees was going to turn Fleener into a star, sorry. You need to remember next time that Coby Fleener is not especially good at football. Some thought he could crack the position's top five in New Orleans. He ended up at No. 12, behind Cameron Brate and a pair of San Diego Chargers.
HONORABLE MENTIONS: Gary Barnidge, Cleveland Browns