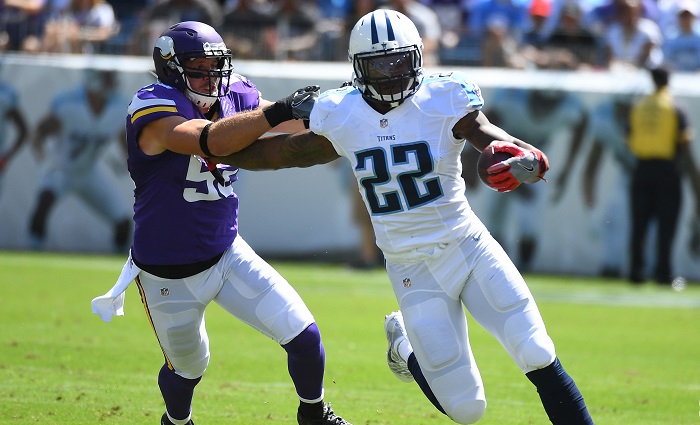 Written by Brian Murphy
22 December 2016
I, like most humans, am risk-averse. I'll take the bird in the hand over the two in the bush -- or something. If I run into a tough decision in fantasy football, I usually side with the more dependable player over the high-risk/high-reward guy. That's especially true come Week 16. In general, I want to dance with those who brought me when everything is at stake. Now is not the time to get fancy.
But I understand that not everyone feels the same way. And depending on what your head-to-head matchup looks like for Week 16, maybe you do need to gamble a little bit on a player who could reach the stars just as well as end up head first in the dirt. If you're looking for that type of player, here's one at each skill position to consider.
Matt Barkley, QB, Chicago Bears
Barkley is no longer a laughingstock. He's mistake-prone, but he has looked like a real NFL quarterback over the past month. I know that doesn't sound like praise, but when you consider how dismal Barkley has been as a pro, it's a big step forward. He has found himself in an offense that loves to throw the ball -- even though running back Jordan Howard is its best offensive player. Expect Barkley to dial up plenty of passes this weekend in order to exploit the weakness that is the Washington Redskins' pass defense, which has given up just under 21 fantasy points per game to QBs over the past eight weeks. With Kirk Cousins on the other sideline, this showdown has honest-to-goodness shootout potential, dnd Barkley already has a couple of 300-yard performances in his quiver. He'll commit a couple of turnovers, yet it would be absolutely no surprise if he overshadows those errors with three touchdowns. As long as the weather cooperates in the Windy City, at least we know Barkley will be given enough attempts in order to post a fat fantasy line. Honorable mention here goes to Colin Kaepernick, who is always a threat to run for 100-plus yards. 
J.J. Nelson, WR, Arizona Cardinals
Week 16 doesn't hold a great matchup for J.J., at least in theory. The Seattle Seahawks' defense at home is a fierce, relentless animal. However, the loss of safety Earl Thomas has made the Legion of Boom more susceptible to the deep ball -- Nelson's specialty -- and Seattle actually sits above the league median in 20-yard receptions allowed (45) and 40-yard receptions allowed (nine). In his first game with Michael Floyd off the team, Nelson gained just 38 yards on five receptions last week. But more importantly, he scored for the fourth time in three weeks and saw 11 targets. If Nelson keeps getting that many opportunities, his raw explosiveness will most likely earn him a big play or two, no matter who is lining up across from him. If you need an example of Nelson's game-breaking ability, go find the clip of his 56-yard rushing touchdown at Miami in Week 14. It would behoove the Cardinals to get the ball into the hands of a player with those kinds of skills more often.
Derrick Henry, RB, Tennessee Titans    
If DeMarco Murray were injured and unable to play this Saturday versus the Jaguars, I think Henry would be ranked as a low-end RB1. Without that hypothetical, Henry still has standalone value as a backup thanks to the Titans giving him more work, especially when the offense drives deep into the red zone. Henry has broken the plane three times over the past three weeks and has averaged 5.52 yards per carry during that period. He may not receive more than 8-12 carries per contest, but because of where he's getting them and how he is performing, Henry is a plausible championship-week start, especially versus the Jaguars. Jacksonville has allowed five RB touchdowns through the past four weeks, and when these teams last met, Henry romped for 97 total yards and a score in what became a laugher by halftime. If Henry doesn't score, he might leave you with just four or five points. But that part of the risk. The reward, as Henry displayed in Week 15, is 18-point upside on just nine touches. The rookie remains available in more than half of all fantasy leagues.
Hunter Henry, TE, San Diego Chargers
This one's a toughie. There just aren't many mid-range or lower TEs who spark my interest this week. Vernon Davis might have a big opportunity with Jordan Reed ailing but has a tough matchup versus the Bears. C.J. Fiedorowicz will face the Bengals' generous pass defense, but he has scored just thrice all season. Big-time athletes such as Eric Ebron (unmet expectations) and Ladarius Green (concussion) look unusable. So, after all that, I pose this question: Would you like a touchdown from your tight end this week? Well, Henry has pretty good odds of making that happen. As Antonio Gates slows down, Henry has become a meaningful cog in the Chargers' attack, especially in the red zone. The rookie has scored in four of his last five games and seven of his last 10. And here come the Cleveland Browns, owners of the worst tight end defense in football. The Browns have permitted a league-high 12 touchdowns to the position, so perhaps a couple of scores from Double H isn't out of the question.