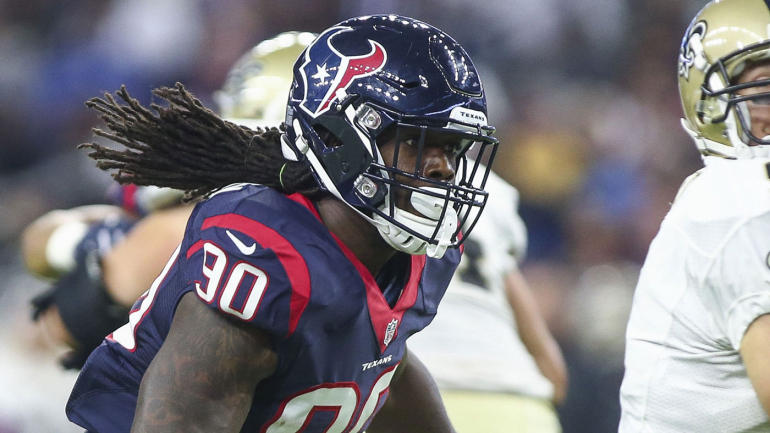 Written by Brian Murphy
15 December 2016
I have rarely talked about defenses on ASL this year, but the time to change that is now. Making the right call at every position is even more critical in Week 15, so here are the defenses still available in at least 40 percent of leagues that are worth starting. And if you're looking for kicker advice, well -- maybe in 2017.
Houston Texans (vs. Jaguars)
You had me at Blake Bortles. The Jags have committed multiple turnovers in six of their past nine games, and with Jadeveon Clowney looking like the franchise player the Texans envisioned in 2014, Houston's defense is a good bet to pile up the points at home.
Miami Dolphins (at Jets)
Bryce Petty wasn't abjectly terrible last week. That's about as good as I can put it, and that's an improvement for the Jets at quarterback. Granted, that came against the 49ers, and Petty still took six sacks. The Dolphins' strong defensive line must be licking its chops. They should be ready to get after the youngster on a short week. 
Atlanta Falcons (vs. 49ers)
Coming off a week-winning performance against the Rams, the Falcons return home to battle another mistake-prone team. Don't start thinking that the Falcons' defense is among the league's best; it clearly is not. But a meeting at the Georgia Dome with Colin Kaepernick and Co. is pretty enticing. 
Pittsburgh Steelers (at Bengals)
From Weeks 11-14, the Steelers racked up 18 sacks and seven takeaways while allowing an average of just 10 points per game. The Bengals' offense shouldn't scare you, especially if A.J. Green is out for another week. There's big-game potential from the men in black and yellow here.
Green Bay Packers (at Bears)
The Bears have committed just three turnovers and quarterback Matt Barkley has taken only two sacks through Chicago's past three games. So why should you care about the Packers' defense on the road this week? For one thing, Green Bay has notched multiple sacks in each of its last seven outings. The Pack are coming off a five-interception performance and should carry a lot of urgency into this rivalry game as their playoff hopes hang by a thread.
New York Giants (vs. Lions)
The Giants' defense has scored the second-most fantasy points on average through the past four weeks. That includes a three-sack, three-turnover showing against the usually infallible Cowboys last week. The Lions' offense doesn't make many errors either, but with Matthew Stafford's right middle finger all messed up, the Giants will probably increase their season interception total of 13, tied for seventh-most in the NFL.
Washington Redskins (vs. Panthers)
The Panthers have served up the seventh-most fantasy points to opposing defenses and have especially struggled on the road. The last three defenses to face a traveling Carolina team came away with at least nine fantasy points. A couple of sacks and at least one turnover is the least you should expect from the Redskins.
Tampa Bay Buccaneers (at Cowboys) 
I already mentioned what happened to the Cowboys last week and while they should respond at home, keep in mind that the Bucs' defense has tallied the fourth-most fantasy points on average over the past month. There is some risk here, but Tampa Bay's recent play makes the Bucs worth of shot if you can't get a hold of the other defenses on this list.