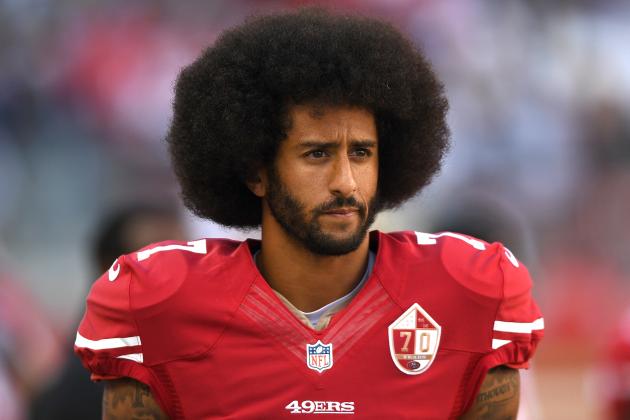 Written by Brian Murphy
30 November 2016
I don't think the Week 13 class of fantasy football pickups is anywhere near this season's strongest, so go back and look at some of the players I pointed out last week, especially Sammy Watkins and Tyler Boyd. 
Colin Kaepernick, QB, San Francisco 49ers
You can deride his lack of polish as a passer all you want, but the facts are the facts: Only Aaron Rodgers and Kirk Cousins have scored more points than Kaepernick over the past four weeks. That's in thanks to large part to the 62 rushing yards he has averaged over his six starts, which keeps his floor high. When you combine that rushing ability with a few games with multiple touchdowns, you find fantasy gold in San Francisco's QB. He faces the Bears, Jets, Falcons and Rams over the next four weeks, so, yeah, Colin Kaepernick is a QB1 for the fantasy playoffs.
Tyreek Hill, WR, Kansas City Chiefs
How is this man still not at least 50 percent owned? Although you not going to get three touchdowns from him every week, he has become the Chiefs' most dynamic offensive weapon and he is being given the ball in different ways every week. I've been touting him in this column for a month. It's time for people to wise up and add him.
Marquess Wilson, WR, Chicago Bears
Otherwise at the wide receiver position, I'm not over the moon with anyone else, especially wideouts who have to depend on Matt Barkley to deliver accurate throws. However, Barkley wasn't terrible Sunday versus the Titans and his top target was Wilson, who caught eight of 11 looks for 125 yards and a score while also dropping at least one other possible TD. If this connection holds, the 6-foot-4 receiver is going to keep having useful fantasy performances. Matchups against the 49ers (Week 13) and the Packers (Week 15) looks scrumptious. Plus, you can always hang your hat on the Bears' offense being forced to throw because the Bears' defense is brutal.
Taylor Gabriel, WR, Atlanta Falcons
Gabriel is seeing only five or six targets per game over the past month, but he is definitely doing something with them. He has scored five times during this stretch and is averaging a respectable 80.5 yards per (rushing yardage included). He's a big-play threat in a big-play offense. I would like to see him get a few more chances each week, but fantasy owners will take it if he keeps this up. Gabriel and the Falcons will take on the Rams, 49ers, Panthers and Saints from Weeks 14-17.
Charles Sims, RB, Tampa Bay Buccaneers
There's not much to speak of at the running back position on the waiver wire right now. Sims, who is currently on short-term injured reserve, can't even be activated to play until Week 14. But the pass-catching specialist did practice last week and has two matchups with the Saints and a meeting with the Cowboys on the docket during the fantasy playoffs (Weeks 14-16). With Doug Martin averaging just 3.0 yards per carry, Sims might turn Tampa Bay's backfield into a committee. He should be added right now by those in PPR leagues who need an RB for the near future. Sims has 14 receptions in four games this year and banked 51 for 561 yards and four scores last year.
Vance McDonald, TE, San Francisco 49ers
The 49ers might be the worst team in football even when you consider the Browns and the Bears. But you can't say they are bereft of fantasy contributors. During Kaepernick's current roll, McDonald has seen no fewer than six targets per week and has scored at least five fantasy points in each. I know plenty of people would take an assured five points from their fantasy tight end right now. McDonald has also scored twice since Week 9 and most recently hauled in four of his eight targets for 60 yards versus the Dolphins. If Kaepernick produces the way I think he will over the final handful of games, McDonald will continue to give fantasy owners something of value at the TE spot. That's not a ringing endorsement, but it may be just good enough for you.