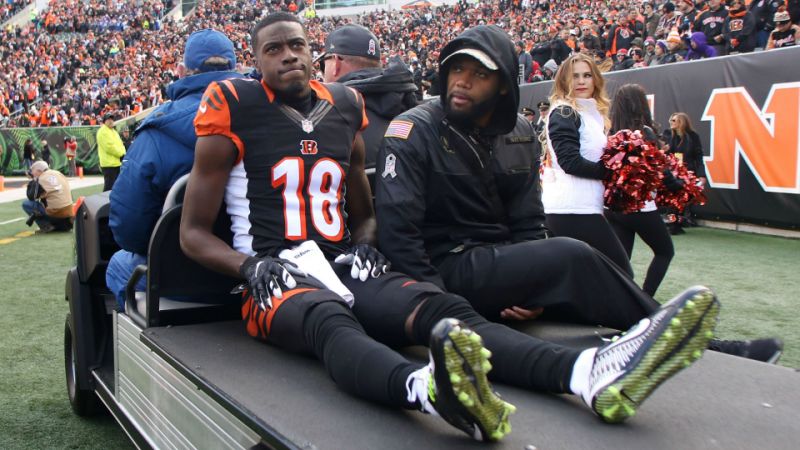 Written by Brian Murphy
24 November 2016
Here is what we know about this week's injured fantasy football stars as of Wednesday night. Note: I will not be covering the injuries affecting the first two games on Thanksgiving -- Vikings at Lions and Redskins at Cowboys -- as this article will be published after those kickoffs. Happy Thanksgiving, everyone.
QUARTERBACKS
Andrew Luck, Indianapolis Colts
Luck has been ruled out for the Thanksgiving game versus the Steelers due to a concussion. The news that he was even in the concussion protocol came as a surprise, but it's the anti-surprise that he was unable to be cleared on a short week. This means Scott Tolzien will be under center for the Colts against the Steelers, and he represents a massive downgrade for all of Indy's receivers. T.Y. Hilton is probably still worth starting as a WR2 or WR3. I would avoid everyone else in this offense except for Frank Gore.
Tom Brady, New England Patriots
Brady didn't practice Wednesday due to a knee injury. The Patriots were likely just resting him.
Jay Cutler, Chicago Bears
Bears head coach John Fox rejected the reports that Cutler has a season-ending shoulder injury. Right now, he is calling his QB day-to-day. However, Cutler didn't practice Wednesday and it looks like he will be out for at least one game. Matt Barkley would step in to direct this broken offense. The Titans' defense are a fine streaming option.
Cody Kessler, Cleveland Browns
But the Titans aren't as good of a choice as the Giants' defense, which will be facing the Browns with Josh McCown, not Kessler. Unlike with Luck, it was overt that Kessler suffered his second concussion of the season Sunday as he took taking four sacks in three quarters and was just battered in general by the Steelers. Kessler may be done for the year. For now, he's only out for Week 12. McCown wasn't much better -- he got sacked four times in the final 15 minutes and lost a fumble which recovered for a touchdown -- and is a main reason why the Giants rank as a top-five fantasy defense for this weekend. 
WIDE RECEIVERS
A.J. Green, Cincinnati Bengals
That Green may not be out for the season is the good news. His initially reported torn hamstring turned out to be a strain (which is still a tear, but not a complete one). Thus, he may be on the field within 3-4 weeks. That is unless the Bengals, who are going nowhere, decide to shut him down and not risk an aggravation at the end of a fruitless season. Tyler Boyd and Brandon LaFell are Cincinnati's top wideouts the rest of the way, and I think the rookie Boyd can be a meaningful fantasy contributor down the stretch.
Julio Jones, Atlanta Falcons
It's slightly alarming that Jones has come out of Falcons' bye with a shoulder injury -- a new injury. He was limited during Wednesday's practice. Right now, it would be hard to see him missing a head-to-head showdown against Patrick Peterson.
Sammy Watkins, Buffalo Bills
If you are in need of a wide receiver and looking for a late-season boost off of the waiver wire, pick up Watkins now. He has been out since mid-September due to lingering foot issues, but he might actually play this weekend versus the Jaguars. That's not to say that he'll play much or that he should be inserted into your starting lineup. But Watkins is available in a lot of leagues and could be a strong WR2 over crucial last few weeks of the season.
Michael Crabtree, Oakland Raiders
Coming off a drop-filled, opportunity-wasting performance in Mexico, Crabtree is now on the injury report for the first time in 2016. He is dealing with an ankle ailment. He did go through some practice Wednesday, so it appears he is on track to face the Panthers.
Donte Moncrief, Indianapolis Colts
There are direct and indirect forces negatively affecting Moncrief's fantasy value this week. The absence of Luck is obviously one of them, but the Ole Miss product was placed on the injury report Wednesday with a hamstring injury. That's obviously a bad sign since he would have only 24 or so hours to recover if he did suffer the injury during the day's practice. It's best to put Moncrief on your bench with all of these red flags surrounding him. 
Jeremy Maclin, Kansas City Chiefs
Maclin hasn't practiced since Week 9 and that hasn't changed yet. He was a no-show for Wednesday's practice due to a nagging groin injury that has already cost him almost three full games. The Kansas City passing game should be avoided against the Broncos on Sunday night. I would have no problem with dropping Maclin in standard 10- or 12-team formats.
Robert Woods, Buffalo Bills
Bills head coach Rex Ryan has already deemed Woods doubtful to play in Week 12, so there you go. He suffered a sprained knee last Sunday. Unless you really feel lucky about Marquise Goodwin or Percy Harvin, stay far away from Buffalo's receivers for fantasy purposes this week. 
Travis Benjamin, San Diego Chargers
The bye week gave Benjamin time to rest his knee injury and it did him a whole lot of good as he practiced in full Wednesday. He is a WR4 versus the Texans.
Brandon LaFell, Cincinnati Bengals
Another reason to like Tyler Boyd this week: LaFell may find himself sidelined next to Green. The seven-year vet from LSU has a knee problem and didn't practice Wednesday. He will not be a worthwhile fantasy choice even if he is active and even with the Bengals running very low on offensive skill players.
Eddie Royal, Chicago Bears
Royal didn't practice Wednesday because of a toe injury. As if the Bears weren't already thin enough in receiving talent (more on that later). Given what Matt Barkley will have around him, I'll be flummoxed if Cameron Meredith doesn't see at least eight targets against the Titans. 
RUNNING BACKS
LeSean McCoy, Buffalo Bills
McCoy missed the second half of Sunday's win over the Bengals due to a dislocated left thumb and underwent surgery that night to set everything straight. McCoy is still expected to suit up, but Rex Ryan hasn't shown full confidence in that, so keep watching the news wires here. It's a positive that he went through a limited practice Wednesday.
Mike Gillislee, Buffalo Bills
Gillislee stands to benefit greatly if McCoy ends up inactive against the Jaguars. That is if he actually plays. Gillislee said he felt some tightness in one of his hamstrings during Wednesday's practice. He told reporters that he thinks he will be OK, but you don't need me to tell you that any hamstring injury can linger and is easy to aggravate. 
Ryan Mathews, Philadelphia Eagles
Injured once again, Mathews seems unlikely to play in Week 12 because of a sprained MCL in his right knee. However, complicating matters is that ...
Darren Sproles, Philadelphia Eagles
... Sproles is no sure thing either. He has a broken rib and while his prospects for playing seem brighter at the moment, neither back practiced Wednesday. That opens the door wide for rookie Wendall Smallwood to take the lead in this backfield, just in time to face the Packers' sieve-like defense.
Mark Ingram, New Orleans Saints
Ingram appeared to lose consciousness briefly after taking a hard hit during last Thursday's loss to Carolina. He did suffer a concussion, but it's frankly a little amazing that he is already back on the practice field. He hasn't been given the all clear to play yet, but he's trending in the right direction. He would be a mid-range RB2 versus the Rams.
Giovani Bernard, Cincinnati Bengals
Bernard tore an ACL on Sunday, but you will be excused if you didn't notice it. Bernard actually stayed on the field for one play after sustaining the injury -- and caught a pass on that one play -- before checking out of the game and feeling that something in his just wasn't right. Certainly, it wasn't. Jeremy Hill should see an uptick in value while Rex Burkhead becomes viable in deeper PPR leagues. Hill, even with more carries, is a low-end RB2 this week against the Ravens and their fantastic run defense.
C.J. Prosise, Seattle Seahawks
If you started Prosise last week, at least he gave you a 72-yard touchdown run before fracturing his scapula. We won't see him again during the regular season. Thomas Rawls is set up to be a workhorse back and possible RB1 once again.
Tevin Coleman, Atlanta Falcons
The Falcons will have their dynamic duo together again in the backfield. After sitting out three games with a hamstring strain, Coleman is set to play against the Cardinals. He practiced fully Wednesday. His return takes some wind out of Devonta Freeman's sails, but he is still an RB1, and Coleman is a useful flex in good matchups. This week's, however, is not.
T.J. Yeldon, Jacksonville Jaguars
Yeldon's diminishing fantasy value took another hit this past weekend as he took home an ankle injury which then kept him from practicing Wednesday. He can be safely benched until further notice, and Chris Ivory, although he will take on more work with Yeldon out, is merely an RB3 at Buffalo.
Jacquizz Rodgers, Tampa Bay Buccaneers
Quizz was on the practice field for the first time in three weeks Wednesday. He has been out since Week 9 because of a sprained foot. Now it looks like he's ready to get back into the fray, and with Charles Sims also practicing once again, the Bucs' backfield is getting healthy in a hurry. However, once Sims returns, Doug Martin owners better watch out. I think all three men could have a weekly role in this running game unless Martin puts up some big numbers between now and Week 14, the earliest point at which Sims can be activated off of injured reserve.
Charcandrick West, Kansas City Chiefs 
For those interested in Spencer Ware's handcuff, you should know that it possibly won't be West this week. He is in the league's concussion protocol. The No. 2 gig would most likely fall to Knile Davis. 
TIGHT ENDS
Rob Gronkowski, New England Patriots
We've got some mixed signals on Gronkowski Week 12 status right now. On Wednesday morning, ESPN's Dianna Russini reported that Gronk was not expected to play versus the Jets. But if that is the case, it's fairly odd that he practiced later in the day. Everyone will be keeping up on the latest surrounding Gronk and his lung injury throughout the week. In the end, I think you will see him playing against Gang Green.
Zach Miller, Chicago Bears
The Bears just can't have nice things. Miller broke his foot in Week 11 and won't play again this year. If you really care about whom his backup is, you're in too deep of a fantasy league, my friend.
C.J. Fiedorowicz, Houston Texans
Fiedorowicz missed some plays in Monday night's game because of a dinged-up shoulder. Given that he went through a limited practice Wednesday, he should be safe to fire up as a TE1 against the Chargers.
Julius Thomas, Jacksonville Jaguars
Thomas was held out of Wednesday's practice due to a back injury. Given how badly he flopped against the Lions last week, you probably shouldn't care if he plays or not. 
-----
Other injured players who are currently expected to play in Week 12 include: Blake Bortles, QB, Jacksonville Jaguars; Andy Dalton, QB, Cincinnati Bengals; Jarvis Landry, WR, Miami Dolphins; Kenny Stills, WR, Miami Dolphins; Julian Edelman, WR, New England Patriots; Quincy Enunwa, WR, New York Jets; Will Fuller, WR, Houston Texans; Sammie Coates, WR, Pittsburgh Steelers; DeMarco Murray, RB, Tennesse Titans; Latavius Murray, RB, Oakland Raiders; Lamar Miller, RB, Houston Texans; Thomas Rawls, RB, Seattle Seahawks; Jimmy Graham, TE, Seattle Seahawks; Martellus Bennett, TE, New England Patriots.