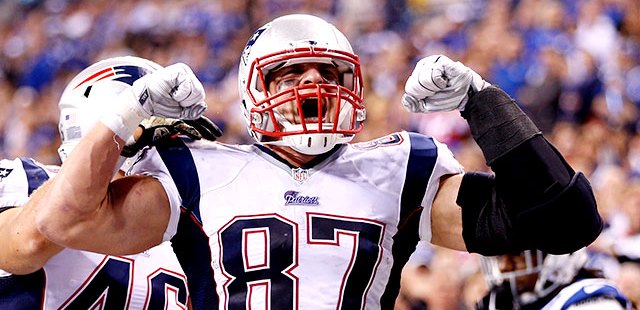 Written by Brian Murphy
17 November 2016
Here is what we know about our injured fantasy play makers as of midday Thursday. The good news so far is that there aren't many players who warrant a ton of concern -- except for one big tight end.
QUARTERBACKS
Tom Brady, New England Patriots
On Sunday, Brady took a low hit from Kam Chancellor, who was penalized under the "Brady Rule." The Golden Boy admitted afterward that he was sore but came away with just a thigh bruise. He should be fine for this weekend's game against 49ers and rebound from his zero-touchdown outing in thunderous fashion.
WIDE RECEIVERS
Larry Fitzgerald, Arizona Cardinals
A knee injury forced Fitz to miss some Week 10 snaps, but he made it through to the end of the Cardinals' win and is expected to suit up after undergoing a knee MRI on Monday. He didn't practice Wednesday, but it's fair to wonder how much practice time a 33-year-old future Hall of Famer who has been with the same quarterback for four seasons really requires. For what it's worth, he was seen on the practice field during the portion of Thursday's session that was open to the media. Even at clearly less than full strength, Fitzgerald will be a recommended start against the Vikings. He has caught 31 passes in his last three games.
Jordan Matthews, Philadelphia Eagles
Matthews didn't practice Wednesday due to back spasms but was on the field Thursday. Head coach Doug Pederson has already said he expects J-Matt to play against the Seahawks, and this latest development is in line with that thinking. He will be in the WR2 conversation against a Seahawks defense that doesn't cover slot receivers well.
Jeremy Maclin, Kansas City Chiefs
It appears Maclin's groin injury may need another week to heal. He was absent during Wednesday's and Thursday's practice despite also missing Sunday's game against the Panthers. This is just another reason why you need to pick up Tyreek Hill.
DeSean Jackson, Washington Redskins
One big-money wide receiver who is on track to return from injury this week is Jackson. He's dealing with a rotator cuff issue in his shoulder, however, he practiced on Wednesday and Thursday. If he plays against the Packers, he'll resume his usual role in fantasy as a boom-or-bust WR3.  
Ty Montgomery, Green Bay Packers
Montgomery returned to the field Thursday after sitting out Wednesday's practice due to an illness. ESPN's Rob Demovsky said Montgomery's illness is not related to his sickle-cell trait, only that the versatile player "has a bit of a bug." He should be good to go for Sunday's game, but with James Starks back, Christine Michael now on the roster, and the Packers' leading wide receivers generally healthy, there doesn't appear to be much room for Montgomery in this offense right now. He needs to be on your bench. 
Will Fuller, Houston Texans
Fuller thinks he will return to the Texans' lineup this weekend after missing last weekend's game because of a hamstring injury. Sure enough, he participated in practice on Wednesday and Thursday. Given that he hasn't surpassed 35 yards in four of his last five contests, he's not worth the gamble versus the Raiders.
Victor Cruz, New York Giants
The Giants fully expect Cruz to return from his one-game absence this weekend. He has been nursing a sprained ankle but did go through limited practices Wednesday and Thursday. He has more value to the G-Men than fantasy owners.
Sammie Coates, Pittsburgh Steelers
It seems like the state of Coates' injured hand worsens by the day. We learned on Tuesday that he actually has two broken fingers on his left hand. Although he practiced in limited fashion Wednesday, Steelers beat writers and Coates himself will tell you that hand is in no shape to catch footballs right now. Sure enough, Coates has caught just one pass since Week 6. He is only a keeper/dynasty league stash at the moment.
Marquess Wilson, Chicago Bears
Mere days after Alshon Jeffery was handed a four-game suspension due to a PED violation, Wilson has been activated from the Physically Unable to Perform list, where he had been since the start of the season because of a broken foot. However, he doesn't possess much fantasy value right away. He will probably start out as the Bears' No. 3 wide receiver and is more of a player to watch for the time being. 
RUNNING BACKS
DeMarco Murray, Tennessee Titans
Murray didn't practice Wednesday due to his continued foot/toe injury, but the Titans are likely just giving him some rest. He tore through the Packers in Week 10 and will do the same to the Colts' defense in Week 11.
Jordan Howard, Chicago Bears
What a weird situation in Chicago. Head coach John Fox said after Sunday's loss that Howard had possibly sustained an ankle or, more alarmingly, an Achilles injury. Howard's response to that: "Nah, I ain't suffer nothing." Apparently, the player was right because Howard went through a full practice Wednesday. Crisis averted. He will be a strong RB2 versus the Giants.
Thomas Rawls, Seattle Seahawks
As if Michael's release wasn't enough of a sign, Rawls' full practice on Wednesday basically guarantees that he will play Sunday versus the Eagles. He has been out since Week 2 due to a hairline leg fracture. How much work he will receive upon return is up for debate. I would feel safest with C.J. Prosise in my fantasy lineups if I had to roll with a Seahawks running back, but head coach Pete Carroll has said he expects Rawls to "play considerably" in his first game back. It's a dicey situation which will be followed closely throughout the week.
Lamar Miller, Houston Texans
Miller left Sunday's game briefly due to an ankle injury. However, he returned and still averaged 5.5 yards per carry. His low snap counts recently are concerning, but Miller is still getting enough work to be relied upon as an every-week RB2.
Jacquizz Rodgers, Tampa Bay Buccaneers
Rodgers' injured foot is getting better -- he is now out of his walking boot -- but he is still a ways off from playing. With Doug Martin back in the Bucs' lineup, Rodgers should be dropped. 
TIGHT ENDS
Rob Gronkowski, New England Patriots
The lead injury story of the week thus far, I'd say the odds are less than 50-50 that Gronk plays in San Francisco this week. He did not practice on Wednesday or Thursday. No matter if he has a punctured or perforated lung, Gronkowski's injury makes him unable to fly right now. He'll have a couple more days to get right, but he may just not be ready to make that cross-country trip. As such, Martellus Bennett looks like he could be a rock-solid TE1 in Week 11. Bennett, by the way, was limited in Wednesday's practice by an ankle injury but should be fine.
Jimmy Graham, Seattle Seahawks
Per usual, Graham was given the day off Wednesday. He was listed as having a knee injury but should be OK for Sunday's game against the Eagles. Keep him in your lineups.
Tyler Eifert, Cincinnati Bengals
After being sidelined by ankle and back injuries throughout the first half of the season, Eifert now has a knee ailment. He still went through a limited practice Wednesday, so he's on track to face the Bills. Just keep an eye on this one. 
Zach Ertz, Philadelphia Eagles
After being limited Wednesday, Ertz was absent from Thursday's practice because of his hamstring injury. It seems like this is something that occurred during the practice week, so get a backup plan in place here.
Ladarius Green, Pittsburgh Steelers
Green can't shake the injury bug either. One week after being taken off the PUP list, the athletic tight end is dealing with his own knee injury. He is not starter-worthy in fantasy right now as Jesse James remains the Steelers' lead TE.
Jacob Tamme, Atlanta Falcons
Don't expect to see Tamme on the field once the Falcons return from their Week 11 bye. His shoulder problem may reportedly require surgery and keep him out for the rest of the season. That would give Austin Hooper some streaming appeal depending upon his week-to-week matchup.
----
Other injured players who are currently expected to play in Week 11 include: Andy Dalton, QB, Cincinnati Bengals; Randall Cobb, WR, Green Bay Packers; Julian Edelman, WR, New England Patriots; Jarvis Landry, WR, Miami Dolphins; Robert Woods, WR, Buffalo Bills; Brandon LaFell, WR, Cincinnati Bengals; Kenny Stills, WR, Miami Dolphins; Chris Hogan, WR, New England Patriots; Theo Riddick, RB, Detroit Lions; Carlos Hyde, RB, San Francisco 49ers.