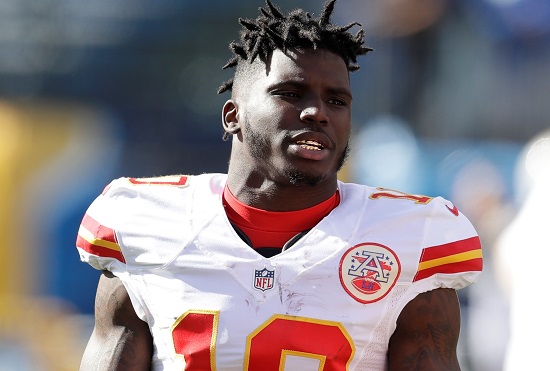 Written by Brian Murphy
15 November 2016
If you have been reading this column weekly, you'll find a few repeated names in this newest edition, but that should drive home this point: You need to add these players.
C.J. Prosise, RB, Seattle Seahawks
One of my better calls of Week 10 was believing in Prosise as an RB2 in all formats. He validated that thinking with 153 yards from scrimmage on 24 touches (17 carries, seven receptions). With that performance on a national stage versus the Patriots, Prosise will probably be the most-added player this week. However, there's about to be a wrench thrown into his situation... .
Thomas Rawls, RB, Seattle Seahawks
Seahawks head coach Pete Carroll said Monday that Rawls, who has been out since Week 2 due to a leg injury, is practicing as if he will play in Week 11 against the Eagles. If so, he, Prosise and Christine Michael should all have a role in this backfield. Prosise is the guy I would want to own. I won't act as if I know how the three RBs will be deployed, but it's clear that Prosise is the best receiver of the bunch. So while they all might mix in on the early downs, Prosise should have the highest weekly floor because he will almost always be on the field when the Seahawks have to pass. Of course, that gives him a leg up on everyone in PPR formats, too.
However, don't just dismiss Rawls. As Michael has struggled to the tune of 3.29 yards per carry over the past six games, I think Rawls is probably more likely to take charge on those early downs. Don't forget that he was a legitimate RB1 for fantasy purposes late last season. He needs to be rostered right after you pick up Prosise. 
James Starks, RB, Green Bay Packers
Starks returned from injury following a four-game absence and surprisingly played 55 snaps Sunday in a game where the Packers were trailing by three touchdowns in the first quarter. Ty Montgomery, the Packers' only other real backfield force, saw just 22 snaps. Starks touched the ball just 10 times, but he did catch a touchdown and his snap count shows just how comfortable the Pack are with him. He will face the Redskins next, a team that has allowed the fifth-most fantasy points to running backs this season.
Rob Kelley, RB, Washington Redskins
Making Matt Jones a healthy scratch on Sunday seems pretty justified now. Kelley rumbled for 97 yards on 22 carries against the previously tough Vikings defense. He has now taken on 43 carries over the past two weeks and has lost yardage on exactly one of them. He is averaging 4.8 yards per rush for the season and while he is not a big-play threat, he continues to churn out yards with a heavy workload. As long as the Redskins keep using him like this, Kelley will be a weekly low-end RB2/high-end flex. 
Tyreek Hill, WR, Kansas City Chiefs
I have been advocating for Hill for the past couple of weeks, and it was delightful to see the Chiefs put so much on his plate Sunday. Hill caught 10 of 13 targets for 89 yards against the Panthers and added a 12-yard run. Although he didn't have any game-breaking plays, he is a touchdown threat every time he touches the ball. It's also worth mentioning that many of Hill's receptions in Week 10 required a level of toughness we had yet to see from him. The absence of Jeremy Maclin certainly helped his cause, but Kansas City should keep this up. Hill is their best playmaker and he needs to continue touching the ball, no matter if Maclin is in or out of the lineup. He is still available in about 80 percent of leagues. That will change drastically this week.
Eli Rogers, WR, Pittsburgh Steelers
With Darrius Heyward-Bey and Markus Wheaton sidelined, Rogers assumed the role of No. 2 wideout in the Steelers' offense versus the Cowboys. He reeled in four of his five targets for 42 yards and a score. Rogers is worth adding and possibly using as a WR3 for as long as those other two are out of the picture. Given the amount of defensive attention that needs to be paid to Le'Veon Bell and Antonio Brown, Rogers will find himself open quite often when he's on the field.
Cameron Meredith, WR, Chicago Bears
Someone has to catch the ball for the Bears now that Alshon Jeffery has been suspended for the next four weeks due to a PED violation. It might as well be Meredith. He hasn't done much of anything since his short, two-game, 20-catch breakout back in October. He did come down with a 50-yard Hail Mary touchdown in Week 10, so that's something. Meredith is a shot in the dark and that's why he is at the back of the wide receiver group for this column, but he may also be the Bears' No. 1 wide receiver for the next month. 
Cameron Brate, TE, Tampa Bay Buccaneers
If Martellus Bennett is still available in your league, he takes the priority over Brate as Rob Gronkowski reportedly may miss one game due to a punctured lung. But Brate is still around in about half of all leagues, and his target count and fantasy output have increased in each of the past three weeks, topping out with a 7-84-1 line on seven targets versus the Panthers. He has also scored in three consecutive games. As the tight end position at large continues to be frustrating, Brate might be the solution many have long searched for. Upcoming matchups against the Chiefs, Chargers and Saints mean that Brate should keep right on rolling.