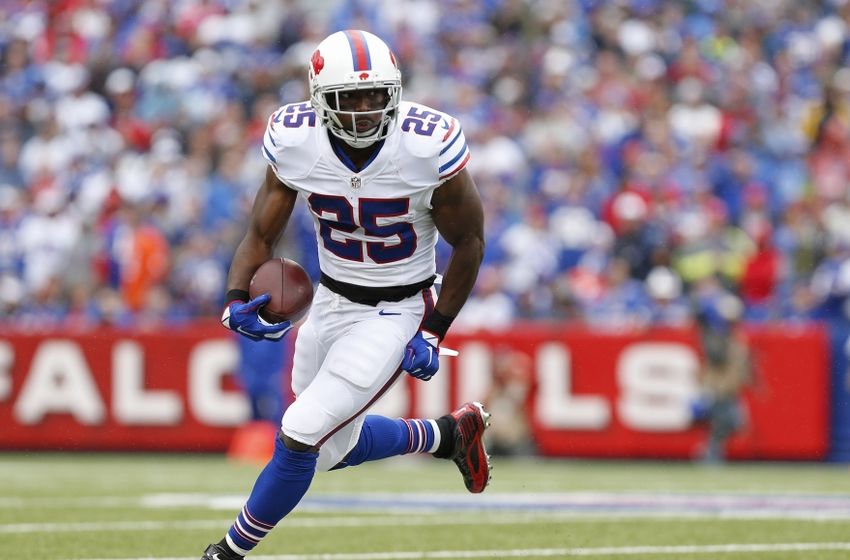 Written by Brian Murphy
20 October 2016
Here is what we gleaned on these injured players Wednesday. Remember to keep tabs on them throughout the rest of the week as some of them will be game-time decisions.
QUARTERBACKS
Ben Roethlisberger, Pittsburgh Steelers
The Steelers -- and wide receiver Antonio Brown, most importantly -- will be without their starting QB for at least this Sunday's game versus the Patriots. He underwent surgery Monday to remove all or part of the meniscus in his left knee. There is some uncertainty regarding his injury timetable; the Steelers have left the door open for the possibility that he will return on Nov. 6 after their Week 8 bye. However, some reports have stated that he will miss 4-6 weeks. Landry Jones will take the reins of this offense until Roethlisberger plays again, whenever that is. It represents a downgrade for the rest of Pittsburgh's skills players, but Brown and Le'Veon Bell remain must-starts for Week 7 at the very least.
Joe Flacco, Baltimore Ravens
Flacco is nursing a sore right shoulder after taking a couple of sacks and a general beating from the Giants on Sunday. He will probably play against the Jets, but head coach John Harbaugh didn't confirm it Wednesday after Flacco didn't practice earlier in the day, saying only that Flacco has a "legitimate shot" of suiting up.
WIDE RECEIVERS
Odell Beckham Jr., New York Giants
OBJ went to the locker room during Sunday's win over the Ravens after landing hard on his left side in the first quarter. Knowing that, it's no shock that he got some time off didn't practice Wednesday. But we all know Beckham returned to that game and ripped off two 60-plus-yard touchdowns, looking as fast as ever. We should not be concerned about his Week 7 status. 
Terrelle Pryor, Cleveland Browns
The Browns, as if they could get any worse, may be without their best playmaker this week. Pryor has a hamstring injury that kept him from practicing Wednesday. Head coach Hue Jackson said he's hopeful that Pryor will play against the Bengals, but that reality sounds iffy at this point. Are you ready to see Andrew Hawkins act as Cleveland's No. 1 wideout?
Steve Smith Sr., Baltimore Ravens
The ankle injury which sidelined Smith last week hasn't healed enough for him to practice yet. If he can't play -- and Joe Flacco does -- speedster WR Mike Wallace would be an interesting WR3 against a Jets defense that has notably struggled to cover deep passes.
Will Fuller, Houston Texans
Fuller was active for last week's game against the Colts, but you wouldn't know it because he never got on the field. The fact that he was active was unexpected as he was dealing with a hamstring injury. The pivotal word being "was." Fuller practiced Wednesday and is on track to play his normal role versus the Broncos on Monday night. He's a risky WR3 in a difficult matchup.
Stefon Diggs, Minnesota Vikings
Some time off seemingly did Diggs some good. He practiced in limited fashion Wednesday and is poised to make his return following his bye week and a one-game absence due to groin and hamstring injuries. 
John Brown, Arizona Cardinals
The Cardinals may experience a Brownout in Week 7. That's because John Brown didn't practice due to a hamstring injury, and WR Jaron Brown joined him on the side because of a knee problem. John isn't a recommended fantasy play regardless as he's probably due to draw Seahawks cornerback Richard Sherman in coverage often Sunday.
Travis Benjamin, San Diego Chargers
Tyrell Williams might become an even better fantasy play if Benjamin can't line up against the Falcons. Benjamin didn't practice Wednesday because of a knee injury.
Eddie Royal, Chicago Bears
Royal won't play Thursday night because of a toe injury, meaning that wideouts Cameron Meredith and Alshon Jeffery (who isn't on the injury report for the first time in seemingly forever) should be target monsters as they go up against Green Bay's injury-riddled secondary. 
Davante Adams, Green Bay Packers
Adams is still trying to clear the league's concussion protocol. He's officially listed as questionable for Thursday night's game, but he's running out of time and seems unlikely to participate, barring a last-minute surprise. 
Phillip Dorsett, Indianapolis Colts
Joining Brown and Pryor, here is another speed-reliant wide receiver who is trying to get past a hamstring injury. However, to make matters worse, Dorsett also has a foot injury. He didn't practice Wednesday and appears to be a long shot to play against the 
Vincent Jackson, Tampa Bay Buccaneers
Not that he had any fantasy value, but Jackson is now on injured reserve, reportedly because of a torn ACL. Adam Humphries and tight end Cameron Brate should see more targets going forward.
RUNNING BACKS
LeSean McCoy, Buffalo Bills
For a moment Sunday, it looked like McCoy's season was over as he lie on the turf, grabbing at his knee in immense pain. Fortunately, he played on, but now there's another concern. McCoy left the Bills' Wednesday practice early because of hamstring pain. According to WGR 550 radio in Buffalo, McCoy actually has a "mild to moderate" hamstring strain. That sounds like something that could keep him out this week, but we'll see. McCoy's backup is Mike Gillislee, who racked up 61 yards and a touchdown on six carries versus the 49ers. The Dolphins present another favorable matchup, so get a hold of Gillislee if you need some RB help in the short term.
Eddie Lacy, Green Bay Packers
Lacy has been ruled out for Thursday's game against the Bears due to his nagging ankle injury. With James Starks (knee) also inactive, the newly acquired Knile Davis is primed to lead the Packers' backfield. He's a daring fantasy play, but the team's lack of running back depth should also mean some carries for wide receivers Randall Cobb and Ty Montgomery. I especially like Montgomery this week with Davante Adams unlikely to play.
Carlos Hyde, San Francisco 49ers
An unspecified shoulder injury will force Hyde to miss this week's game versus the Buccaneers. The 49ers will replace him with an RB committee consisting of Mike Davis and Shaun Draughn. No, thanks.
Doug Martin, Tampa Bay Buccaneers
Tampa Bay and Martin's fantasy owners had been waiting patiently for Week 7. That's when Martin was expected to come back from the hamstring injury he sustained in Week 2. However, hold everything; he suffered a setback over the weekend and won't play against the 49ers. Those owners will have to hope Martin can return in Week 8. In the meantime, Jacquizz Rodgers is locked in as the Bucs' workhorse back after getting 35 touches two weeks ago. The 49ers have allowed the third-most fantasy points to RBs, so Rodgers makes sense as an RB2 in all formats.
Latavius Murray, Oakland Raiders
We should be happy that Murray is practicing again after missing the past two games due to a case of turf toe. But it's a development that really doesn't help anything because the Raiders will probably stick with their committee ground attack and just add Murray into the mix with DeAndre Washington and Jalen Richard. None of the three are safe starts this week versus the Jaguars.
Theo Riddick, Detroit Lions
Riddick still can't practice on the balky ankle that left him inactive last week. In better Lions news, running back Dwayne Washington did practice Wednesday after missing Weeks 5 and 6 due to ankle and foot problems. Washington, Justin Forsett and Zach Zenner should all see significant work against the Redskins. You can't trust any of those guys, even in what is an outstanding matchup.
TIGHT ENDS
Jordan Reed, Washington Redskins
Reed hasn't been cleared to play yet following his Week 5 concussion, but at least he's going through some practice. Stay tuned. He remains a must-start if he gains clearance. 
Tyler Eifert, Cincinnati Bengals
Eifert is practicing! He's experienced a lost season thus far due to the effects of ankle surgery followed by a back injury that cropped up just as the ankle had fully healed. There now appears to be a light at the end of this tunnel, and both fantasy owners and the Bengals can't wait to get him back. He may need one more week off, but make sure you pick Eifert up now if you need help at TE. Even if you don't, pick him up to possibly use him as trade bait later on. 
Dwayne Allen, Indianapolis Colts
Allen is expected to miss some time due to the sprained ankle he suffered early in Sunday night's loss to Houston. Get ready for more Jack Doyle in your life.
-------------- 
Other injured players who are expected to play this week: Carson Palmer, QB, Arizona Cardinals; T.Y. Hilton, WR, Indianapolis Colts; Julian Edelman, WR, New England Patriots; DeSean Jackson, WR, Washington Redskins; Jordan Matthews, WR, Philadelphia Eagles; Emmanuel Sanders, WR, Denver Broncos; Allen Hurns, WR, Jacksonville Jaguars; Robert Woods, WR, Buffalo Bills; Matt Forte, RB, New York Jets; Arian Foster, RB, Miami Dolphins; Martellus Bennett, TE, New England Patriots; Charles Clay, TE, Buffalo Bills; Zach Miller, TE, Chicago Bears; Antonio Gates, TE, San Diego Chargers.
Other injured players who are NOT expected to play this week: Jay Cutler, QB, Chicago Bears; Jeremy Langford, RB Chicago Bears; Eric Ebron, TE, Detroit Lions.