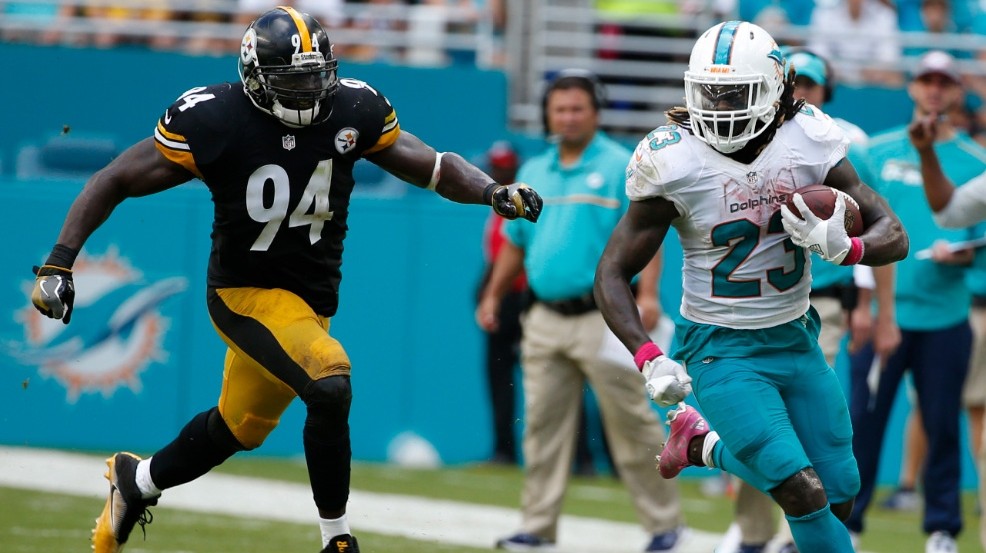 Written by Brian Murphy
18 October 2016
Before we dive into this week's priority adds, don't overlook the names I mentioned last week. They could still be available in your fantasy football league and need to be owned. That's especially true for Cameron Meredith after he posted another big stat line Sunday.
Jay Ajayi, RB, Miami Dolphins
We can't start anywhere else than Ajayi's completely unexpected, amazing breakout performance. He gained 204 yards. On 25 carries. Against the Pittsburgh Steelers. I can't figure out which of those three facts makes the least amount of sense. Pittsburgh hadn't allowed even 90 rushing yards to an opposing RB prior to Week 6. Ajayi entered the game with just 31 carries through the previous four weeks, but he began to pull away from the rest of Miami's backs when he logged 42 yards on 13 carries and a score last week. There's no doubt that he's the backfield leader after this. I feel comfortable saying that we have most definitely seen what will be his best fantasy performance of the season. And while he doesn't have a very easy slate ahead of him (Bills, bye, Jets, Chargers, Rams over the next five weeks), what Ajayi accomplished Sunday, as flukish as it may be, deserves the attention of every fantasy league. 
Kenny Britt, WR, Los Angeles Rams
Here's another player who is extremely unlikely to best what he did in Week 6. However, it's not like Britt has been doing zilch all year long. He has caught four passes in every game and has surpassed 60 yards in all but one. That may not seem like much, but that's double-digit points in a PPR league and welcomed consistency from a Rams receiver. So although his 7-136-2 line is an outlier, Britt's season of work has made him a WR3 commodity. Plus, his schedule turns friendly with matchups against some truly awful pass defenses once he comes out of his Week 8 bye (Panthers, Jets, Dolphins, Saints). Let's just hope that if you need to start Britt in those weeks, Case Keenum can continue to get the ball to him.
Hunter Henry, TE, San Diego Chargers
Antonio who? This second-round rookie has scored in three straight weeks and led the Chargers in targets, receptions and receiving yards in Week 6 and also caught Philip Rivers' only touchdown pass. Even with Antonio Gates active in Weeks 5 and 6, Henry played more snaps, saw more targets and was more productive by a wide margin. Rivers clearly trusts Henry in the most important area of the field, and Gates has admitted that his injured hamstring, which kept him out of two games earlier this season, remains a problem. Henry has become a TE1 even when his future Hall of Famer teammate is in the lineup.
Ty Montgomery, WR, Green Bay Packers
There is something amiss with Aaron Rodgers and the Packers' offense right now, but Montgomery was not to blame Sunday. With James Starks inactive and Eddie Lacy working on a bad ankle, Montgomery served as an extension of the running game and filled his role well, hauling in 10 of 12 targets for 98 yards. He also handled three carries, gaining 6 more yards. His average depth of target was a measly 2.1 yards, but those in PPR leagues should be all over Montgomery right now. With Green Bay's backfield in shambles -- Starks is expected to be out for a few more games, leaving the Pack with one, semi-healthy RB -- Montgomery could keep piling up the short catches. He may be even more critical to the offense for the near future since wide receiver Davante Adams is currently dealing with a concussion.